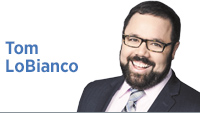 Politics is a verbose field, indeed, and covering politics leads reporters to often get lost in the thicket of blather. I've been there more than a few times and it's hard to see the light through the forest.
As I sat talking with another parent from our day care here in the leafy, moderately humid (some may say, swampy) suburbs of Washington, D.C., a few weeks ago, he bemoaned that news seems to be more about screaming matches recently and less about action.
I can commiserate. The rise of digital media as replacements for print and television has driven a new culture that is based on driving up clicks and so-called "engagement"—and pissing matches fit the bill.
As if to prove that point, Donald Trump emerged in 2015 and has dominated the news ever since with a thoroughly intoxicating formula: Say something outrageous, bask in the outrage, walk it back and deny, then revert to the first outrageous comment. After three or four days, the entire week has been eaten up by something nobody will remember next week.
The resulting malaise in public has been characterized variously by Trump supporters as Trump Derangement Syndrome and by others as Trump Fatigue. Whatever the label, the country has been increasingly tuning out the noise—much like my fellow parent from the daycare.
But words matter, especially when they precede action, which is why we spend so much time writing about things that elected leaders say they'll do. In the past, that's been a pretty good indicator of action.
So what then to make of all the chatter (and there has been much from Trump's advisers) that Jared Kushner and Ivanka Trump (collectively known as "Javanka") have been talking about removing Pence from the ticket? Without hearing it directly from Kushner and Ivanka Trump directly, it's hard to know what's really happening. And, those same Trump advisers note, Kushner often likes to float little trial balloons to see how people will react.
The answer, in this case, is in the action. Pence and his team, unfailingly loyal to Trump, have been especially careful since the drubbing in the 2018 Midterm elections. And that tightknit circle has been especially wary of "Javanka."
The words of Javanka (real or not, and a White House official vehemently denied "Javanka" has ever discussed replacing Pence) created action from Pence and his team.
The first clues came in July when Pence allies began talking about how Trump keeps Pence on a short leash. When Pence suddenly canceled his New Hampshire trip and was then sent on a humiliating tour of a detention camp, it struck at least one confidant as an example of Trump leveraging fealty from Pence.
Then came Pence's awkward decision to stay at Trump's property in Doonbeg, Ireland for a trip to Dublin. The three-hour flight back-and-forth (Doonbeg and Dublin are on opposite coasts) seemed to undercut the purpose in staying there. Pence's chief of staff explained staying at the property had been a suggestion from Trump (which Trump later flatly denied.)
The actions followed from the words, which is why you have journalists to cut through the noise and pick out what matters. Some words matter, others not so much. In this case, the "Javanka" chatter proved a solid leading indicator of action by the vice president.•
__________
Tom LoBianco, a veteran reporter, is author of "Piety & Power: Mike Pence and the Taking of the White House." He previously reported for the Associated Press, CNN and The Indianapolis Star. Send comments to ibjedit@ibj.com.

Click here for more Forefront columns.
Please enable JavaScript to view this content.