Leaders in Whitestown want to make it easier to develop mixed-use projects that combine housing and commercial amenities.
So they've streamlined the process with a new zoning designation they hope spurs more of the types of neighborhoods popular in other growing suburbs.
Already, one developer—Steve Braun, a former tech entrepreneur, state lawmaker and commissioner of the state's Department of Workforce Development—is taking advantage.
The town agreed to rezone 438 acres of agricultural land north of the town's core that Braun wants to develop into a mix of single-family and multifamily housing, parks, restaurants, retail and office space.
It was the first use of the town's MU-COR zoning classification, which will allow retail buildings and office projects to be built near housing and recreation as part of large, coordinated developments.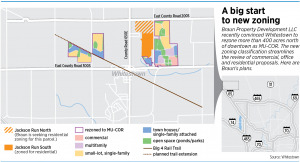 The Whitestown Town Council created the designation in September as part of an amended unified development ordinance, which essentially provides the rules that govern land use.
Mixed-use developments were possible, of course, even before the new designation. But they required developers to navigate a long and often expensive process referred to as planned unit development—or PUD, for short.
PUDs are widely used across the state and country. But while they are flexible, PUDs can be complicated—for developers and for local governments. Each plan is individualized, allowing developers to propose their own mix of commercial, residential and even industrial uses that local officials then approve by setting rules specific to the project.
So Whitestown officials decided to streamline the process with a designation that allows for flexible development without so much red tape.
Brittany Garriott, Whitestown's planning and community development director, told IBJ that MU-COR combined the town's existing commercial, office and residential building standards and gives developers a clear guidebook for the urban environment Whitestown wants to build.
Multifamily, single-family and attached residential housing are all permitted under MU-COR, as are assisted-living facilities, student housing, group residential facilities and nursing homes. Hospitals, municipal buildings, libraries, museums and schools are also allowed.
Commercial uses include both sit-down and quick-service restaurants, taverns and lounges, hotels and offices. Liquor stores would require special approval.
PUDs will still be permitted, especially for projects that deviate from the rules, but Garriott said Whitestown doesn't want to be a community full of different zoning rules. Instead, town leaders wanted a classification that has all the design standards for mixed-use developments already laid out.
Streamlining PUDs
Bryan Stumpf, president of Lebanon-based 11th Street Development and Civic Blueprint, was heavily involved in crafting Whitestown's new approach. He said using PUDs is difficult because they're harder to understand, review and enforce.
"It can be more cumbersome to get a PUD approved since you're essentially throwing out the zoning ordinance and creating your own," he said. "There's stuff that just gets missed. As much as we may try, we're not perfect and we can't capture everything we need."
Drafting a PUD is extra work for both city staff and developers.
Garriott said it takes several months longer to get a planned unit development proposal approved than it does a proposal that uses a standard zoning designation, in part because PUDs require additional subcommittee meetings to review the viability of a project.
Those reviews often prompt revisions, which require developers to spend more time and money.
The process can also be costly for the town, said Whitestown's assistant town manager, Nathan Messer.
"The PUD process—we're spending a bunch on legal," he said. "There's always a bunch of back and forth between our attorneys and their attorneys. It's always a long, drawn-out process."
As Whitestown experiences rapid growth—in less than a decade, the population increased from just under 3,000 to more than 9,000—more developers want to build dense residential communities that are close to retail, office and other commercial amenities, Messer said.
Market demand is for smaller lots and commercial nodes within a neighborhood, Stumpf said, and establishing a PUD is the only way to do that in many communities.
Kate Collins, director of government affairs for the Builders Association of Greater Indianapolis, said her organization supported the change. She said PUDs have become popular because developers have found that established zoning standards don't allow for the projects they'd like to build.
"A lot of times, what that means is that the zoning standards are so stringent or they haven't been updated in such a long time that the product developers are pursuing today doesn't fit," Collins said.
She said PUDs can result in great projects, but redrafting the plan as it's picked apart by government officials racks up engineering and architectural costs. Knowing ahead of time what's required for a mixed-use project allows developers to move more quickly and efficiently.
"What we saw in Whitestown—we'd love to have this relationship everywhere," she said.
Braun's development
Braun told IBJ the MU-COR designation will give him greater flexibility—and will allow project plans to change over time as needed.
A PUD "unnecessarily locks you into both time frames and frameworks—in terms of what you have to build—that may look good today, but doesn't necessarily look good a year from now," Braun said. "Certainly not five, 10, 15 years from now."
Braun has owned more than 600 acres of farmland on Whitestown's north side for a decade, waiting for the right moment to develop it.
The projects he's working on could take years—maybe a decade—to come to fruition.
Braun runs Braun Property Development LLC with his son, Adam Braun, who has a construction management degree from Purdue University and has worked at both Mortenson Construction's Chicago Operating Group and Fishers-based Meyer Najem.
The family firm launched operations in 2020 with the approval of Jackson Run, a 145-single-family neighborhood on 94 acres along the east side of County Road 700 East, between East Pierce Street and County Road 225 South.
Now, the Brauns are moving beyond strictly residential endeavors into mixed-use projects with multifamily and single-family housing, neighborhood commercial nodes, restaurants, retail, offices, linear parks and more.
"I really think the town understands they have a unique opportunity, especially in the legacy core area, to turn that into something special," Braun said. "Their primary vision is to build a community with a lot of amenities, including places to shop, places to live, parks—and we are working very much in the context of what their master plan calls for."
Braun's initial plans call for the following:
◗ Turning 265 acres of farmland immediately east of Jackson Run, across South County Road 700 East, into Whitetown's northeastern gateway. Near West 146th Street, Braun is envisioning neighborhood commercial uses like barbershops, beauty shops, coffee shops, insurance agencies and drugstores. North of those retail and office operations, he's proposed multifamily housing, which will gradually transition into single-family housing.
◗ Developing an 86-acre parcel north of Whitestown's fire station into town houses with denser urban living along the Big 4 Trail and single-family housing to the south.
◗ Developing another 76 acres on the north side of the trail with high-density housing that eases into single-family homes to the north.
Keeping the public involved
Though the primary mission of the MU-COR is to simplify and speed up the approval process, town officials emphasized that there will still be plenty of opportunity for public involvement.
"Just because they have the MU-COR doesn't allow them a free pass to build whatever they want, wherever they want," Messer said. "It's all still subject to a plan review process" before construction can begin.
As Braun's rezone has wound through the town's review process in recent weeks, neighboring residents voiced the types of concerns that often accompany mixed-use developments.
Mike Farrell, a Whitestown resident who lives south of Braun's easternmost development area, told the Whitestown Plan Commission he had concerns about the potential for high-density housing and commercial buildings near smaller neighborhoods.
"We're in the country now; this is the gateway to our community," Farrell said during a Whitestown Plan Commission meeting on Nov. 9. "There is just nothing like this. It's nice home, nice home, nice home and—poof—we'll come to Whitestown and have high-density business and housing."
Farrell and other residents who spoke at public meetings expressed concerns that Braun's proposals are conceptual, and that, without more-concrete plans, they can't see what might be objectionable.
But town officials said Braun's long-term approach is what they want for the MU-COR district. And they said individual site plans will still need additional approvals.
"Projects like this take time," Garriott said. "I don't foresee a rush of other developers, right away, coming in and putting in applications. While that project is being phased out and goes into effect, we'll have others that apply and we'll work alongside them as we did with Braun."•
Please enable JavaScript to view this content.