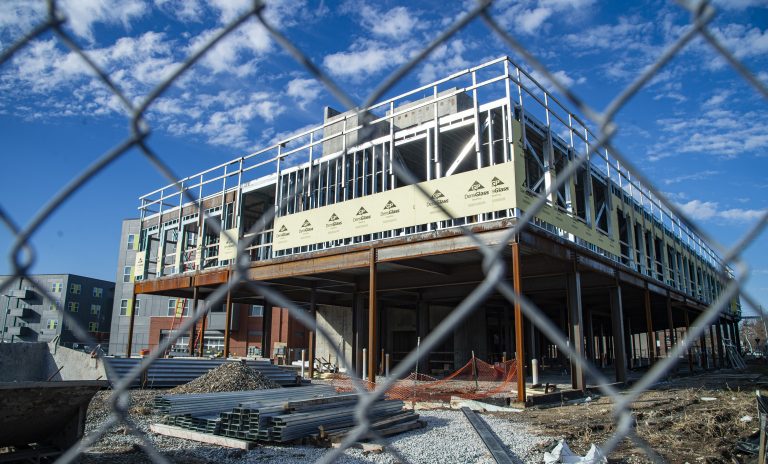 Town of Speedway officials and residents on Monday night learned a development firm involved in its long-delayed Wilshaw hotel project purposely withheld details of a settlement reached last year with federal securities regulators.
The revelation came the same day IBJ first reported that Virtua Partners, which became involved in the project in 2021, was fined upwards of $2 million by the U.S. Securities and Exchange Commission last May in a settlement over possible violations.
The fines stemmed from failures to disclose fees and conflicts of interest to investors in certain funds from 2017 to 2019 and for "breaching their fiduciary duty to multiple private investment funds," the SEC said at the time. In its settlement, Virtua did not admit or deny wrongdoing.
But Virtua, a partner in Atlanta-based 33 Degrees—the development firm overseeing the $36 million project—did not disclose the matter to the officials in Speedway, even after the town offered a $2.5 million loan to affiliated holding company HE Speedway Hotel LLC to help bridge a funding gap and get the project back on track.
The Speedway Town Council had been scheduled to vote on the loan at Monday's meeting, but officials postponed the vote after learning about Virtua's settlement with the SEC.
Nick Montague, executive vice president at 33 Degrees Finance, said in a 10-minute live call during Monday's meeting that the decision not to disclose the settlement was the result of a "unique situation," since the town is both lending money and a municipality involved in the project.
But he acknowledged the company did not plan to disclose the federal settlement until it was legally obligated to do so, likely during the due-diligence process to receive the loan and other financing for the project. And if the town had not been offering a loan, the matter likely would not have been disclosed at all.
"If there was no lending portion of this, there's no disclosure required," he said, insisting that 33 Degrees is a separate entity from Virtua. "As part of the loan diligence, if there's forms we had to file that were part of that disclosure, we would have," he said. "If it wasn't, then in our view, it's not the same organization, it's not the same sponsorship group that's part of this Tapestry [brand] project."
However, there is extensive overlap between the two firms: Virtua partnered with Hotel Equities in 2021 to form 33 Degrees, and both Virtua and 33 Degrees (which now owns Hotel Equities) are principally controlled by Quynh Palomino, who personally was fined $100,000 by the SEC in the settlement. And, in addition to his role at 33 Degrees, Montague is senior vice president of finance for Virtua—something he did not disclose during Monday's meeting.
Some council members and several members of the public took exception to the company's decision not to share the information earlier in the process. Council member David Lindsey during the Feb. 27 council meeting requested an appearance from Palomino to discuss the loan because of her role as principal of the company, but Montague attended instead.
"That's who I want to be talking to, that's who I want on the screen here in front of me," Linsdsey said. "I asked at our last meeting that the owner of [the entity] who we're giving this money to be present. So, if you can direct that message to her, from me, that's who we want to speak to."
Gary Raikes, another council member, said he was "disappointed" that 33 Degrees didn't offer details of the SEC matter proactively, but said he would not have been prepared to vote on the loan on Monday, even if the fines had not been made public.
"I'm disappointed that we didn't learn this earlier. It's unfortunate news, but I'm glad we got it when we did, and not after the fact," he said. "We still have other information that we need to gather from them, so had this issue not come up, I still would have not wanted to vote on it this evening because we just don't know enough about" their financials.
Speedway resident Michelle Lidy told council members that she has grown further frustrated by the Wilshaw project—many other residents indicated the same—but she is fearful that the town might be making the wrong move by sticking with its current strategy. Plans for the 126-room Wilshaw hotel were first announced in December 2015 with an original expected opening date of 2018, but the project has encountered numerous delays.
"I see this as a huge red flag," she said. "They're not forthcoming with information [and] it seems to me like they're not super trustworthy. I don't want to get two years down the road and look back and go, 'Geez, remember—we had an opportunity.' This is a fork in the road and you guys can be the heroes here."
If the town opts to cancel its agreement with 33 Degrees, it will have limited options for recourse—the most likely being that it will have to fight a lawsuit with the project's failed developer, Loftus Robinson, to take control of the property so the town can develop the site itself.
A lawsuit would likely last anywhere from 18 months to two years and cost hundreds of thousands of dollars. It's not clear whether the town would be able to use money it would have put toward the loan—tax-increment financing dollars earmarked for economic development projects—for legal fees, a town attorney told IBJ.
Speedway Town Manager Grant Kleinhenz said he is hopeful things will work out. After all, he said, 33 Degrees has closed on 11 construction loans since the SEC filing was published and has managed to fully complete other projects that were already in the works.
"We don't have any problem with asking [tough] questions, because we're trying to find a partner that we can work with on this project," he said. "I think those are things that need to be vetted and identified, and those issues thought through.
"But … to say that we have not done our research is just not correct. We have met with dozens of people and professionals and discussed these issues, trying to find ways to get this project accomplished."
Please enable JavaScript to view this content.