Indiana's Dan Coats became the latest U.S. senator on Monday to endorse Marco Rubio in the Republican presidential primary.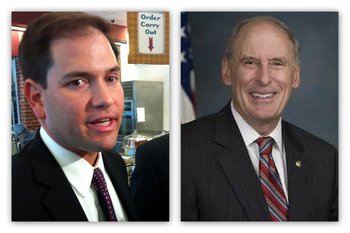 In the wake of Rubio's second-place primary finish in South Carolina—behind Donald Trump and just ahead of Ted Cruz—a number of lawmakers have been lining up behind the Florida senator.
Coats, who has served with Rubio on the Senate Intelligence Committee for more than five years, said Republicans need a nominee who can "best unite our party, earn the support of independents and disaffected Democrats and win the election this fall."
"It is clear to me that Marco Rubio is that candidate," Coats said in a statement.
That echoes comments from other lawmakers, who are sticking closely to the message that Rubio can unite the party. That's a dig at GOP front runner Donald Trump, who has pried open the divide between Republicans craving a political outsider and the Republican establishment. It's also a swipe at Texas Sen. Ted Cruz, who has cast his distance from other senators as evidence that he is that outsider.
Rubio "has all the qualities needed to unite our fractured nation and address the major domestic and foreign policy challenges that confront America because of Barack Obama's failed leadership," Coats said.
Coats also said he's seen firsthand Rubio's "grasp of complex issues and readiness to lead our nation as commander-in-chief."
Sen. Orrin Hatch, the chamber's most senior Republican, also announced Monday he would back Rubio. He previously supported Jeb Bush, who dropped out of the race after the South Carolina primary. Sens. Thom Tillis of North Carolina, Dean Heller of Nevada and Jeff Flake of Arizona also endorsed Rubio after Saturday's results. Former Senate Majority Leader Bob Dole, a former GOP nominee for president who had also been a Bush backer, endorsed Rubio as well.
Already, Indiana Reps. Todd Rokita and Larry Bucshon had endorsed Rubio.