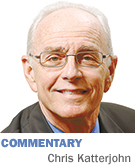 You know, there's an election on Nov. 3, right?
We're not voting for president, governor,
mayor, or even dog catcher. We're voting for a critical piece of the health care delivery system in central Indiana.
You'd have to be living under a rock to not know the vote is a referendum on whether to allow Marion County
Health & Hospital Corp. to sell bonds to build a new Wishard Hospital.
My message today: Get out and vote "yes!"
Don't count on somebody else to do it for you. This community needs a new Wishard.
True, the numbers are
big and scary in an economy like this. The projected cost of the new hospital is $754 million; the bond offering itself will
be north of $600 million.
But don't let the size of the numbers or the word "referendum" fool
you. Health & Hospital has done its homework and has its financial house in order.
Furthermore, this particular
referendum has nothing to do with raising property taxes. In fact, the project can be completed without nicking taxpayers
for one thin dime.
I sat on the advisory board that helped craft the cause for support for the bond issue. In the
process, I learned a lot about Wishard, the important role it plays in our community, and the excellent job that's been
done in managing the facility in the last five years.
Credit for the good management goes to CEO Matt Gutwein and
Dr. Lisa Harris, their board and the employees who made it happen. With prudent fiscal oversight, they made a perennial loser
profitable.
A few years back, they also made a smart strategic decision to diversify by acquiring nursing homes,
a business that accounts for nearly half the not-for-profit corporation's annual revenue and surpluses.
Health
& Hospital currently has $150 million in cash for a down payment on the new facility. By the end of 2010, that amount
will be $290 million, Gutwein says.
The debt-service cost for the bond issue is expected to be $38 million a year,
which amounts to a paltry 4.25 percent of the organization's $894 million budget. Any businessperson would love that
ratio on the balance sheet.
And, you want to know about property taxes? Yes, part of Wishard's revenue comes
from property taxes, but right now it's only $24.9 million of that big budget. What's more, Wishard's reliance
on tax revenue has decreased every year since 2003, a year in which the hospital received $51.9 million.
But this
is much more than a financial issue.
Wishard provides more than 60 percent of all indigent care dispensed in Marion
County; that's more than all the other hospitals in the area combined. (Ask any of those hospitals how much they depend
on Wishard.)
It has the state's only Level 1 trauma center and its busiest emergency room, as well as a highly
regarded burn unit. What's more, the hospital employs more than 4,000 people.
It's also the backbone
of the state's system for educating the next generation of doctors, nurses and other care providers.
And
here are the nuts and bolts of it: The existing Wishard, a conglomeration of 17 aging buildings, is hopelessly inefficient.
It costs more to maintain than it's worth. And its age makes it less and less able to accommodate new equipment necessary
to provide modern medical care.
I could go on and on.
You should know that the Indianapolis Chamber
of Commerce, Greater Indianapolis Progress Committee and United Way of Central Indiana have come out in support of the project,
as have Mayor Greg Ballard and numerous urban churches, schools and universities.
Because there are no political
offices up for grabs in next week's "election," it might be tempting to sit this one out. But take my word
for it: We can't afford for this not to happen.
Please make the extra effort and vote "yes" for
the Wishard bond issue Nov. 3.•
__________
Katterjohn is publisher of IBJ. To comment
on this column, send e-mail to ckatterjohn@ibj.com.
Please enable JavaScript to view this content.