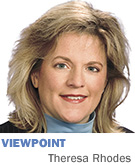 On any given day in Indianapolis, hundreds of people will volunteer their time tutoring children, stocking food pantry
shelves, raising funds and providing leadership for not-for-profit organizations that are making a difference in our community.
Indianapolis residents have a long history of helping others and giving of their time and their own resources, and
that's never been more important than right now.
 With the economy continuing to lag, and with unemployment
still high, there is indeed great need in our community. Not-for-profits are seeing an increase in demand for services, while
at the same time the economic downturn has meant fewer donations, and often fewer people to volunteer. 
 I
am so proud that Indianapolis has met this challenge and responded in a huge way. At Lacy Leadership Association's
recent Get on Board event, which matches community members with not-for-profits who need talented board members and leadership
volunteers, more than 500 people signed up to get involved.
Not-for-profits rely on volunteers. It's this
army of volunteers that makes it possible for organizations to meet the needs of residents and fulfill their missions, whether
it's providing day-care programs to inner-city children, raising money for cancer research, or providing the uninsured
with vital health screenings.
Let's be honest, most people volunteer because helping others simply makes
us feel better. But getting involved means more than just signing your name to a roster, and volunteering can provide lifelong
benefits to others. When people ask me how to decide which organization to get involved with, I suggest the following:
• Consider which causes you are passionate about. The most successful volunteers and board members are those
who have a true passion for the mission, and often a personal connection. In other words, what will get you excited about
wanting to be involved? Children, health care, senior citizens, education, green initiatives, the arts?
Think also
about how you want to give of your time. Are you someone who likes helping think through big-picture strategies, and may benefit
the organization most by serving on a board? Do you like to work behind the scenes, whether it's helping with marketing
efforts, stuffing envelopes or fund raising? Or, would you rather have a more personal connection, such as helping an adult
learn to read or serving meals to the homeless?
• Don't be afraid to admit the reason you want to get
involved is to connect with other people. One of the great benefits of being involved in community organizations is the lifelong
connections you're able to make with others who share similar interests and passions.
• Of course, you
also want to think about the skills you're able to bring to the organization. Can you provide some needed expertise
in an area that will benefit the not-for-profit?
Anyone who has served on a not-for-profit board or given of their
time to improve another person's life will tell you the benefits you receive are far greater than you'll ever
imagine. Your challenge is to consider whether now is the right time for you to make a difference for others, and for yourself.
I encourage you to rise to the challenge and get involved.•
__________
Rhodes is president
of Lacy Leadership Association.
Please enable JavaScript to view this content.