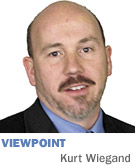 Indianapolis Public Schools recently held its annual Magnet Fair, as it does each November. The fair highlights the
magnet programs and option schools within IPS. This year, IPS announced it's adding programs and schools, including
more Montessori and Center for Inquiry sites over the next two years.
For IPS, it's a clear bid to hold on
to students. For decades, IPS has seen families—particularly middle-class families—leaving both the neighborhoods
and the school district. The loss resulted in many school closings, constant redistricting and precluded much-needed investment
in school infrastructure. More recently, with white flight subsiding and the end of court-ordered busing, it appeared enrollment
would stabilize and allow IPS to finally invest in its buildings. Now, in addition to its own shortcomings, the new challenge
to IPS enrollment is charter schools.
It's vitally important to have innovative, competitive and successful
school options available to attract and retain middle-class families in the neighborhoods. For groups that feel disenfranchised,
anti-poverty organizations, those concerned about crime, and groups concerned about economic competitiveness, there's
no antidote as effective as education and future orientation (two of the hallmarks of the middle class). Likewise, there's
no prescription for failure, poverty, crime and disinvestment in urban neighborhoods like the 47-percent overall graduation
rate IPS had last year.
For too long, there's been a debate about whether the quality of the schools or the
quality of the students and their families are to blame for the poor performance at IPS. That debate usually deteriorates
to platitudes and entrenched political positions and, more important, leaves us with no way forward. What's more, the
constant, almost knee-jerk, condemnation of IPS has only served to help send concerned families packing for the suburbs and
exacerbating problems, such as abandoned homes in our neighborhoods.
Meanwhile, it seems the best-kept secret is
that IPS schools like Montessori schools 56 and 91 as well as the Center for Inquiry are outperforming the state average,
many charter schools, and even some private schools in Indiana Statewide Testing for Educational Progress results, while offering
innovative programs like the International Baccalaureate program. They are achieving this performance with a high percentage
of minorities as well as students from households that qualify for free or reduced lunch. For everyone concerned, the IPS
magnet and option program is a proven way forward.
The solution to IPS enrollment problems isn't a moratorium
on charter schools. Charter schools have given frustrated families a compelling choice other than a moving van. But what charter
schools have also done—particularly with Dr. Eugene White in charge of IPS—is spur competition. The innovation
and performance represented by the IPS magnet and option program is one result of that competition. It's a clear indication
that competition is good for the schools, good for the students, and good for the neighborhoods.
IPS has a problem—both
in perception and reality—of an underperforming school district and declining enrollment. The city has a problem with
the loss of middle-class families and disinvestment in the neighborhoods. A high-quality magnet and option school program
can help turn both problems around. The strategy to compete for students is a strategy that should be encouraged, supported
and accelerated. That said, IPS must be careful that it doesn't stretch its resources too thin. Maintaining the top-notch
quality of these programs is essential.
Business, community and city leaders should encourage the expansion and
replication of high-quality schools and healthy school competition—as well as recognize and promote success wherever
it's found.•
__________
Wiegand is information technology director for a local company.
He sits on the steering committee for the Emerson Avenue Corridor Gateway Project and is active in his Emerson Heights neighborhood
on the east side. He previously spent eight years at Eastside Community Development, a neighborhood development organization.
Please enable JavaScript to view this content.