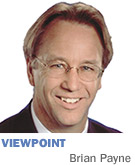 I recently heard on National Public Radio a story about the national college testing day in South Korea. Their high
school seniors have been studying an extra four or five hours a day for months to prepare for this nine-hour test. Some parents
have been praying to Buddha the past 100 days for their children to score well on this test, a test that will largely determine
their academic futures and their lifelong opportunities.
It seems South Korean students and parents think education
is pretty important.
We Hoosiers are also starting to treat education with a sense of urgency and as something
worth achieving. There is a tremendous number of quality and innovative programs and collaborations in central Indiana to
help students and adult learners graduate from high school and to access and succeed with post-secondary training.
This urgent response to our city's, state's and country's education crisis is reassuring, because the
stakes couldn't be higher. As we approach the second decade of this century, it seems the world will be divided into
the education haves and have-nots. The data shows that cities with a high percentage of residents with colleges or post-secondary
degrees are positioned for long-term economic growth and community vitality. Cities with lower percentages will struggle and
will likely become second- and third-tier communities.
The Indianapolis metropolitan area ranks near the middle
for the percentage of its residents with bachelor's degrees, compared with the 51 metro areas with a population greater
than 1 million. Thirty percent of our adults age 25 to 65 have at least a four-year degree. While most of our community's
new education efforts are organized for long-term systematic improvement, there is a new framework that shows how our community
can make important strides in the short term as well.
A national organization, CEOs for Cities, commissioned research
that proposes the concept of the "talent dividend," which shows that a relatively modest increase in college degree
attainment by 1 percentage point has concrete economic payoffs and ties to metro prosperity.
The research shows
that, if we in central Indiana could just increase the proportion of our residents with a bachelor's degree from 30
percent to 31 percent, the metro area would see an annual economic benefit of $1.3 billion. To put this in perspective, Eli
Lilly and Co.'s annual central Indiana payroll is $1.5 billion.
Last June, 35 local community leaders met
with CEOs for Cities as part of the organization's nationwide tour. Following this discussion, CEOs for Cities President
Carol Coletta said the Indianapolis conversation was the best of the 14 in which she had participated. She invited central
Indiana leaders to be a key partner in this work and serve as founding members of a national Talent Dividend learning network,
where the ideas and programs from cities across the country can be shared and improved upon.
A 1-percent increase
in residents with a college degree equals 11,000 people. With 293,000 adults in central Indiana having earned college credits,
but no degree, and tens of thousands of students in their first and second year of college, when the dropout rate is historically
high, there is no shortage of potential targets. Creating and implementing programs that help identify who is serious about
degree attainment, then helping these students succeed, could have a huge community and economic benefit.
The goal
is to achieve this annual $1.3 billion talent dividend by 2015 and to have a major short-term win in educational achievement
while our community continues to transform the education landscape for the long term. As we ring in 2010, the time is now
for us to implement the winning strategies of a successful 21st century city.•
__________
Payne
is president of the Central Indiana Community Foundation.
Please enable JavaScript to view this content.