Product: device that installs toilet-paper rolls into walls
Address: 11318
E. 136th St.
Phone: 517-6467
E-mail: chadw@lifegrid.com
Web site: hiddentoiletpaper.com
Founded: April

Owner: Chad Walters
Owner's background: Walters, 36, graduated from the IUPUI
School of Engineering and Technology. He has since spent 17 years as an electronic engineer, designing products for companies
like Troy, Mich.-based Delphi; Washington, D.C.-based XM Radio; and New York-based Sirius Radio.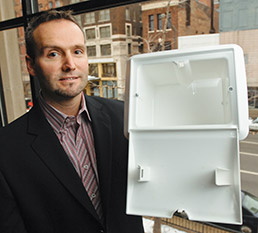 Chad Walters invented a device to protect toilet paper from pets and kids. (IBJ Photo/Robin Jerstad)
Why started
business: Frequently visiting the home of a former business partner, Walters noticed his associate always kept his
bathroom door shut. The reason, Walters said, stemmed from his partner's cats, which would get into the toilet paper
and spin it all over the house. The father of a 2-year-old son, Walters had experienced a similar problem keeping his toddler
from tampering with the toilet paper.
"I thought, 'You know what, why do we have the toilet paper
hanging on the wall?'" Walters said.
So he developed a square compartment to go into the wall to
make the toilet paper less conspicuous. Users open a flap on the front of the compartment, where the toilet paper is attached
on the other side. Once finished, users can flip the front piece back into the wall so the toilet paper is out of sight.
In 2005, Walters began seeking a patent for the product. Finally, with a patent and a Web site, he began selling
the Hidden Toilet Paper device online in April for $24.99.

Competitive advantage: Having a
product no one else does, Walters said he is confident he can succeed.
"Once the word is out that there
is a product out there that keeps your pets away from the toilet paper, that's going to give us a huge push,"
Walters said.
As homeowners remodel bathrooms and search for new products, Walters believes, Hidden Toilet Paper
will have a large demographic interested in its services.
"Everyone has toilet paper in their house,"
he said. "On a national average, every home has two bathrooms. Residential remodels for bathrooms in 2008 came to about
700,000 bathrooms. So there's a huge market for us."
Startup cost: $125,000 to $150,000

Funding source: self-financed

Projected first-year revenue: $30,000
Potential problem and contingency plan: Having financed his operation himself, Walters has paid
dearly to get Hidden Toilet Paper off the ground, including packaging, branding and trying to get the product on retail shelves.
So he is seeking help.
"Right now, we're looking for an investor to partner with us to make the product
bigger," Walters said. "The product is great; everybody loves it. The problem is, no one knows about it."
First-year goal: Find an investor and persuade Menards, Lowe's and Home Depot to carry the
product.

Five-year vision: Take Hidden Toilet Paper nationwide.•
Please enable JavaScript to view this content.