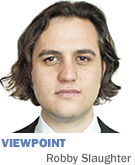 I'm supposed to finish this article before midnight on a given day. There's no practical difference between
providing it an hour or a month early. If it's late by one minute, my editor might only frown. If I miss the mark by
a day or week or more, I lose the opportunity for publication. This is nothing unusual: just another deadline.
The
reason we have deadlines is that they act as inflection points in the hierarchy of work. Once I submit this piece, it will
be edited. The revised version will be checked for length and balanced against other potential articles. If my words are deemed
worthy, a layout expert will divide my paragraphs into columns for an upcoming edition. Each phase of work has a deadline:
an opportunity for failure and rejection. Each deadline is a gauntlet my work must pass on its way into your hands.
Deadlines might seem like a necessary aspect of all human endeavors. But the word itself doesn't come from highly
organized corporations. The first recorded appearance of "deadline" in English dates from the Civil War. This
usage indicates a point beyond which soldiers are authorized to shoot escaping prisoners. Stay within the zone, this term
seems to promise, and you might not end up dead.
Anyone working on deadline can sympathize with these convicts.
We, too, are trapped by an invisible line we must not cross, and each step toward the point of no return fills us with impending
dread. It's true that completed work must be handed off from one person to the next, but perhaps we can find a better
working model than one originally coined for violent reprisal. Perhaps we should focus not on what happens when we fail, but
how and where we can work together.
Consider this article, as I am writing it. It remains in my head and on my
computer, unseen by my editor. As we approach the deadline, she may wonder if I have yet to write a word or if I am completing
a few final touches. But what if, instead of completing the work and submitting it before the deadline, I kept her updated
of my progress? What if, at any point, she could check in to provide guidance or determine if I would be likely to finish
on time? With this perspective, work no longer becomes a series of deadlines and handoffs but an overlap of zones of collaboration.
Instead of waiting for the pass, we are running the play together.
A change away from deadlines toward collaboration
zones cannot be done instantly or without coordination. If I send my editor an incremental update to this essay every
day, it will result in annoyance rather than increased productivity. Instead, we need a way for us both to be able to view
and edit these words at the same time without the hassle of managing file versions, sending documents via e-mail, receiving
and opening attachments, then replying with feedback.
Furthermore, we should not ignore what happens next. Someone
must eventually transition these words into a layout program. From my viewpoint, this tool is effectively another word processor.
If all of us could make use of the same system for creating, reviewing, editing and publishing articles, we wouldn't
need to be focused on deadlines. Instead, we could simply determine which of us have access to the content throughout different
phases of production.
This proposal might sound like it requires advanced software, but the real challenge is psychological,
not technological. There are many free programs that allow simultaneous collaborative editing of documents. Alternately, we
could post successive versions on a large corkboard, mounted alongside the works-in-progress of other writers and editors.
This might well be a more effective and inclusive work flow for completing critical projects. The challenge is not the system,
but the mind-set. We've always done work another way: by threatening the harshest possible penalty if it's offered
a minute too late.
Let's rethink deadlines. Instead, let's try working together.•
__________
Slaughter is a principal with Slaughter Development (www.slaughterdevelopment.com), an Indianapolis business
process and work-flow consulting company.
Please enable JavaScript to view this content.