Clear Channel Outdoor is building Marion County's first full-size digital billboard along Fall Creek Parkway on the grounds of the Indiana State Fair.

The first message might as well be: Take that, Indianapolis!

The city in 2003 approved a ban on digital billboards because of concerns about visual clutter and roadway safety. Naturally, the decision has not been popular with sign companies.

But the Indiana State Fair Commission, which owns the land where the billboard is being built, is exempt from local zoning control. Another state-controlled entity, the Indiana Stadium and Convention Building Authority, also took advantage of its status a few years ago to install two smaller digital billboards on the land surrounding Lucas Oil Stadium.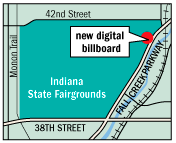 The fair board's decision to allow the sign likely will not result in a rush to add digital billboards on state-owned land elsewhere in the city, particularly along state-managed roads, said Tammara Tracy, a principal planner for the city of Indianapolis.

That's because state law prevents the Indiana Department of Transportation from issuing permits for digital signs if they are not allowed by the local jurisdiction. INDOT has no jurisdiction over the fairgrounds sign because Fall Creek Parkway is not a state-managed road.

The prohibition that applies to INDOT does not extend to other state agencies, Tracy said.

Changing a static board into a digital screen that rotates ads gives the sign's owner a significant revenue boost and advertisers more options for reaching customers. The annual take from a single sign in a choice location could rise from $54,000 to more than $320,000.

Those in the sign business say concerns about traffic distractions are overblown. They support rules more in line with INDOT's policies on digital billboards, including a ban on moving images, limits on brightness and a requirement that messages appear for at least 8 seconds.

"This myth that they are a hazard to traffic or somehow endanger motor vehicles is just that, a myth," said Mike Pflum, an executive at Greenwood-based Sign Solutions Inc., which builds electronic message centers but not electronic billboards. "I think it comes down to people in the right place consider them aesthetically unpleasing, and they have managed to inject their personal feelings into regulations."

The battle has led to a lawsuit that could determine whether the signs start popping up all over Marion County. Outdoor advertising giant Lamar sued the Metropolitan Development Commission in 2008 over the board's authority to deny two electronic signs Lamar wants to build along Interstate 465 in Lawrence. The city overturned an earlier approval of the signs by the Lawrence Board of Zoning Appeals. The case still is pending.

Baton Rouge-based Lamar also has threatened to sue the city over its denial of an electronic billboard at East 86th Street and River Road. The company argues that Marion County should allow the signs since both Johnson and Hamilton counties allow them.

The digital sign at the fairgrounds, scheduled to go live this month, replaces a static billboard that has been on the site at least 20 years, said Margaret Davidson, director of presentation and development for the fairgrounds.

Owner Clear Channel Outdoor, based in Phoenix, has agreed to pay the Indiana State Fair Commission $10,000 per year to lease the space, and will provide the fairgrounds with an eight-second message in the sign's rotation so the fairgrounds can promote its events year-round.

Clear Channel Outdoor has been working on the deal for more than two years, said Jeff McKinley, president of the company's Indianapolis division.

"[The sign] allows us to become more competitive by being able to use technological advances in our medium to keep up with similar advances that television, radio and print have enjoyed," McKinley said in an e-mail. "The value to the fair is they can use the converted sign … to become more interactive with their audience."

Clear Channel paid the same rent rate for the old billboard deal, which gave the fairgrounds one side of the static billboard at all times.

"We're really excited about the chance to rotate the various shows on the billboard to gain consumer awareness," Davidson said.

The sign should be "absolutely off-the-chart profitable" for Clear Channel, said Bruce Bryant, president of locally based Promotus Advertising. The old billboard was a top seller that had a waiting list for advertisers.

Bryant said well-located digital billboards can generate $2,700 to $3,200 per month per eight-second message. If Clear Channel can sell 12 messages at a time, it could generate more than $400,000 a year in revenue. That's as much as eight times the revenue of a traditional billboard.

So did the Fairgrounds get a fair deal? Bryant says yes, but only after factoring in the value of its permanent spot on the board. The rotating ad should contribute about $30,000 per year to the deal's value.

"It is a great location, and [the digital upgrade] ups the ante in terms of value of who would be up there," he said.•