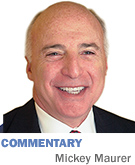 Each January, I reflect on a few of the prior year's columns. I'm always curious about the topics and
people I have written about over the course of the year. I hope you are, too.
We did not receive a Christmas card
from the Ballards this year. I did enjoy mail praising the column I wrote Nov. 30 about Mayor Ballard's failure to follow
his own rules. In 2005, Ballard penned "Ballard Rules," a book about small-unit leadership.
His behavior
regarding City-County Council Proposal 371, which would extend the city's smoking ban to bars, bowling alleys and private
clubs, was dismaying and broke practically every rule in the book—the Ballard book. The proposal, supported by the Indianapolis
Chamber of Commerce and all the major organizations in the health services arena, is set to be heard again in the Community
Affairs Committee April 14.
In February, during the darkest hours of the economic malaise, I lamented the disappearance
of a third of the value of the seven 529 plans I set up for my grandchildren and expressed a preference for self-directed
529 plans similar to the option available for individual retirement accounts. Under current law, that is impossible. We are
allowed responsibility for our own IRAs but we are not deemed capable of managing our grandchildren's college education
fund investments. I surmised that if the accounts do not recover, the kids can work their way through school and tell their
own children, "Papa blew it back in 2008." Today, in the midst of a rally, I would still have been better off
dropping the money in the kids' piggy banks.
On Nov. 2, I declared that failure does not always mean one
is through. A better test of character is how one reacts to adversity. I closed with, "A recession is the wrong time
to be afraid of failure. Opportunities abound; stay in the game." I received a response from a reader whose potential
client quoted the local and national news and concluded it would not be a good time to commit to any additional purchases.
Our reader placed my column on the prospect's desk and asked him to take three minutes to read it. When he had completed
the article, he was asked if he intended to "stay in the game." A large deal was closed right then and there.
My Aug. 10 column dealt with the loss of a family member and right-to-die issues. I shamelessly tricked you by waiting
to reveal that the family member whose life we ended was a poodle. I asked what it is that society values that is so important
as to prevail over the ultimate liberty of deciding when to die. I advocated a debate on this issue in our Legislature but
not before our representatives experience a terminally ill patient in profound pain pleading for the right to die at the time
and manner of his or her choosing. Until then, one can only hope to live like a human and die like a dog. The mail was all
positive. I would not be surprised to learn that a right-to-die option would be favored by most citizens. Unfortunately, our
Legislature has shown up brain dead on this issue.
OK, he says he won't run, but Gov. Daniels remains my
choice for president of the United States. I stand by my column of April 20. Even in April, pols were touting our man Mitch.
He has made government in Indiana fiscally responsible while our neighboring states struggle with billion-dollar deficits.
Governor/president—it's the same game, just a different scale. Wouldn't it be nice to effect a recovery
in this country without dooming the business community to terminal government intervention?
Thank you for reading
my columns last year and for responding. I have enjoyed our dialogue.•
__________
Maurer is
a shareholder in IBJ Corp., which owns Indianapolis Business Journal. His column appears every other week. To comment on this
column, send e-mail to [email protected]
Please enable JavaScript to view this content.