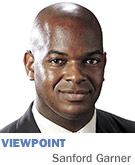 As we entered 2010, I wrote down personal and business goals. Increase sales? Check. Exercise more? Check. Design something that makes a difference in people's lives? Double-check.

You get the picture.

I've been through this drill before, always with good intentions—but not always with great results. The problem comes with follow-through. And that's where it's helpful to have a mentor—someone to guide you, hold you accountable and encourage you.

I know this from experience. Several years ago, I met Horace Cantrell, who was Indiana's state architect. We spoke of his hometown in northwestern Indiana (also my mom's hometown); I didn't imagine it would be anything more than a casual conversation. But, as we got to know each other, I realized how much I respected his work as an architect and valued his opinion as a person and professional. Over time, Horace became one of several mentors in my life.

Horace and I would meet at his office and speak over the phone bantering about challenges and opportunities, about the ups and downs of our industry, and about just about anything else. Among other things, he nudged me to get my professional license and helped me keep my firm on track.

Before I met Horace, I hadn't really thought much about seeking out a mentor. I started my career when the ink on my diploma was barely dry. I quickly learned that I knew nothing about the business world, about the realities of working with clients and collaborators, and about the challenges I'd try to unravel every day.

Most people muddle through, often learning the hard way. But those who are successful will point to mentors who helped them find their way—who helped guide their careers, gave them advice about negotiating workplace politics, helped them increase their responsibilities and income, and told them when they were ready for a new challenge or when they were in over their heads.

Trust and candor is essential. Mentors must be honest, with both positive and negative feedback, and you must feel comfortable confiding in them without worrying about negative outcomes. And your mentor must be willing to hold you accountable for your actions. Miss out on trust and candor and you'll miss out on the true benefits of having a mentor.

A key to finding the right mentor is knowing where to look, and whom to ask. A great mentor doesn't have to share your profession; he or she needs only to care about you and want you to succeed. If you don't know where to look, don't be afraid to ask your peers or employers for recommendations.

Your mentor relationship need not be limited to one person. In addition to the guidance I've gotten from Horace, I've benefited from the inspiration from my longtime friend and mentor Indiana Rep. Greg Porter. Greg consistently kept me focused on what it meant to be a community-focused businessperson. He also has been wonderful in giving me insights as to what it means to be a great father. And then there was my father, a brilliant, quiet man, who was my first mentor at a time I didn't even realize it. From him, I learned integrity, fortitude and patience.

Over the years, I've become deliberate about choosing mentors. I've learned to simply approach them and ask them to be my mentor.

If there's someone you admire, trust and would like to emulate, ask if he or she would become your mentor, making sure he or she understands the commitment being made: to get together every now and then to talk things over and share advice, opinions and experience; to be honest and tough, but also nurturing and encouraging. It's that simple. Most people are flattered to be asked.

Every relationship I've had with a mentor has allowed me to grow. My life has been enriched because of these relationships. For that, I'm blessed, and I'm also hopeful that, throughout 2010, I'll remember to rely on my mentors to hold me accountable, stay motivated and work to improve something every day.•

__________

Garner is founder of the firm A2S04 in Indianapolis, past president of the Indianapolis Chapter of the American Institute of Architects, and vice president of the National Organization of Minority Architects.