Shares of Republic Airways have fallen nearly 30 percent following the departure of an executive deemed key to the operation of the regional airline's first two branded carriers, Frontier Airlines and Midwest Airlines.

Can Republic CEO Bryan Bedford also fly branded airlines profitably?
Sean Menke was hailed with turning around Frontier while in Chapter 11 bankruptcy reorganization, and his "personal decision" to resign announced Jan. 14 has spooked some on Wall Street.

Besides Menke, a number of senior managers with Frontier have departed, Jesup & Lamont analyst Helane Becker told clients recently.

"We believe the management issue ... will be a big one for Republic. The senior management at [Republic] is very capable of running a regional airline, but has never run an airline where scheduling, pricing and fuel buying is critical to success," added Becker, who has a hold rating on the company.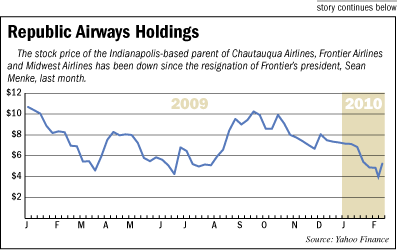 Republic shares have tumbled from $7.27 Jan. 14 to lately around $5 a share. The fall is bigger since last September, which was after the acquisition of Midwest but before the Frontier deal closed. Shares traded for $10.39 Sept. 22.

Republic has been a regional carrier and profitable for all but two of its 35 years. In 2008, its last full year of reported earnings, Republic earned $84.6 million on revenue of $1.5 billion.

Over the last several years, it enjoyed delicious profit margins, thanks in part to the nature of its contracts with carriers. The five majors for which it flies—American, Continental, Delta, United and US Airways—conduct scheduling and sell tickets. They even buy the fuel—insulating Republic from the spiking fuel prices that have so pained most majors.

So when Republic bought Milwaukee-based Midwest for $31 million, last July, and Denver-based Frontier in October for $109 million, some scratched their heads.

Republic CEO Bryan Bedford pointed to limited growth potential in the regional realm and the need to diversify income. Many of the major carriers are pressing regionals for concessions to their once-lucrative contracts. Some analysts predict a wave of mergers among regionals will result. They also question whether customers such as United may dump Republic as a contract carrier, with Republic now a competitor in places like Denver.

Republic's foray into branded service by acquiring Frontier and Midwest isn't just a tiptoe.

Jay Sorensen, a co-founder of Midwest, pointed to a presentation Bedford made Feb. 4 at a Raymond James airline conference, in which he said almost two-thirds of Republic's operating revenue will come from its branded operations.

Scary times?

"What a scary transformation for investors of an airline about to go from flying for hire ... to a business plan by which 66 percent of your revenue is at risk by selling tickets directly to the public," said Sorensen, who runs Shorewood, Wis.-based airline consultancy IdeaWorks.

Bedford and company have been trying to assure analysts that the new strategy is sound.

Frontier and Midwest "are pre-existing brands as opposed to creating them from scratch," said Republic spokesman Carlo Bertolini.

The two also came with a base of more than 2.1 million frequent fliers, in effect a somewhat captive base of loyal customers.

As for management, Bertolini said, despite Menke's departure at the end of this quarter, Republic maintains a number of top executives from Frontier and Midwest, including those in key marketing positions that Republic lacked as a fly-for-hire contractor.

But Sorensen said the task faced by Republic is formidable. He noted that both Frontier and Midwest were in bankruptcy, that there was a reason Republic was able to snap them up at a discount.

Keeping them on course "would be a huge task for even an American Airlines to accomplish."

Republic management has told analysts they still have plenty to reap in the way of cost-improvement potential. For example, Midwest's fleet of thirsty, Boeing 717s has been replaced by Republic's Embraer jets and, on some routes, by Frontier's newer line of Airbus jets.

Republic sees savings by eliminating redundancies and introducing more automation.

Such efforts to harmonize the brands has its risks, however, according to Sorensen, who is credited as the father of the baked-on-board chocolate chip cookie marketing concept that helped build Midwest's distinct brand identity.

Republic, he complains, has left Midwest's loyal base dazed and confused. Gone is the airline's signature service, which included hot meals. Now the Midwest passenger isn't quite sure what to expect with each flight. One day it's an aircraft with televisions, the next an entirely different aircraft with different levels of service.

In Milwaukee, it still has leading market share, though AirTran and Southwest sense opportunity and have been adding flights.

"They've removed anything that is distinctive about the brand. They've ruined the brand in Milwaukee," Sorensen said of Republic's handling of Midwest, which he argues has a much stronger local affinity than even the former ATA Airlines had in Indianapolis when the home-grown carrier was still in business.

Bertolini acknowledges that there are still inconsistencies in levels of service that need to be addressed. He said Republic is conducting focus groups among frequent fliers, for example.

"We want to take our cue from what customers tell us."

How well Republic listens could be critical.

Southwest a threat

Analyst Becker said another of Republic's challenges is Southwest Airlines' growth in Denver, where the Dallas-based carrier will have 144 daily departures by midyear. "This is Frontier's only hub, so we expect the airline to feel the pressure of Southwest's operation."

Republic said, despite the changes, it has retained its No. 2 market position in Denver, behind United Airlines' 46-percent share.

Republic is better known locally for its Chautauqua Airlines subsidiary, which flies Embraer jets under contract for the major carriers.

Bertolini said Republic expects the branded side of the business to become profitable later this year. Republic has moved Frontier's and Midwest's management operations to its headquarters near Michigan Road and West 86th Street.•