In parts of Washington Street, you can see them poking through crumbling asphalt—rails that once carried streetcar-like
vehicles to downtown from what in the early 1900s were the far-flung suburbs of Marion County.
Many of those suburbs now lay fallow. Residents and businesses years ago
moved farther out thanks in part to the rise of the automobile.
But with traffic congestion growing, the idea of sending rail cars zipping down Washington Street—from
far-east-side Cumberland to Indianapolis International Airport on the west—is making a return.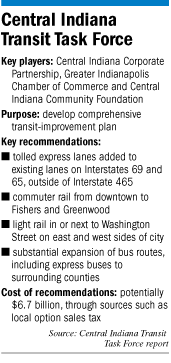 And the route could offer the best bang for the buck in spurring
transit-oriented development.
The Washington Street
light rail proposal by the Central Indiana Transit Task Force, which released its long-anticipated report
Feb. 10, was a surprise amid what was otherwise a familiar wish list of rail transit
projects proposed over the years.
Transit's
potential to spur development and create jobs is key to making the proposed system worth the estimated
$6.7 billion it would cost to build and the estimated $107 million in annual operating
costs.
The task force report estimates total
economic development return at $27 billion in "additional regional economic output" over
and above what could be expected under the current 25-year transportation plan for
the region. Further, it estimates that property values could increase $2 billion, especially
along the routes and at various transit stops.
The report otherwise
echoed decades of government studies showing the need for commuter rail lines to
Fishers and Greenwood and a substantial increase in IndyGo bus service inside and beyond Marion County.
Help for the core
Perhaps the Washington Street light rail concept is most intriguing
because the main east-west artery through the county has largely been forgotten
in an era of interstates and suburban sprawl.
According to the task
force, the percentage of employment in the urban center of the city has declined
to 21 percent from 24 percent in the late-1990s.

Hubbard
The area
also has lower average household income. Property values have risen slower in much of Marion County.
"To have a strong central Indiana, you have to have a strong core," said Allan Hubbard, co-chairman
of the task force and CEO of Indianapolis-based acquisition firm E&A Industries.
Washington Street hasn't been prominent in previous transit discussions,
with the focus instead on how to make it easier for better-off Hamilton County residents to
commute to downtown.

Thies
But Washington Street may have more potential for spurring
development than a northeast rail line, said Adam Thies, president of Indianapolis-based
planning and strategic management firm Eden Collaborative.
The
northeast corridor has entrenched neighborhoods and higher land values than along much of Washington
Street. That means developers could snap up land much cheaper along Washington for transit-oriented development
such as housing or retail.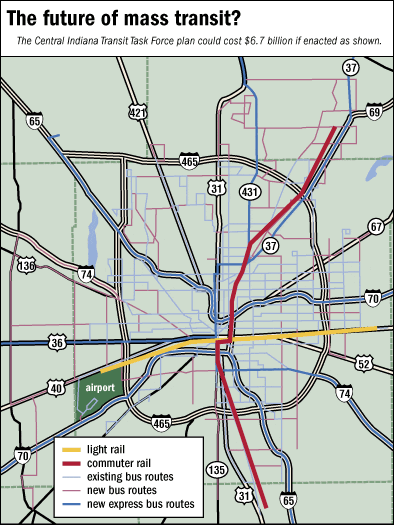 And the Washington
Street rail proposal has another intriguing lure: Trains would run down the middle of the street. That
would bring potential customers right to the front door of retailers—as opposed to their back doors if trains ran
on a dedicated corridor, off the street.
Light-rail vehicles would
ebb and flow with street traffic. Riders can hop on and off more frequently than
with commuter rail, which uses widely spaced train stations.
There's
also the potential for redevelopment.
Washington Street sports a number
of older, architecturally interesting houses that can be bought on the cheap and
restored, Thies noted. An underperforming area of the city can be rebuilt to generate higher
tax revenue.
Of course, if you build it, will they come?
"The problem in Indianapolis is, we just don't have as strong
an urban-living ethos as other cities," Thies added.
Urban design expert Harry Eggink, a professor of architecture at Ball State University, thinks a certain
segment of population will flock back closer to the city core to live if transit is available in a more
limited geographic area. Think singles and empty-nesters, for example, for which public schools aren't
an issue.
"If I have to go on mass transit, I've
got to go to where mass transit is," Eggink said.
Indeed, transit proponents often focus on either end of a transit line, but "they forget to think
about the middle part," said Lori Miser, executive director of the Indianapolis Metropolitan Planning
Organization.
"The opportunities [for development] are almost
unlimited along Washington Street," she added.
As for tying a Washington Street line with Indianapolis International Airport, the new airport terminal
was designed to accommodate future track. Space for track can be seen between the terminal and its parking
garage, with underpasses below the roads that lead up to the terminal entrance.
Integration potential
Not mentioned by the transit task force, but similar in vehicle type as to what has been proposed
for Washington Street, is an initiative exploring a streetcar system serving the downtown area.
In 2008, several civic leaders formed Indianapolis Streetcar Corp. to study a potential system
to serve the immediate downtown and attractions such as the Indianapolis Zoo, IUPUI and the Clarian
Health medical center complex. Such a circulator system could be a boon for Indianapolis' visitors
and convention business.
Streetcars have thrived in cities
such as Portland, Ore., bringing with them high-density development along the line.
"Now, 45 cities are looking at the streetcar for that purpose,"
said Steve DeVoe, an attorney at Bose McKinney & Evans, and president of the
streetcar initiative.
His group has tapped consultants who are studying
the concept further.
Streetcars would be "synergistic and supportive
of commuter rail," DeVoe said.
So would buses.
The transit task force proposes a substantial expansion of IndyGo routes before taking on the more expensive
prospect of commuter rail. A transformed IndyGo would rely less on the hub-and-spoke
system it operates under in favor of more direct routes, which would decrease wait times for passengers.
Besides adding additional, more direct routes within Marion County,
the transit task force proposes express routes to cities such as Plainfield and the Zionsville area.
Currently, IndyGo manages an express route to Fishers and Carmel and to parts south
of Indianapolis.
"Too many times, I've
found job opportunities for people, but without transit they can't go to work," said Joe
Slash, executive director of the Indianapolis Urban League.
"We need to look at this not as a social thing but as an economic development tool."
Funding is the biggest challenge. Perhaps the most controversial idea is to create a local option
sales tax in counties served by the transit initiatives that could cost residential households $15 a
month, or about $180 a year.
But the task
force also proposes reallocating some tax money that would otherwise go into highway projects—perhaps
$600 million from road projects planned for the next 25 years.
Another
proposed income source is money generated from the creation of optional "express"
toll lanes that could be added to parts of Interstates 65 on the south side and 69 on the north side.
Fees paid for access to those faster travel lanes would pay for the additional lanes and throw off more
revenue to fund the larger transit system.• 
Please enable JavaScript to view this content.