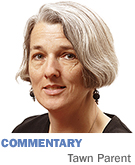 What have been your biggest "wow" moments—moments that
literally made your mouth drop open, moments you can remember vividly, even years later?
One of mine was encountering Iguacu Falls in Argentina. You can get up close and personal with these towering falls, and
I did. As I approached the base of Iguacu, the power of the water overwhelmed my senses. That torrent was all I could feel,
hear, smell or taste. I stood there with my arms outstretched, relishing the spray on my skin and losing myself in the experience
of that force of nature.
Have you ever felt exhilarated by an out-of-building experience? Maybe it was your first glimpse of the Grand Canyon, a hike
into the Smoky Mountains or the sight of two butterflies chasing each other across a meadow. It's hard to beat Mother
Nature at inspiring moments of wonder.
It's ironic that, at a time when everyone's going gaga over "green," we are more cut off from the
environment than ever before. For the first time, the majority of people in the world are living in cities. Urban life has
serious costs; it actually impairs our ability to think. Coping with all the stimuli of traffic, surrounding conversations
and flashing signs exhausts our brains. Just a short walk on a crowded city street lowers our ability to recall and diminishes
our self-control, according to a 2008 University of Michigan study.
Technology has a similar effect. Responding to and prioritizing the constant onslaught of phone calls, e-mails and text messages
routinely depletes our cognitive capabilities.
"Cities reveal how fragile some of our 'higher' mental functions actually are," said Francis Kuo,
director of the Landscape and Human Health Laboratory at the University of Illinois. "We take these talents for granted,
but they really need to be protected."
One of the best ways to restore our brains is to, as the National Wildlife Federation says, "Be out there." Natural
settings allow our minds to replenish themselves.
In Indianapolis, we're fortunate because getting away from it all is easier than in many other major cities. The woods
are as close as Eagle Creek or Fort Harrison State Park. And Brown County is just an hour's drive.
The snow has melted away, and the thermometer is cracking 60. What better time to resolve to do your brain (and your bod)
a favor by getting out there? Here are some suggestions:
• Eat lunch outside at least once a week—and leave your cell phone in the office. Downtown Indianapolis offers
several pockets of green space scattered with fountains, picnic tables and benches. Many office parks also offer outdoor space.
• Plant a garden. You can start with just a few flowers or tomato plants. It's amazing how time slows down when
you start digging in the dirt.
• Take a hike. Next Saturday morning, skip the gym and hit a park instead. Don't plan a route—just let yourself
ramble.
Want to kick things up a notch? Plan a camping trip or get involved with the Central Indiana Land Trust or the Nature Conservancy.
Such groups are especially concerned about the disconnection between children and the natural world. Over the past 20 years,
the amount of time kids spend outside has fallen 50 percent, while their time spent with electronic media—and their
obesity rates—have skyrocketed.
These trends were explored in a 2005 book, "Last Child in the Woods: Saving our Children from Nature-Deficit Disorder."
That book helped spawn a variety of "No Child Left Inside" initiatives.
Cities and states have taken steps such as increasing the amount of green space in school playgrounds and at day-care centers,
launching public-awareness campaigns on the benefits of outdoor play for kids, and offering incentives for real estate projects
that protect wildlife areas and promote outdoor physical activity. Some of these ideas would sync well with Gov. Mitch Daniels'
INShape Indiana initiative.
Our children's lack of familiarity with the outdoors could threaten the future of conservation. Green activists typically
say their interest was triggered by intense experiences with nature at an early age. How many kids get that today?
Research shows we benefit from just looking outside. Hospital patients with a view of green space on average need less pain
medication and recover more quickly than patients overlooking concrete. And people who live in apartments with views of natural
settings tend to have longer attention spans, be more optimistic and be less likely to engage in domestic violence.
So the next time you can't solve a problem, run low on ideas or feel your stress level start to soar, bypass the vending
machine and head for the door.
Maybe your mind just needs to get outside.•
__________
Parent is associate editor of IBJ. To comment on this column, send e-mail to tparent@ibj.com.
Please enable JavaScript to view this content.