Shortly after Interactive Intelligence Inc. decided two years ago to push beyond its roots in call centers and pitch its
communications software to more insurance agents and money managers, the company ran up against a tricky hurdle: the BlackBerry.
The mobile phone and e-mail device has come to define 21st-century professional life—especially for on-the-road sales
staff. But to link one seamlessly to Interactive's software—which enables an entire organization to organize,
save, share and route all their communications via the Internet—was easier said than done.
 

Zerbe
Interactive's software required a BlackBerry to constantly check for an incoming phone call—if the phone had
any hope of catching it before the caller hung up.
That constant checking—like a coffee-addled day trader rapidly refreshing a Web page for fresh stock quotes—would
quickly wear out BlackBerry batteries.
For a solution, Interactive turned not to its own engineers and programmers, but to a handful of students at Rose-Hulman
College of Engineering in Terre Haute.
"They knew they needed to get into the BlackBerry space," said Mitch Landiss, a project manager at Rose-Hulman
Ventures. "They kind of put us out there like a canary in a coal mine."
Rose-Hulman Ventures is an arm of the college that hires out teams of engineering students to do product development work
to bridge the gap between basic research and commercialization.
Landiss and Will Mathies, another project manager at Rose-Hulman Ventures, pulled together five undergraduates last March
to tackle Interactive's problem.
In May, the students and their managers traveled to Interactive's Indianapolis headquarters, just off Interstate 465
near West 79th Street. There, they presented a plan of action to Todd Zerbe, Interactive's director of product development.
Zerbe and his mobile-device expert, Flavio Baldoni, liked what they saw. Rose-Hulman Ventures had four of the students work
on the project full time over the summer. By August, the Rose-Hulman students returned to Indianapolis and presented a functioning
prototype.
It was a piece of software that can be added either to Interactive Intelligence's servers or to a Blackberry server
operated by a business for its employees. When a phone call comes in to a worker and needs to be routed to his BlackBerry,
the new software transmits a short, simple message that tells the BlackBerry to check in to the system.
In software lingo, the Rose-Hulman solution was to "push" out a quick, simple message, so the BlackBerry could
"pull" in the more complex phone call. That allowed Interactive to adapt its pull-based software for mobile devices
without an expensive overhaul to push-based messaging—and is a faster, more reliable method.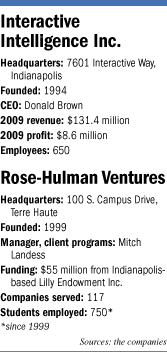 "That was really key for us, to do the push," Zerbe said. "It's
kind of a natural extension of our product."
Pushing out a simple message also should allow Interactive to easily adapt Rose-Hulman's software to other kinds of
mobile devices, such as iPhones.
Interactive expects to release the BlackBerry feature within the next year, Zerbe said.
That's good timing because the company's sales to insurance and financial services companies have accounted for
nearly one-third of its new business and were particularly strong in the fourth quarter, CEO Don Brown said during a January
conference call with analysts.
Interactive grew its revenue 8 percent last year and expects another 10 percent this year. Profit in 2009 more than doubled
to $8.6 million compared with the previous year.
In the insurance industry specifically, Brown attributed Interactive's success to its acquisition of South Carolina-based
AcroSoft Corp., which specialized in insurance communications, in May. The two companies had more than 115 clients in the
insurance field.
"We really are pretty excited about our unique message that we can hit the insurance space," Brown said. "We're
starting to see some real nice activity from that as well."•
Please enable JavaScript to view this content.