Mark Harper holds a doctorate in literature. But the two or three classes he teaches each semester at IUPUI earn him less
than he makes three nights a week as a bartender.
That's because Harper is an adjunct instructor. He gets paid $2,475 per course, with no benefits and no guarantee of
work the next semester.
"It's a schizophrenic existence," said Harper, 45. "The job dependability of a bartender right now
is higher than the job dependability as an adjunct."
Leslie
Weaver, an adjunct instructor at IUPUI, teaches elementary composition. (IBJ Photo/ Perry Reichanadter)
Such part-time faculty is essential to allow IUPUI to teach all of its 29,000 students. Part-timers account for one in every
four instructors at the downtown Indianapolis campus.
They also are a growing percentage of instructors at Ivy Tech Community College and similar schools around the country, which
are increasing their use of adjuncts to help them absorb a surge of displaced workers at the same time the recession has forced
state governments to cut funding.
But there are two problems with such prevalent use of adjuncts. First, there's a common perception that adjuncts, on
the whole, reduce the quality of instruction at universities. Accreditation committees that verify the quality of universities
have warned both IUPUI and Ivy Tech that they're using too many.
Second, it's not clear that adjuncts will always accept low levels of pay, security and benefits, and appreciation.
At IUPUI, a group of adjuncts has already begun to agitate for improved conditions.
The Associate Faculty Advisory Board at IUPUI held a week-long "Teach In" last week, with instructors such as
Harper showing his students a video of IUPUI adjuncts describing their work.
The group hopes that if more people at IUPUI know the contributions of adjuncts and the low pay and amenities they receive,
things will improve.
"We need full-time faculty on our side. We need students involved, too," said Tracy Donhardt, president of the
Associate Faculty Advisory Board. Donhardt, a former reporter for IBJ, has taught journalism at IUPUI for several
years as an adjunct. She is not currently an adjunct because she is finishing a master's degree there.
The board began last year in IUPUI's School of Liberal Arts, where there are 168 adjunct instructors. But in the fall,
the board plans to add members from all of IUPUI's schools, where there are a total of 979 part-time instructors.
The adjuncts' organizing already has had some effect. Adjuncts in IUPUI's liberal arts school have complained
for years about the lack of work space. The liberal arts adjuncts share 23 cubicles in a room in IUPUI's cramped Cavanaugh
Hall.
But in February, IUPUI found a separate room where adjunct instructors could at least have a private meeting with a student,
if necessary. Bill Blomquist, dean of the IUPUI School of Liberal Arts, said he's contemplating how IUPUI could free
up more work space for adjuncts.
"They really thought through their issues," he said of the adjunct faculty board. He added, "As long as
we can work on what is feasible, then I think we can work it out."
Budget pressures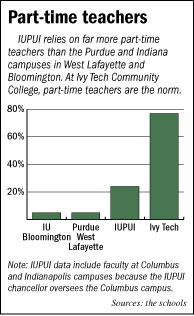 What is not feasible, in Blomquist's eyes, is raising adjuncts' pay—even
though the Indiana University campus in Bloomington pays adjuncts about twice as much as IUPUI does.
First, there's the problem of declining state funding. In December, the state cut funding for Indiana University campuses
by a collective $58 million. Even before the cuts, state funding per student had been declining for years as IUPUI's
enrollment surged.
"The pay issue is the most challenging right now," Blomquist said. "We're not increasing anybody's
pay."
In addition, the Associate Faculty Advisory Board solicited quotes from health insurers to create a plan for adjuncts. But
the IU human resources department nixed the plan, saying all benefits—even though adjuncts receive none—must come
through human resources.
But perhaps the biggest obstacle for adjuncts to get better pay and benefits is their abundance. For three decades, the number
of newly minted Ph.D.s in the liberal arts has outstripped available jobs—by a long shot.
Increasingly, critics say universities are selling fairy tales to graduate students.
Earning a doctorate takes as long as 10 years, during which graduate students subsist on low pay as teachers of undergraduates
or research assistants to tenured professors. Then, because the number of doctorates without faculty jobs keeps piling up,
finding a job seems more and more like playing the lottery.
On top of that, IUPUI taps many Indianapolis professionals—such as lawyers or journalists—to bring their real-world
experience to the classroom.
"It's not just about demand for part-time faculty, it's also about the supply," Blomquist said. "We
are fortunate in Indianapolis to have a lot of talented folks in our community who enjoy the opportunity to teach part time,
and who benefit our students."
It's not surprising, then, that Blomquist says he rarely struggles to find enough adjuncts to cover the liberal arts
classes IUPUI offers. The only time he does is if it's in a particularly popular foreign language—such as Arabic—or
if the need arises days before the class begins.
In Donhardt's eyes, there's always money, it's just how IUPUI chooses to spend it. She hopes raising awareness
yields change, but she acknowledges adjuncts might have to unionize to get their demands met.
"We don't want to go down that road anytime soon," she said, but "we might have to."
Things are different at Ivy Tech, where 77 percent of all instructors are part-time adjuncts. The institution constantly
struggles to find enough adjuncts to teach all the classes students want, said Don Doucette, Ivy Tech's provost.
"There are some places in some fields where we can't find enough adjuncts," Doucette said. English, math
and computer science are some examples.
"We need qualified adjuncts all the time. And we look for them all the time," he added.
Relying on adjuncts
IUPUI and Ivy Tech both use many times more adjuncts on their faculties than the 5 percent used at the Indiana University
campus in Bloomington and the Purdue University campus in West Lafayette.
Both schools want more full-time faculty—although that's proved easier said than done.
It's a common assumption that full-time professors are better teachers than adjuncts. A 2004 study published by the
National Bureau of Economic Research concluded that adjuncts actually had a small positive impact on instruction in scientific
and professional fields but a small negative impact in the humanities.
Teresa Lubbers, Indiana's commissioner of higher education, said she's happy with the quality of instruction
at IUPUI, even with its higher proportion of adjuncts. Her only concern with the use of adjuncts is that they rarely have
as much contact with students outside the classroom as full-time professors do.
That's particularly an issue for Ivy Tech. It struggles to have enough full-time faculty to sit on faculty governance
committees, set curriculum standards and advise students—critical activities in which adjuncts don't participate.
Ivy Tech's accreditation body has counseled the school to lower its dependence on adjuncts. Doucette said Ivy Tech's
aspiration is to have about 66 percent of its faculty be adjuncts—but it has no clear plan right now to get there.
For IUPUI, its reliance on adjuncts also has prompted repeated admonishment from its accreditation body—in reports
dating back to 1982. Just before its last accreditation review in 2002, IUPUI did start to act.
It grew its full-time faculty 30 percent from the fall of 2000 to the fall of 2008, adding nearly 760 full-time positions.
But then the recession kicked in. By fall 2009, more than 150 of those positions had disappeared.
IUPUI's percentage of full-time faculty now stands at 24 percent, down 1 percentage point from a decade ago.
That means, for the foreseeable future, most IUPUI freshmen will continue to be taught by people like Mark Harper—well-trained
but poorly paid, juggling a second job and sharing a desk with scores of other adjuncts.
"We're sort of the students' first exposure to college life," Harper said. "If they don't
do well in our class, then they're not going to do well in the rest of their classes." •
Please enable JavaScript to view this content.