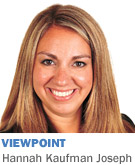 Tech-savvy employers are turning to social-media tools to locate and
screen applicants for positions. And with increasing competition for jobs, employers are trying to both find the best applicants
available and know as much as possible about them. Frequently, the first step in this process is to simply "Google"
an applicant.
Google provides a wealth of information. Maybe too much. Results usually yield Facebook, MySpace, LinkedIn or Twitter profiles.
And the employer has hit the proverbial jackpot. Or trap for the unwary. Having access to an applicant's own unedited,
unpolished and unembellished profile on a social media site can tell an employer lots of revealing facts about a potential
employee's character and judgment (or lack thereof, especially if there is a self-portrait with a beer bong in hand).
Employers are increasingly including the information found on social-media sites in their hiring calculus.
However, these social-media profiles can also tell employers things about an applicant they may not want to know. Information
such as the applicant's age, race, ethnicity, religion or disability; characteristics employers can't consider
if they want to avoid discrimination claims. Most social-media profiles contain at least one picture of the user, so the employer
suddenly knows facts it isn't allowed to ask on an application. Even if an employment decision isn't based in
any way on illegal discriminatory grounds, once the employer has information in its possession about the candidates'
minority class, they have lost an important defense to claims of discrimination: ignorance of a candidate's protected
status.
A second, but equally important, risk to employers using social-media tools for recruitment purposes are concerns about applicant
privacy. The legal ground is shifting regarding whether applicants have a reasonable expectation of privacy for the information
they voluntarily post online, regardless of the privacy settings used on their profile. Courts are tending to side with employers
with regard to invasion-of-privacy claims made by employees and applicants, with one important caveat: Employers cannot use
deceptive means to obtain information about a candidate.
While that may seem obvious, employers have been known to go to great lengths to get access to applicants' or employees'
profiles. Overzealous "loss prevention" departments have been known to even create falsified profiles on social-media
sites so unsuspecting individuals accept a "friend" request and thereby permit full access to pictures, status
updates and anything else posted on that profile. Employers should remember a simple rule that applies in the social media
context as well as real life—the ends do not always justify the means.
Finally, employers should remember that information available on social-media sites is not reliable. There is the risk of
mistaken identity; after all, there are a lot of John Smiths out there. A recent check on Facebook revealed about 228,000
pages with that name. Even my own name had 642 matches. Even if an employer is somehow able to narrow its search results to
the correct applicant, social-media sites may not be an accurate source of information about the applicant. Statements, pictures,
comments and posts can easily be taken out of context, misconstrued or misunderstood.
Employers may miss out on a loyal, intelligent and diligent employee simply because a childhood friend posted a recollection
of shoplifting lip gloss in middle school. Equally risky for employers is making employment decisions based on a so-called
"sanitized" profile. Just because a Facebook user doesn't have pictures of drug use doesn't mean it
isn't happening.
The lesson is to use social media with care and diligence. If a review of social-media sites is part of an employer's
screening process, its use should be well-documented, pursuant to a written policy and applied with consistency. Employers
should treat social-media tools with the same seriousness as formal background checks, drug screening and interviewing.
Google may give an employer a wealth of information about a candidate, but that doesn't mean it is true, current or
reliable. Sometimes it is simply better not to know.•
__________
Joseph is partner at Joseph and Turow PC, a local firm specializing in small-business law and entrepreneurial services.
She also is an adjunct professor at the Indiana University School of Law in Indianapolis. For more information, visit www.josephturow.com.

Please enable JavaScript to view this content.