BLOOMINGTON—InChromatics LLC doesn't have a lab or any employees, but it does have a chance to receive a startup grant from Indiana University.

Co-founder and retired chemistry professor David Nurok hopes to land more than $100,000 from the new $10 million Innovate Indiana Fund. The money would help his company start operations, and eventually market the chromatography technology he patented more than 10 years ago.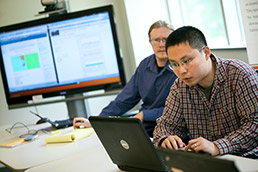 Felix Terkhorn, left, and Yiming Sun work on a project at the Pervasive Technology Institute. (IBJ Photo/ Perry Reichanadter)
Though the funding is but a fraction of the $1 million InChromatics needs, Nurok said it's a sign IU is finally serious about translating research into commercial products.

"I spoke to some people in administration six or seven years ago, and they didn't think this kind of approach to what we do at the university was important," Nurok said. "Now it's being pushed."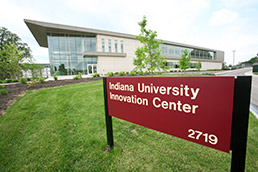 IU opened the Innovation Center last fall. (IBJ Photo/ Perry Reichanadter)
Another sign of IU's commitment to what academia refers to as "technology transfer" is the construction under way on the Bloomington campus. Last fall, IU opened the Innovation Center, a $10 million incubator with wet lab space that will cater to computer scientists and chemists. Its main tenant so far is the Pervasive Technology Institute, where some 60 computer scientists and graduate students work on projects related to the super-computing grid, data mining and cyber-security.

Soon, the Innovation Center will be part of a computing technology mini-campus. In April, IU broke ground on the Cyberinfrastructure Building, which will house the university's IT Services staff. The emerging technology park, which includes the bunker-like IU Data Center, is on the site of the old University School complex at 10th Street and the State Road 45-46 bypass.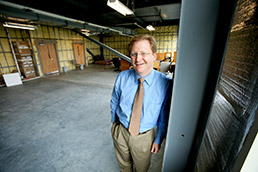 Tony Armstrong, of the IU Research and Technology Corp., stands in an unfinished lab at the new Innovation Center in Bloomington. (IBJ Photo/ Perry Reichanadter)
"This park at 10th and the bypass is really starting to take shape," said Tony Armstrong, president of the IU Research and Technology Corp. "There'll be a lot of activity here we'll try to commercialize."

IU hired Armstrong in 2008 at the same time it formed the Research and Technology Corp. to oversee the new Bloomington center and the Emerging Technologies Center, an incubator on the Central Canal in downtown Indianapolis.

The restructuring was part of a broader initiative, dubbed Innovate Indiana, that Michael McRobbie launched after becoming IU's president in July 2007.

"Ultimately, all of Indiana will benefit from the jobs and economic vitality generated by this collaboration between public research and private entrepreneurship," McRobbie said in a November 2008 press release.

Playing catch-up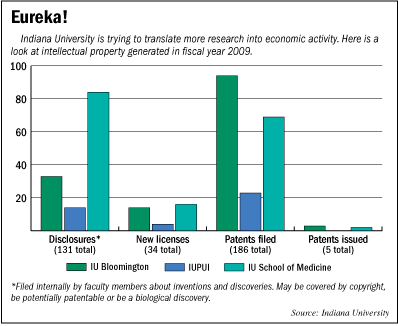 IU's commercialization effort isn't new—one of the most widely known products to come out of the university is Crest toothpaste with fluoride in 1956. Over the years, though, IU has been easily overshadowed by the pace of activity at Purdue University, the engineering-focused school in West Lafayette.

Purdue, for example, cranked out 175 patent applications in 2008 to IU's 50, according to the latest survey from Association of University Technology Managers.

Successful technology transfer programs bring a hefty stream of income to their universities. The University of Wisconsin, where the program dates to 1925, saw $54.1 million in revenue from its 547 active licenses in 2008.

IU, by comparison, earned nearly $5 million on 217 active licenses.

Armstrong hopes IU's Research and Technology Corp. will move up the ranks of Big Ten universities by generating more invention disclosures, which are reports faculty members file internally. Armstrong's staff is fanning out to all campuses, making contact with faculty and departments that had been overlooked in the past.

The next step, Armstrong said, will be to license more of those discoveries and inventions. "How many deals are we doing to get things moved out?"

Gaining experience

IU has gleaned much of its commercial activity in the past from the medical school.

Jim Koers, CEO of InChromatics and a former graduate student under Nurok at IUPUI, said the university's lack of experience in other areas was apparent as he negotiated with the university on licenses more than a year ago.

IU officials seemed overly concerned about making the deal profitable, Koers said, while the InChromatics founders simply wanted to keep their patents alive. The big company that first licensed their technology had let it die in a corporate restructuring.

The experience was "almost more like working with a venture capital group, [rather] than them wanting to advance technology," Koers said.

Armstrong admits that IU faces a learning curve, especially when it comes to commercializing advancements in information technology. New software programs come to market more quickly, and they may spawn entirely new companies, rather than simply licensed technology, he said.

"It's a different model, so we're trying to figure out how to do it best, and what the faculty's needs are."

Martin Jischke, president emeritus at Purdue, said most universities, not just those with an emphasis on engineering, are trying to translate their scientific strengths into marketable products.

"Over the last decade or more, there's been a tremendous growth of that kind of activity. It's part of a larger trend."

Building an "ecosystem" that nurtures economic activity takes decades, Jischke added. The effort has to endure over multiple administrations and boards of trustees, he said. "Decades is the way to think about it."•