Software applications may outnumber the stars in the sky.

And who can count the expanding universe of computer devices that run them?

Yet, somehow, there's often nothing off-the-shelf to capture data and manage it in a cost-effective way. That deficiency is generating a lucrative business for Indianapolis-based Optiform Inc.

The 12-person firm recently "graduated" from five years at the Indiana University Emerging Technologies Center, along the Central Canal. It needed more space, and has found elbow room at 429 N. Pennsylvania St.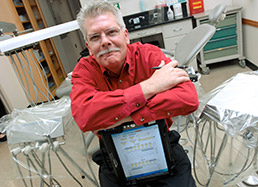 Scott McLaughlin, CEO of Optiform, holds one of the laptops used in doing clinical research at the IU dental school. Before, trial data was entered on paper. (IBJ Photo/ Perry Reichanadter)
The closely held firm just finished a profitable year and is projecting revenue of $2.5 million.

Much of that business has come from the medical and life sciences realm, where the demand for capturing and processing data is insatiable.

Meanwhile, the Great Recession has driven companies to deploy work-flow automation tools so they don't need as many people on the payroll.

"Every year, people want more data and you have fewer people to collect it," said Optiform's managing partner, Scott McLaughlin.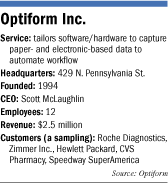 He runs a shop more akin to a car customizing garage.

While the company writes its own software, many of its products result from customizing and combining software from other firms, through licensing or certified partner arrangements, for example.

"We take the best-of-breed components and we bolt these to existing products," McLaughlin said. "Why reinvent the car?"

A prime example is a project with IU School of Dentistry's Oral Health Research Institute.

The institute was conducting clinical trials of a dental device. In a typical trial, details are collected on paper forms, which are later scanned or typed into a computer. The data also needs to be combed for errors that might have occurred during entry.

To cut time, the institute wanted to hand out tablet-size PCs to researchers, allowing them to enter their observations electronically, on the spot.

But it turned out data-entry software for PC tablets compliant with U.S. Food and Drug Administration regulation "didn't exist," said Melissa Mau, director of the Clinical Research Core at the IU institute.

Optiform put together recognition software that allows handwritten entries on the tablet PC to be converted to data in an allowable FDA format, nearly instantaneously. The software also conducts its own quality checks. Enter the wrong date, for instance, and the pad flags the error instantly.

Ordinarily, it would have taken about 72 hours to manually enter paper data.

It "eliminates the need for data entry and data quality checks since these functions are built into the program and can be addressed in real time, which is crucial," Mau said. "This results in huge cost and time savings."

Optiform put together a similar system for orthopedic-device maker Zimmer Inc. for its clinical trials.

Automation is destination

Hospitals are particularly ripe for Optiform's applications.

When a hospitalized patient is discharged by a cardiologist, for example, nursing staff must complete a patient outcomes database. Sometimes it involves 400 or more variables.

Optiform assembled software that allows the nurse to grab patient data from hospital admission records, with the information instantly repopulated into the cardiologist's records.

Time is a big deal to cardiologists who may perform a dozen or more procedures in a given day. "I used to have to count the syllables when I communicated with them," said McLaughlin, who once worked in a cardiology practice.

Perhaps the hottest segment lately for Optiform has been automated process for paper "EOBs," short for explanation-of-benefits forms.

An insurer will send a hospital an EOB detailing what it will pay for a surgery. Sometimes, these EOBs consist of 100 or more pages of data. It can take two people six hours apiece to enter data into a hospital system and to reconcile what's been paid versus what else should be covered.

Optiform put together a system that includes a logic engine capable of reading and interpreting data in 20 minutes.

It's a far cry from early ambitions of Optiform's predecessor, Semtek, which was founded in 1994. Back then, it merged with another small firm that wrote medical-practice-management software.

"We were going to set the world on fire with medical imaging records," McLaughlin said.

But the firm was a bit ahead of its time. It instead took on projects such as converting paper records to electronic data for public health agencies in Indiana and Illinois.

In 1999, the company split and Optiform emerged to set up offices in the Stutz Building. Duct tape applied to the floor served as office partitions at the budding firm.

Then, about 10 years ago, McLaughlin ran across doctors at Sutter Health, a hospital system in San Francisco. They wanted personnel to be able to enter chart data onto a clipboard that could digitize it and dump it into the hospital's IT system.

"We tried all kinds of interesting contraptions," McLaughlin said, recalling early handheld units that got so hot "you could heat your car seats" in winter.

They eventually found the right hardware and developed an application, selling 100 units to Sutter. Subsequent customers included Clarian Health, in Indianapolis, and the Cooper Institute, in Dallas.

Targeting multiple industries

Optiform sees opportunities in most any industry. One customer is gasoline chain Speedway Super America, for human resources administration.

The petroleum company has been flooded with applicants during the recession and struggled to keep up with processing. Optiform assembled a system allowing people to apply online and to attach their resumes. The system also automatically processes credit and background checks and sends promising prospects to the appropriate regional office.

"We always say, 'Wouldn't it be nice if forms could route themselves automatically, just like IP [Internet protocol] packets route themselves through the Internet?'" McLaughlin said.•