Honoree, Advancements in Health Care
Ascension St. Vincent Indianapolis heart and kidney transplant teams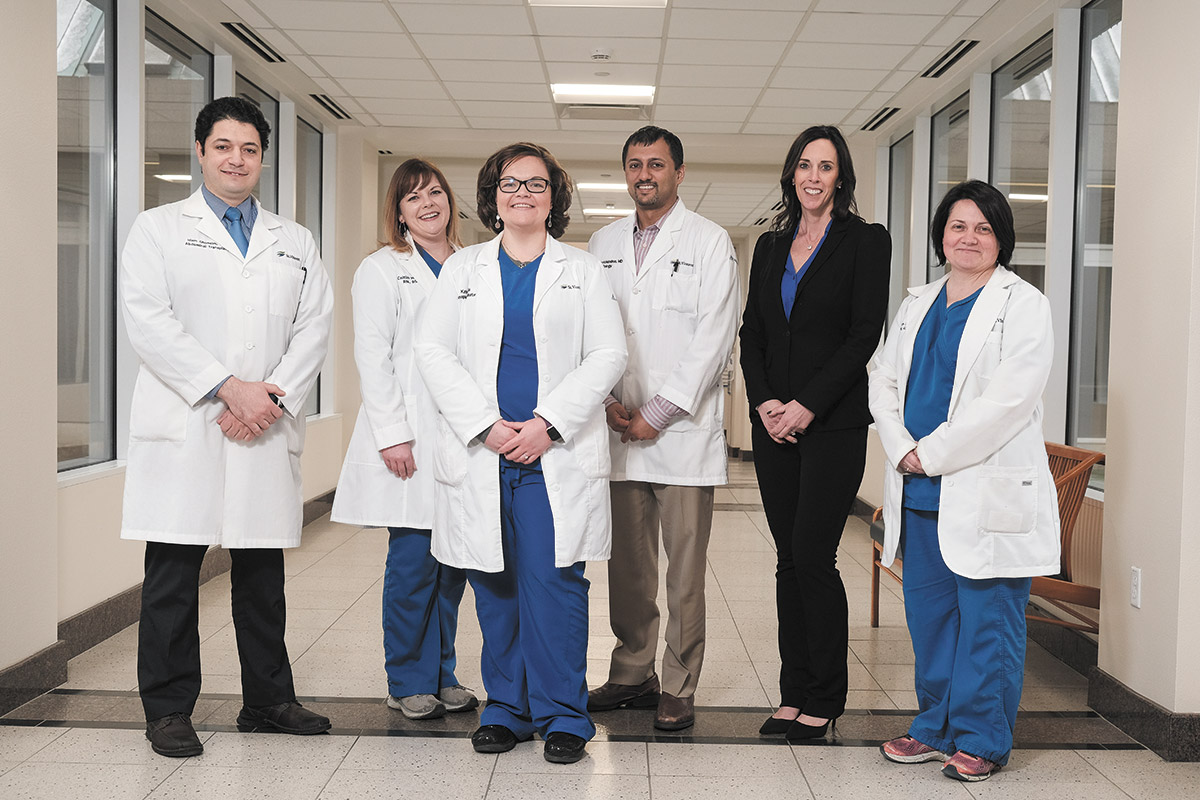 The fates of the heart and kidneys are often intertwined.
"When one organ is suffering, the other can get worse, too. It's a vicious cycle," said Dr. Ashwin Ravichandran, a cardiologist who is part of the transplant team at Ascension St. Vincent Health in Indianapolis.
Eight years ago, surgeons at St. Vincent decided to pursue an unconventional approach to dealing with joint organ failure: simultaneous heart-kidney transplantation. It's a procedure that has grown in popularity as outcomes have proven its effectiveness.
Research shows it can reduce the renal failure that often occurs in post-transplant heart patients, who would then typically have to wait three or four years for a new kidney. Joint transplant also reduces rejection rates compared to patients who receive a heart or kidney transplant alone.
After five years of success with simultaneous transplants, the St. Vincent team decided three years ago to make the procedure a focus. As the only Indiana hospital offering it, St. Vincent formalized its process to accommodate a higher volume of patients and participated in the development of national criteria for performing the procedure.
Early on, Ravichandran said, the team was doing one or two joint transplants a year. But it's done six in each of the last three years. Its total is now 25, and in all but a few cases, the outcomes have been positive.
St. Vincent has 10 cardiologists and four surgeons on the heart side of its team and one nephrologist and two surgeons on the kidney side.
Patients with chronic disease are the best candidates for the joint transplant procedure, said Dr. Islam Ghoneim, the hospital's program and surgical director for kidney transplants. In cases of acute kidney failure, the patient's kidney function might improve on its own, he said, so those who suffer from chronic failure move to the front of the line.
Beyond the medical evaluation, doctors consider patients' support networks and their ability to successfully follow a complex post-op medication schedule.
From an organ-availability standpoint, patients who need a double organ transplant are typically sicker and therefore move to the front of the line.
The process begins when both organs become available from a single donor. The heart team goes first, performing the transplant and sending the patient to the intensive care unit, where he or she typically spends six to 12 hours. When both teams agree the patient is stable enough, the organ recipient goes back to the operating room for the kidney transplant.
If the patient doesn't stabilize between surgeries, the waiting kidney goes to another recipient. The best-case scenario in such situations is that the original patient recovers enough to go on kidney dialysis while waiting for another kidney to become available.
The dual transplants are a reflection of the close working relationship between the hospital's 30-year-old heart transplant program and its decade-old kidney transplant program.
"It's so satisfying to see a patient with essentially multiple-organ failure recover as the result of a generous donation," Ghoneim said.•
Please enable JavaScript to view this content.