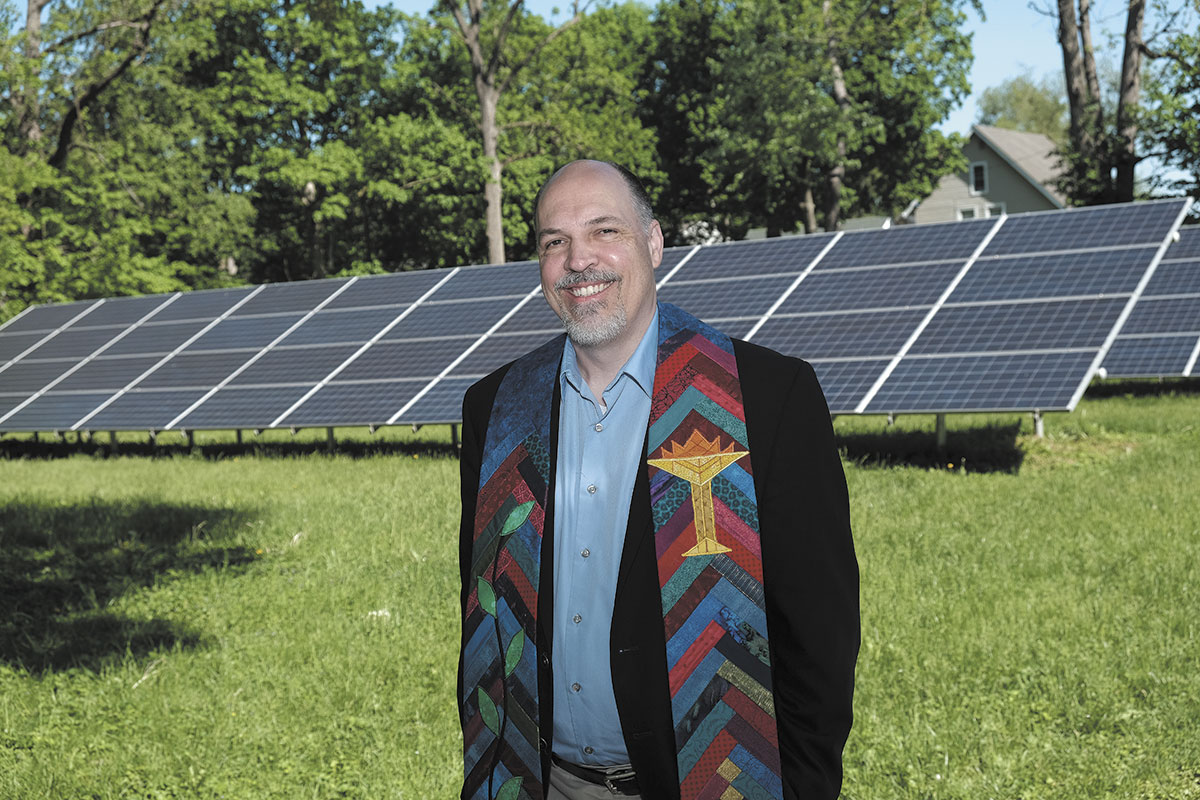 Solar energy has been on Ray Wilson's mind for more than 40 years.
The idea of adding solar panels to his family's home first occurred to Wilson in the early 1980s. By 2012, it was a reality.
Wilson currently owns an 8.8-kilowatt solar system that he said has more than paid for itself. He and his wife have not paid for electricity in 2-1/2 years.
"I come from a background of wanting to conserve, and this whole idea of solar energy just excites me," Wilson said.
Wilson, a longtime member of the Unitarian Universalist Church of Indianapolis, also led a program at the church to install two solar arrays—a 10-kilowatt system in 2012 and a 40-kilowatt system in 2017.
The Rev. Jamie Hinson-Rieger, the minister, said the solar system provides more than 90% of the church's electricity.
"We're constantly looking at how we can continue to be more energy-efficient and sustainable, and then with the solar panel, hopefully we'll be generating surplus that goes out into the community," Hinson-Rieger said.
But Wilson and the Unitarian Universalist Church of Indianapolis are fairly unusual in Indiana, which ranks 32nd in the country in the amount of kilowatt hours produced by so-called small-scale solar systems, which supply individual homes or commercial buildings, rather than utilities.
And the state's ranking could fall, given changes coming this summer in state policies related to small-scale solar.
Both Wilson and the church take advantage of an incentive known as net metering, which allows homeowners and businesses that have solar systems to earn a credit on their monthly electric bill for the excess electricity they produce from their system.
How that credit is calculated can make a huge difference in a customer's bill.
Indiana's long time net metering program is set to end on July 1 and will be replaced with a program called "excess distributed generation," which will substantially reduce the credits that small-scale solar owners receive for the energy they generate but don't use.
Solar industry executives, installers and advocates told IBJ they are concerned about what will come next for small-scale residential and business solar in the state.
"Basically, the policies may lock out the private ownership of solar from the market," said Jim Straeter, founder of Rochester-based Ag Technologies Inc.
What happens next?
The path toward the end of net metering began during the 2017 session of the Indiana Legislature.
When Gov. Eric Holcomb signed Senate Enrolled Act 309 into law, it began a ticking clock for solar-curious Hoosiers who get their power from one of Indiana's five investor-owned utilities—AES Indiana, CenterPoint Energy Inc., Duke Energy Corp., Michigan Indiana Power Co. and Northern Indiana Public Service Co.
"Net metering was a really significant part of what made this work for us," Hinson-Rieger said. And the church's push to have the solar ground array installed when it did was driven by fear that the state would change the net-metering law.
"And, so, we were really working with a purpose, working under a deadline," he said. "We need [net metering] for it to make sense."
Under SEA 309, people who set up solar arrays before Dec. 31, 2017, are grandfathered into the full retail net metering rate until July 1, 2047.
Those who installed systems between Jan. 1, 2018 and July 1, 2022, will receive full retail credit until July 1, 2032.
At the time the bill passed, the owners of residential solar and small commercial solar arrays were receiving roughly 11-13 cents per kilowatt-hour for extra energy they produced. The law allowed that rate to be available to new customers until July 1.
After July 1, the rate was expected to drop to an average of about 4 cents.
The state's five investor-owned utility companies were also permitted under the law to end their net-metering programs earlier if small-scale solar customers were producing at least 1.5% of a utility's peak load.
Danielle McGrath, president of the Indiana Energy Association, said individual companies plan to pay net-metering rates beyond July 1—but that's up to the individual companies.
CenterPoint, formerly known as Vectren, became the first utility company to reach 1.5%. It then asked the Indiana Utility Regulatory Commission to end its net-metering plan, which had been reimbursing solar customers 15 cents for each kilowatt hour of power they put on the grid each month in excess of what they used.
The IURC approved the company's plan to instead credit customers at a rate of 2.7 cents per kilowatt hour—calculated on an instantaneous, rather than monthly, basis—which is roughly the wholesale rate the company pays to buy power from large providers.
But the Indiana Office of Utility Consumer Counselor, a state agency that represents customers in rate cases, joined with a group of solar companies and environmental consumer advocates to challenge the decision in court.
The Indiana Court of Appeals in January ruled against CenterPoint, saying state law does not allow for instantaneous metering. CenterPoint and the IURC have asked the Supreme Court to take up the case, leaving the metering situation in limbo.
Ben Inskeep, program director for Citizens Action Coalition, a plaintiff in the case, said CenterPoint's plan would make it nearly impossible for customers to recoup their initial investments in solar, let alone save money over the 25 to 30 years their systems are operational.
"There's rising demand from consumers and families, and also businesses, for energy choice solutions like distributed generation and more options and more choice over their energy and to give them a chance to have more certainty and stability over their bills," Inskeep said.
Laura Arnold, president of the Indiana Distributed Energy Alliance, said solar installers are trying to get as much work done as possible before net metering ends and the Indiana Supreme Court rules. The case could extend into the fall, Arnold said.
"This puts the solar industry and prospective solar [distributed generation] customers somewhere between limbo and purgatory," Arnold said. "We're in Never-Never Land, and with the supply chain issues, it makes it even more difficult."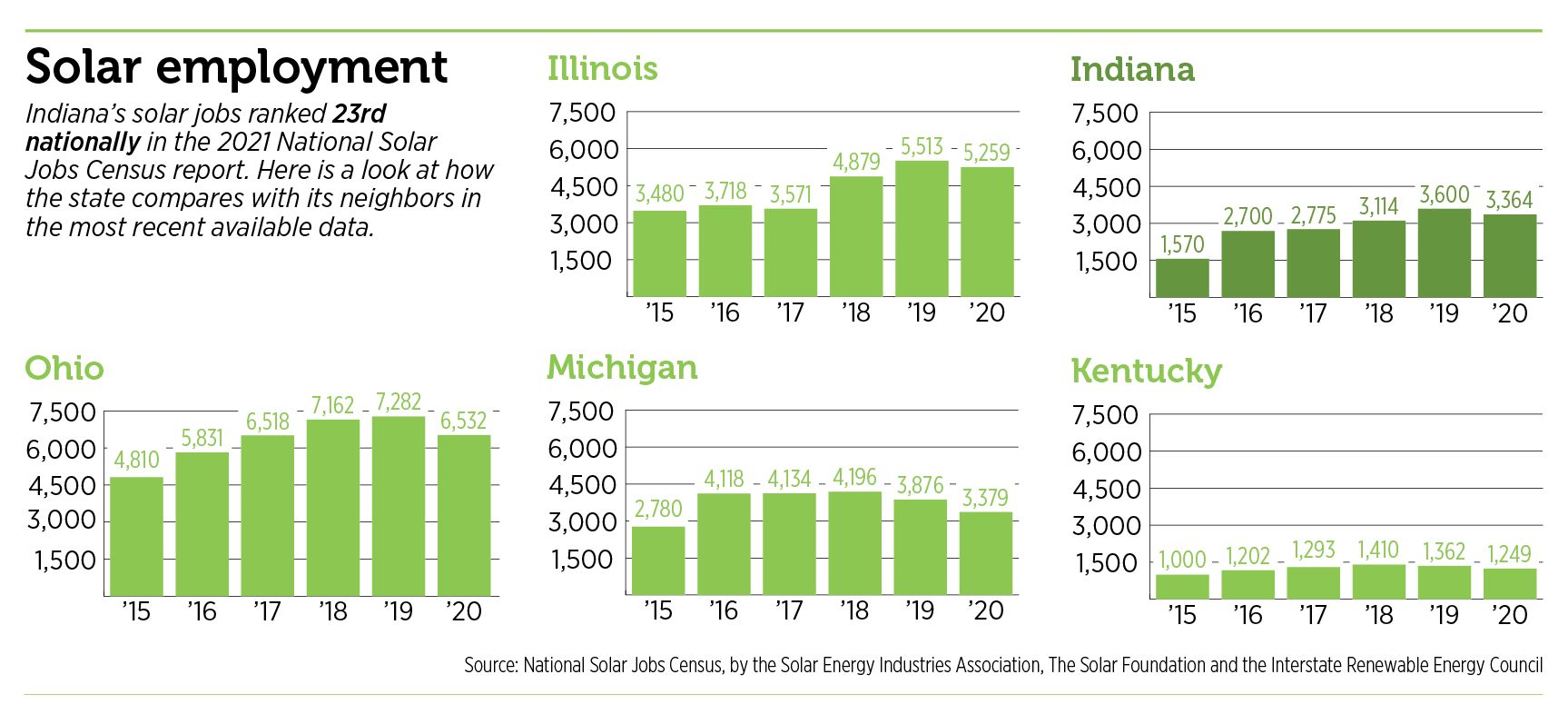 Solar's future in Indiana
Kurt Schneider is a partner in the Indianapolis office of Phoenix-based Veregy, formerly known as Johnson Melloh Solutions. He led the team that installed the Indianapolis International Airport's solar farm and is president of the Indiana Renewable Coalition, a coalition of solar installers who Schneider said want "freedom of choice of energy."
Schneider said the end of net metering will make Indiana less competitive. He is moving some of his solar jobs out of state, including to Illinois, which passed the Future Jobs Energy Act in 2016.
Among its features, the Illinois law established a community solar program and required the state's largest utilities—Commonwealth Edison and Ameren Illinois—to expand their energy-efficiency programs and reduce energy waste by 2030.
"I'm pushing my investment to other states that are friendlier to solar energy," Schneider said. "That's the biggest piece right there, my friend. Jobs. Jobs. If you have good enough policy, everybody wins.
"It's just crazy how you can build a business and create a family of employees under good policy," he said. "Good policy means jobs. High-paying jobs."
Inskeep echoed Schneider's projections about solar companies doing business in Indiana.
"Why would a solar company stick around in Indiana trying to sell uneconomic solar systems when they can just go across the border and get three or four times the compensation rates in places where there's a policy that actually supports or encourages the growth of distributed generation?" Inskeep said.
Inskeep cited Minnesota as a leader in the Midwest for rooftop and community solar policies. He added that Kentucky nearly got rid of net metering, but lawmakers reversed course and instead adopted a higher compensation rate.
With the net metering incentive going away, Schneider said solar systems in Indiana will be smaller, and homeowners and business owners will not be able to attain the types of carbon footprint reductions they could under laws passed in other states.
"We're doing a lot more work in Ohio and Illinois and Texas and Arizona and California," Schneider said. "All places that are solar-friendly."
Other incentives
Another solar-friendly policy Indiana lacks is a program for solar renewable energy credits—called SRECs, which allow homeowners to earn additional income from solar electricity generation.
The programs are built on state renewal portfolio standards, which require large utilities to produce a specific percentage of their electricity from renewable resources—which can be their own generation, or they can pay someone else to put renewable energy on the grid. Indiana has no such standards and therefore no state SREC marketplace in which Indiana utilities could pay Indiana homeowners or businesses for solar energy production.
Hoosiers can trade SRECs in other markets, including Ohio, according to Solar United Neighbors, a national not-for-profit focused on rooftop and community solar.
A solar owner in Ohio can earn up to $130 a year through SRECs, while one in Washington, D.C., can make more than $5,500 off their solar system, according to Energy Sage.
"Anybody in Washington, D.C., who doesn't have solar panels on the roof is crazy," Wilson said. "If Indiana had this requirement for utilities to get to a certain percentage from renewable, then there [would] be some incentive to have to pay for SRECs."
Down to the wire
With time running out before the end of net metering, Indiana's solar companies are rushing to install new systems, but they're hindered by a nationwide supply chain crunch. That's caused in part by the U.S. Commerce Department's investigation into whether Chinese companies are getting around tariffs by moving solar panel components to other Southeast Asian countries.
"It's made a major disruption in the market," Schneider said.
The disruption this month led Northern Indiana Public Service Co. to delay retirement of its largest coal-fired plant due to uncertainty in the solar and renewable energy market.
"It has created uncertainty and will potentially delay projects," McGrath, with the Indiana Energy Association, said. "Our companies are working with renewable generation developers to better understand what those impacts may be from a timing perspective."
Despite deadlines and disruptions, Indiana residents who live in homeowner associations received a break following the most recent legislative session when Holcomb signed House Enrolled Act 1196 into law.
The new law, which came after six years of attempts, makes it harder for HOAs to prevent homeowners from installing solar panels on their homes.
Zach Schalk, Indiana program director with Solar United Neighbors, said the organization is grateful the law went into effect immediately upon signing as opposed to July 1 so homeowners can take advantage of it before the net metering deadline.
Schalk said a signature requirement still creates a burden for homeowners who live in large neighborhoods of several hundred homes or more, and he would like to see Indiana pass a bill that fully bans HOA prohibitions.
"If they can do that in states like Missouri, Texas and Florida," Schalk said, "we can do it here in Indiana."•
Please enable JavaScript to view this content.