The network of highways that has made Indiana known as the Crossroads of America is set to get greener.
Indiana transportation and energy leaders, driven by millions of dollars in federal, state and private funding, are advancing a spate of new initiatives to bulk up the state's electric vehicle charging infrastructure.
AES Indiana anticipates the Indianapolis area alone will host 175,000 electric vehicles by 2030, said Electrification Portfolio Lead Zac Elliot. Charging availability needs to keep pace, and soon more and more charging stations are expected to dot the landscape.
"We are bullish," Elliot said. "We think that electric driving is the future, and there's a lot of momentum in the space."
Now, the task is determining who is going to build, operate and maintain all those chargers: government, utilities or other private companies.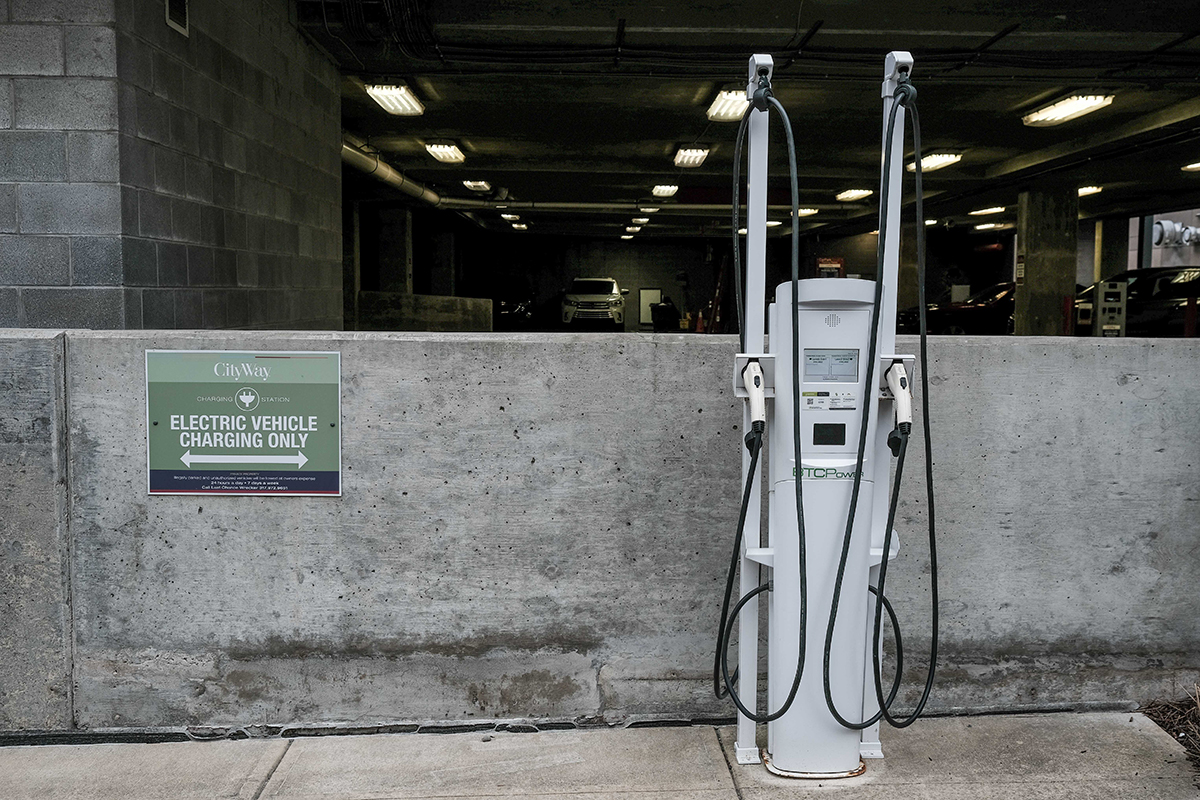 Indianapolis rethinks
In Indianapolis, city-county government is taking the lead on a public-private recast of charging infrastructure left behind by BlueIndy, a pioneering electric car service launched in 2015 by French billionaire Vincent Bolloré's Bolloré Group.
BlueIndy shut down just five years into operations after finding its activities weren't "economically viable," according to a 2020 company news release.
It was an expensive, high-profile failure for the electric vehicle and ride-share concept—and for BlueIndy, which invested about $41 million into the service. The city of Indianapolis put about $6 million in, while AES Indiana spent $1 million.
But the abandoned BlueIndy infrastructure has created opportunity, city officials say. As they try to recast that infrastructure, they are setting the foundation for a public-private partnership. The Indianapolis area hosts about 130 chargers—30 of them high-powered, direct-current chargers—but not all are for public use, and they're not evenly distributed.
"This was something that the [former Mayor Greg] Ballard administration tried, and we are not out anything for having the potential for further uses," Department of Public Works spokesman Ben Easley said. "We still have the infrastructure. … We are still in a place of opportunity and that's what the next stage of the process will be, is figuring out what those opportunities might be."
Indianapolis' Department of Metropolitan Development has spent months gathering input on what to do with the sites and the underground charging infrastructure still owned by the city and AES Indiana, first through a request for information and later through community engagement.
Some of the sites could go back to charging electric vehicles, said DMD Long Range Transportation Planning Administrator Austin Gibble. Retooling the 78 BlueIndy sites could dramatically expand capacity and geographic reach. Others could charge scooters, become bike docks, or take on more creative lives as bike-part vending machine sites.
Locals still expect "some sort" of public charging infrastructure, Gibble and Easley said, drawing from resident feedback. BlueIndy infrastructure re-use is the city's answer to that demand, Easley said.
"You do see the private sector starting to take the lead in some of this, [but] I think when it comes to charging within the public right of way, or publicly accessible charging, we're going to continue to see public-private partnerships," Gibble added. It'll be "cities working with private charging providers to ensure that there is easily accessible public charging."
DMD initially said it would put a request for proposals out by the end of 2021 but has delayed it to accommodate a flood of related state and federal initiatives. Instead, the documents could go out yet this year, Gibble said.
"There's just been a lot of developments when it comes to mobility and infrastructure in the last six months," he said. "There's just additional coordination work that needs to keep happening before we actually release this RFP and solicit proposals for EV charging, mobility, placemaking, and so on and so forth."
Indiana prepares
While Indianapolis rebuilds and reimagines, Indiana is knee-deep in a national effort to make long electric vehicle trips possible via regularly placed interstate highway chargers.
The state expects to receive $100 million through the National Electric Vehicle Infrastructure program, created under President Joe Biden's Bipartisan Infrastructure Program.
The program requires installation of fast, high-powered electric vehicle chargers every 50 road miles, within a mile of the roadway itself. The Indiana Department of Transportation's goal is to use the money to fill gaps left by the private sector, said Deputy Chief of Staff Scott Manning, in a virtual open house on May 11.
INDOT wants to "have very good awareness of where those existing charging stations are [and of] any charging station deployments that are planned here in the near-term outside of the NEVI program, so that we can make sure we're making strategic investments in areas that are not duplicative to the market," Manning said.
Along with installation, the funding will cover up to five years of operations and maintenance, and Manning said INDOT would require any partners to commit to that work.
Indiana has already nabbed federal alternative fuel corridor designations for 11 interstate highways and state roads. Two final stretches, I-469 around Fort Wayne and I-265 near Louisville, are still awaiting such designations.
INDOT in April released a request for information on the plan it must create to get the funds, soliciting insights from charger owners, charger operators, electric vehicle manufacturers, utilities, local governments and others. The agency got 45 responses, according to Manning. The final report is due to the federal government on Aug. 1.
INDOT, local governments and metropolitan planning organizations can also compete for part of a separate $2.5 billion in discretionary federal funding.
Eight Indiana utilities have already gotten a head start on installing fast-charging direct-current infrastructure with a $5.5 million payout from the Indiana Volkswagen Environmental Mitigation Trust Program Committee. Volkswagen in 2017 agreed to spend about $15 billion to settle allegations it had cheated vehicle emissions standards, with about $3 billion used to create a national mitigation trust.
According to INDOT, the funds have been used to install 40 chargers, and there are 60 more on the way.
But as Indiana ramps up its supply of chargers, Manning said addressing the growing strain on the state's energy grid was "top of mind."
Duke Energy Indiana has plenty of ideas to support electric vehicle adoption, like an electric school bus and public transit pilot program featuring Duke incentives for bus procurement and charging equipment installation, or one-time incentives to companies who install chargers for public use, at workplaces or in multifamily developments.
And to help out the energy grid, it wants to introduce a pilot featuring lower electricity costs for customers charging at off-peak times, 9 p.m. to 6 a.m.
But its first try didn't make it past the Indiana Utility Regulatory Commission, which rejected the package of pilots in 2020. Duke was ordered to engage stakeholders and reduce the size of the pilots, which, Transportation Electrification Director Cory Gordon said, "I think we did successfully."
Duke has since submitted an amended petition, still pending with the commission.
AES Indiana's own off-peak charging incentive proposal didn't pass commission muster, either, and the company asked to dismiss it in 2021. And it doesn't yet have an approved fee rate for the faster, high-powered chargers that are gaining popularity, according to AES Indiana's Elliot.
But Elliot said the utility will continue to run its existing, smaller off-peak charging rebate program, plus its Motor Drive monthly electric car subscription. It includes a car, insurance, registration, maintenance, in-home charger and 24/7 help.
The path through the commission will look a little different moving forward. Indiana's Republican-dominated Legislature in March approved House Enrolled Act 1221, allowing non-utility charger owners and operators to sell the electricity using kilowatt hours and laying ground rules for utilities and the commission for future petitions.
Though Duke's Gordon said he wasn't sure how the legislation's language would be interpreted, AES Indiana's Elliot commended the state on its passage, adding that it "provides a nice framework to develop and seek approval to move forward with some of these customer pilot programs."
Asked whether AES Indiana viewed charging as a public service or as a possible revenue generator, spokeswoman Kelly Young wrote in an email, "We are still in the early stages of EV charging as a service, which is why it's important for [a] variety of stakeholders to be engaged in projects and pilot programs to better inform the balance between business and public service."
But she added, the utility is "first and foremost the fuel provider and can support reliability and affordability by incenting EV drivers to charge off-peak when it's most efficient for the grid. We also want to give customers more choices by providing services that support and improve their EV adoption experience."
Gordon said that, outside of Indiana, Duke sells electricity that goes to chargers at the same rate as electricity used for other purposes. The company doesn't yet have active programs in Indiana.
Duke, he said, thinks utilities can play a foundational role in establishing charging infrastructure, but shouldn't be responsible for building it all out.
But, Gordon said, "If the market at large does not respond to the call to put in fast chargers in particular areas or communit[ies] and the state wants to call on us to fill a gap, then we're willing to hear that request."
Businesses that are installing chargers should see them more as a customer service than a cash cow, he said.
"We have had people say, 'How much money can I make selling electricity?'" Gordon said. "The answer today is, the money you will make will be at the cash register, inside your store, if you attract more customers because you have an EV charger. … It could be a paid amenity, but it's really an amenity that the businesses, I think, can offer for these customers."
That's how some Indianapolis-area charger owners said they viewed chargers.
Tom Wood Group, for example, installed its first charger in 2010, according to Chief Marketing Officer Trisha Ripperger, and has since added about 70 across its suite of 28 businesses. Thirteen are car dealerships.
All the chargers are high-powered editions that can add 60-80 miles of range in just 20 minutes, and fully charge an electric vehicle in about an hour, Ripperger said. They're a complimentary amenity.
"Our company is dedicated to being green and, obviously, electric vehicles have substantially lower emissions. It just makes sense," she said. "I mean, I think it's the future of automotive."•
Please enable JavaScript to view this content.