Purdue University's impact in agricultural science reaches far outside the boundaries of its West Lafayette campus.
For example, the institution played no small part in the growth of Indiana's agbioscience industry by nearly $6 billion from 2019 to 2021, Dan Dawes, senior director of strategy and innovation for Indianapolis-based AgriNovus Indiana, told IBJ.
And in the last fiscal year, Purdue's agricultural research brought in over $85 million in outside funding, according to the university.
Purdue's College of Agriculture was recently recognized as the third-best in the United States in the 2023 QS World University Rankings, and U.S. News and World Report's 2024 report ranked Purdue's Agricultural and Biological Engineering Graduate Program as the best in its category.
Here are four ways Purdue is driving innovation in agriculture.
1 Spurring innovation
It's no secret that Purdue University has been a leader in higher education when it comes to innovations in plant sciences and agriculture. But it wasn't until the last decade that the university started to embrace support for innovation and entrepreneurship in those fields like its peers have at the Massachusetts Institute of Technology, Stanford University and the Research Triangle Park in North Carolina.
In 2016, the university launched Purdue Ventures, a $20 million venture arm that supports early-stage tech and startup companies.
The Ag-Celerator, one of four funds that make up Purdue Ventures, boasts a $2 million innovation fund for startups in ag-related technologies.
Each semester, faculty, students and alumni compete for $100,000 to fund their ideas in any agricultural field. The fund initially focused on plant sciences but has since expanded to include plant genetics, animal health and food waste.
"'How do we spur innovation?' and, 'How do we get that into the marketplace?' is where we focus," said Riley Gibb, former associate director of Purdue Ventures.

Recent winners include Omnivis, which makes handheld devices that can rapidly detect pathogens in food, agriculture and water samples, and NanoBio Designs, which provides grain distributors and seed suppliers with on-site, rapid genetic detection.
In addition to funding, aspiring entrepreneurs also have access to coaches and mentors with decades of experience.
Dan Dawes, who worked at DuPont Crop Protection—now part of Corteva Agriscience—for 24 years before joining the Purdue Research Foundation as an entrepreneur in residence, helps people who have business or product ideas turn them into a company. He is also senior director of strategy and innovation for Indianapolis-based AgriNovus Indiana, a not-for-profit focused on growing the state's agbioscience economy.
"The people I'm dealing with are technical inventors or founders, some of the most incredibly brilliant people," Dawes said. "They know the science, the data techniques, the ag tech, but they don't have experience in business, and so they need help determining where to start building a business plan and forming a company structure.
"I've really enjoyed it because, candidly, I see the great technologies, and I don't have to be brilliant to give them some help," he added.
2 Researching carbs
The Whistler Center for Carbohydrate Research is a member-based, globally recognized research facility used by big-name corporations like Cargill, General Mills and PepsiCo.
If a company has a particular problem with a carbohydrate in processing or wants to understand how it can exchange an ingredient for one that has better functionality, it can use the center to analyze the structure of carbohydrates.
Four of the center's 17 faculty members are researching the gut microbiome and how to improve gut health, a hot topic in the wellness industry.
They're working to match prebiotics—compounds in food that promote growth of beneficial bacteria in intestines—to probiotics—live bacteria found in yogurt and other fermented foods that are often used as a dietary supplement. The goal is to reduce inflammation in the digestive system.
"A company like General Mills, they would be interested in a prebiotic fiber that would differentiate them from other fibers if there's a demonstrated health benefit," said Dr. Bruce Hamaker, the center's director since 2003. "Carbohydrates in health is certainly something they're thinking about."
Hamaker recently secured a patent for a low-pH, low-sugar gel derived from corn that can be combined in a beverage for "heightened post-meal energy" and slower digestion.
3 improving genetic testing
The Ag Alumni Seed Phenotyping Facility, a 7,300-square-foot structure opened in 2018, employs a novel method for facilitating plant growth with a broad range of applications in plant science, crop breeding and agricultural engineering.
Scientific breakthroughs in phenomics, the science of measuring and analyzing physical traits of a plant after it interacts with its environment, have major implications for farmers. Phenotyping is less common and more expensive than plant genotyping, which involves identifying differences in the genetic makeup of plants.
Jian Jin, Purdue professor of agricultural and biological engineering, developed a small handheld device farmers can use in the field for early detection of plant diseases, such as Northern corn leaf blight, which is caused by a fungus, and "dicamba drift," a phenomenon caused by use of a chemical called dicamba, a powerful weed killer.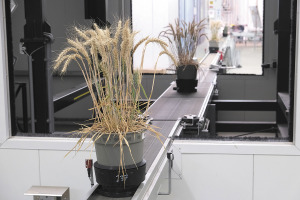 "Not only can our Purdue people benefit from the technology here, we can deliver this to the farm so crop growers can use advanced, hyperspectral imaging technology in the field," Jin said.
Plants inside the facility sit in "bedrooms" most of the day, where researchers can manipulate the environment, temperature and light humidity, testing the plants' ability to withstand drought and other stressors.
With the flip of a switch, the plants are then wheeled out onto a conveyor belt and placed in a hyperspectral imaging tower, where camera sensors can detect early signs of disease not visible to the naked eye.
4 attracting experts
A decade ago, Purdue made significant investments in plants research—dubbed Plant Sciences 1.0—as part of Purdue Moves, a series of initiatives announced by then-President Mitch Daniels.
That effort has generated tens of millions of dollars in grants and gifts since 2014, including $162 million in total research awards and $14.6 million in direct gifts to plant sciences initiatives, according to the university. So the institution is doubling down on that philosophy.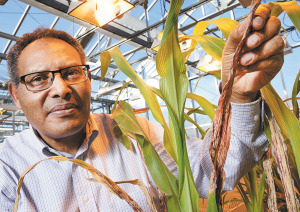 Plant Sciences 2.0 is meant to attract scientists and economists in the field to Purdue's College of Agriculture. While the first initiative was focused primarily on plant productivity, Plant Sciences 2.0 will focus on digital agriculture, phenotyping and agricultural economics, to optimize the productivity, nutrition and sustainability of plants, including forest products.
Phenotyping tools will help researchers mitigate the impact of forest fires and the spread of disease, while additional investments in digital forestry will use technology to measure and monitor forest ecosystems.
The university is still in the process of deciding how much money will be spent for each initiative, but Dawes is optimistic that Purdue can maintain its stronghold in plant sciences.
"We're on a very impressive pace of growth," he said. "Plant sciences and crop protection are a big part of that."•
Read more Innovation Issue stories.
Please enable JavaScript to view this content.