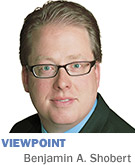 Going to China is always a mixed experience for me. Not because of the food, or
language or the seemingly innumerable opportunities for me to make some sort of awful faux pax; no, because the moment the
ferry from Hong Kong slips away from the dock and pushes towards Shenzhen, the muscular manufacturing power of China comes
into full view.
On my most recent trip to China, it was not without some heaviness of heart that I again found myself comparing the newness
of the country's infrastructure—and the teeming activity that seems to have enveloped this part of the world—with
much of what I see, or do not, around Indiana and the United States.
As much as I want to believe America's economic future will be built on a technology-based economy, I have a small
tug on my mind—memories of growing up in northern Indiana surrounded by manufacturing, the biannual field trip to Chicago
that drove us past the hulking steel-producing factories that seemed to dwarf whole parts of the lakeshore, and the family
members who then and now rely on manufacturing for their futures.
It can be easy to dwell on abstractions when we talk about globalization. In particular, those of us who have built the skill
set to navigate the current form of the world have grown used to casually mentioning how business, workers and whole national
economies must change. And while I completely agree that change is necessary and would adamantly defend the good that open
markets have done for us, I wonder if we have too easily ejected the role of manufacturing from our state and national economy.
Most responses to this question inevitably draw in politics and the over-arching question of economic nationalism; however,
influencing this is well outside my grasp, and I suspect it's equally outside the ability of our highest state officials
or business leaders to meaningfully influence. That leaves me wondering what we, as average businesspeople in central Indiana,
can do to become more proactive at protecting and nurturing our local manufacturing.
As a state, we have struggled with this and similar questions before. We possess a strong and diverse manufacturing base,
with a constant flow of engineering talent from some of the best schools in the country. And while I respect the need for
government to be an involved partner in answering this question, I also wonder what the private sector can do to propel Indiana's
unique manufacturing assets forward.
Could we draw from venture capital an investment model that might make it possible for manufacturing businesses to more aggressively
develop products and invest in new technologies, once again becoming job-creating engines? Doing so would be an adjustment
not only to how manufacturing traditionally accesses capital, but also how and where VC looks for investment opportunities.
VC firms would bring to the table a unique perspective on what it takes to germinate and vet new products, markets and business
models. Manufacturing would bring established distribution channels and infrastructure, along with successful management teams
and a highly motivated work force. Yes, VCs would need to accept lower returns on their capital, but their "at-bat"
averages would likely go dramatically up.
I have a suspicion that nationally our way forward will actually prove to be a more holistic balance between the high-risk,
high-reward technology markets and the "base-running" potential of newly invigorated manufacturing businesses,
once again thinking like the entrepreneurs who founded them. Because of this conviction, I believe Indiana is in a unique
position to see, respond to and benefit from shifting our focus more toward these traditional, and many times smaller, investment
opportunities. Doing so may well pave the way forward for more than just Indiana.•
__________
Shobert is managing director of Teleos Inc., a local firm specializing in taking products and technologies to market.


Please enable JavaScript to view this content.