Hybrid vehicles and components are touted as central Indiana's new road to glory. Out in front, fueled by federal grants or well-heeled New York investors, are the likes of lithium-ion battery manufacturer EnerDel.

Or there's Bright Automotive in Anderson working on a hybrid electric delivery van with a drag coefficient slicker than the Gulf of Mexico.

But what's this coming up fast in their rearview mirror? It's a 2010 Ford Focus plug-in electric vehicle, powered entirely by lead acid batteries.

How quaint.

Don't cue up the banjo music just yet. John W. Johnson and Adam Goldstein, attired in self-described "just-crawled-under-the-car clothing," argue there's a market for an affordable hybrid for "a regular working American."

Their new firm, Wabash-based ClearFlex Automotive, is using off-the-shelf technology and is gearing up for initial production of up to three vehicles a day.

"We've picked the one [technology] we could use that makes economic sense for everybody," said Johnson, the 58-year-old CEO, who has a background in public finance, not automotive engineering.

"We need to make an electric car that is economically viable, not something supported by tax incentives," added Goldstein, 39, alluding to Bright's request for $280 million in federal funds to kick off manufacturing.

The Indianapolis businessmen say the underpinnings of practical hybrids are already alive and well in Indiana, in places like Wabash. That's the home of Bulldog Battery Corp., which makes batteries that power forklifts and other industrial gadgets.

Bulldog developed a special lead acid battery chemistry that can handle the performance demands of a passenger car.

"A forklift is never going to go 0-60 in nine seconds," Goldstein noted.

"People all too quickly abandoned lead acid batteries," said the former Anthem Inc. executive, car enthusiast and founder of ASG Automotive, near Geist. He sold the auto repair business last year to pursue his latest automotive adventure.

"We're not doing anything that's new as much as we're using existing technology and combining it in ways that have not been done before," added Goldstein, the company's chief technical officer.

ClearFlex claims its pre-production prototype Focus has the same range of the much-anticipated Nissan Leaf plug-in electric—about 80 to 100 miles.

The Leaf uses lightweight, lithium-ion batteries. It has a digital dashboard that would captivate Steve Jobs. And it was designed from the outset as an electric car for optimal handling.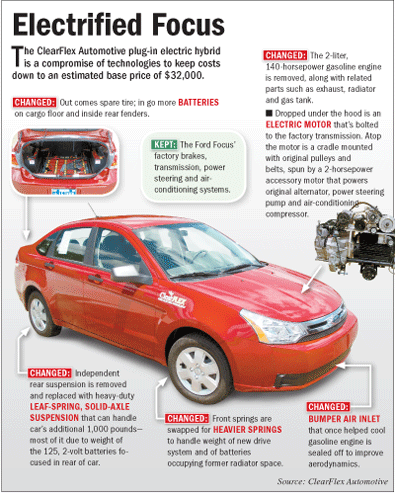 The Leaf's base price is estimated at $33,000, while Johnson and Goldstein estimate they can crank out new Focus cars converted to run on electricity starting at around $32,000.

The Leaf, however, qualifies for a $7,500 federal tax credit, plus various credits offered by states for plug-in electrics. The ClearFlex also might qualify, although that's not yet clear. Eligibility hinges on complying with a host of regulations related to safety and other issues.

But even if it does qualify and thus has roughly the same cost as a Leaf, who is going to shell out hard-earned money to an unknown company for a Frankenstein Focus?

Goldstein will tell you who—people "who want a regular car," unlike the Leaf, which looks like a cross between a ballet slipper and a tree frog.

He and Johnson reckon there's a niche of folks who want to be environmentally responsible yet don't want to drive around in something ostentatiously "green."

"Our car is not funny-looking. It's got a real back seat. It's got a real trunk. I think our car is better, but it's going to be in the same price range," Goldstein said.

As for ClearFlex's odds of finding a sizable market, conventional wisdom would suggest it's somewhat like the odds of a 1986 Ford Tempo's winning a trophy at Pebble Beach Concours d'Elegance.

For one, ClearFlex is entering the market just as multinational automakers like Nissan and Toyota ready their own plug-in hybrids—the products of billions of dollars in research and development budgets and some of the world's top engineers.

Surprisingly, however, one of the industry's top hybrid watchers says companies like ClearFlex do have a chance.

"Yes, these companies can be viable," said John O'Dell, senior editor of Edmunds.com's Green Car Advisor. "There are a goodly number of people who would rather drive on something other than oil."

Not only that, but federal and state governments increasingly are mandating that a certain percentage of their massive fleets be run by hybrid power plants.

O'Dell noted a handful of small firms around the country that for years have successfully converted vehicles to run on batteries, often for fleet use and auto hobbyists.

Since the late 1970s, for instance, California-based Electro Automotive has made conversion kits for ordinary cars to run on electric power. On the other extreme is another California firm, upstart Tesla Motors, which uses a Lotus Elise chassis powered by lithium-ion batteries.

But O'Dell has lots of caveats. For one, the car must have a quality battery pack. The chassis must be balanced such that the weight of the batteries doesn't destroy the driving dynamics. The power delivery system must be reliable and smooth to operate.

And even if all that falls into place, O'Dell added, "You're not going to see someone become General Motors from doing retrofits."

Ingenuity, compromises

Neither Johnson nor Goldstein has such ambitions, but they're confident they can overcome business and technical obstacles.

Not the least among them is reducing cost and weight.

They've tried to use as much of a Ford Focus' mechanicals to keep costs down while ripping out as much of what they don't need, to shed pounds.

It's not as easy as it sounds. Batteries and chassis modifications add about 1,000 pounds to the weight of the 2,600-pound Focus. In other words, it means driving a subcompact that weighs about as much as a Ford Taurus with Aunt Bertha in the back seat.

To keep the car from driving like Tony Soprano's Cadillac with a pile of stiffs in the trunk, Johnson and Goldstein swapped the independent rear suspension in the Focus for a solid-axle, leaf-spring setup similar to that of a Ford Mustang.

The car gets a major embalming job. Out comes the engine, transmission, radiator and exhaust system. To the Focus' factory transmission they bolt an electric motor.

They retain the car's original brakes, alternator, power steering and air-conditioning—though they had to find a new way to power them.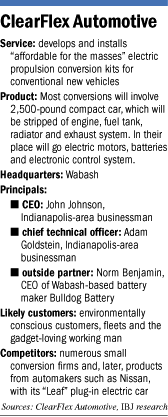 The car's conventional gasoline motor turned a belt that gave them their juice. But having an electric motor do that would quickly drain the batteries. So they foraged a 2-horsepower auxiliary motor to turn the accessory drive belt, using the car's original pulley system. It now mounts above the main electric motor.

"From the standpoint of design, we're sort of Rube Goldbergs," said Goldstein. "Not what you'd do if you built [a car from the ground up]."

Professional tinkerer

Goldberg, eh, Goldstein, is no stranger to tinkering. While an insurance company executive, he thought it would be fun to transplant a diesel engine into another car in the garage of his Geist home. He left the garage door most of the way down so as not to appear as being from a lower caste.

Then, after starting his ASG repair business, he formed a venture that shoehorned Cadillac Northstar V-8 engines into ordinary family cars like Chevy Luminas. "I was always doing something kooky."

Shoehorning components is one thing. Finding an electric source that's practical was another. It's baffled the world's automakers for years.

Johnson and Goldstein knew they'd need to use lead acid batteries to keep down costs. They searched for a supplier of a battery that could consistently discharge big amounts of power in short order, such as that needed when launching from a stoplight.

"We found the most innovative lead acid company right here in our back yard," Goldstein said of Bulldog.

Norm Benjamin, president of Bulldog, tailored a battery to meet the deep-cycling needed for a plug-in hybrid car.

"We did things in a few months that others would have taken years," Johnson said.

But where to put the 125, 2-volt batteries that generate 250 volts? Everywhere: inside rear fenders, where the radiator used to sit—even places a Mexican drug smuggler looking to drive into El Paso wouldn't have envisioned.

As for performance, ClearFlex claims it's comparable to the gasoline-powered Focus, which has a 140-horsepower engine.

Niche market

The duo figure they can start off doing up to three Focus conversions a day. For now, they're assembling prototypes at Danville, Ill.-based Automation International, which does a lot of the computer-aided design and metalworking.

So far, the venture has been funded by friends and family.

"We don't need $350 million. We're not making the car," Goldstein said.

They don't yet have a distribution network in place. One idea is to sell the units out of new-car dealerships. In an era when green is god, a ClearFlex Focus might draw as much showroom traffic as a Corvette.•