Tech firms are often the product of years of analysis, frequent genuflection before consultants, and enough cups of Starbucks
to embalm Tutankhamen.
Surely no one would be nutty enough to launch a company conjured up in a mere 54 hours.
Why, sure they would. This is the creative and weird world of tech entrepreneurship, after all, with equally unusual names
like Zankit.
The online classified ad firm that thinks it has a better solution than Craigslist was hatched last month and plans a late-July
launch.
It's the product of six strangers who met at Indianapolis Startup Weekend just last month. The session at Purdue University's
technology center near Indianapolis International Airport is one of many held around the world. Startup Weekend was the brainchild
of Boulder, Colo., braniac Andrew Hyde, who runs the seed stage firm TechStars.
Coulter
Leading Zankit is Jon Coulter, whose day job is database administrator for Indianapolis-based e-mail marketing firm ExactTarget.
Zankit.com is a classified ad site with a twist, using a commission system that rewards a person for referring a buyer to
the seller. These so-called agents try to get their friends to buy your item. They do so by pushing out the ads placed on
Zankit to social media sites like Facebook and Twitter.
The kernel of the idea was planted about a year ago, when Coulter, 28, had a "fruitless" experience trying to
lease a condo on Craigslist.
Every time a new ad came in, his got pushed lower down on the pile into obscurity. After a day or so, it was off the radar.
"We're trying to take that time window away," he said of Zankit. "It's not time-based."
The format took shape during Startup Weekend at a session where ideas for taking advantage of social media madness were kicked
around. Zankit wound up being one of three teams to emerge with business plans deemed to have sufficient potential.
Schoolcraft
Among those on Coulter's team was Amanda Schoolcraft, 20, a biomedical engineering student at Purdue University.
"I thought they were joking. I didn't believe companies could come out of it," she said of the three-day
session.
At first, the name Zankit didn't go over well. Coulter has owned the domain name for years. Its origins, he said, are
not worth explaining.
"We all completely dismissed it and said, 'It's stupid,'" Schoolcraft recalled.
Coulter explained to them that meaningless, two-syllable words are the norm in the industry. They really couldn't disagree
with that.
By the end of the weekend, Coulter and the other Zankit members were confident about their plan.
"Within a couple days, they had business cards printed and were attending trade shows," said Jon Speer, managing
partner of life sciences consulting firm Creo Quality, which was a sponsor of the weekend session.
The concept is fairly simple. A seller will come to Zankit.com to sell an item—say a sofa. He or she won't pay
for the ad per se, but will pay a commission that will eventually flow to the "agent," the person who sees the
ad and refers it to a friend or other person who buys the item.
"Agents," states Zankit's business proposal, "have the ability to actively search the Zankit marketplace
to find things their friends might want so that they have a chance at earning some money."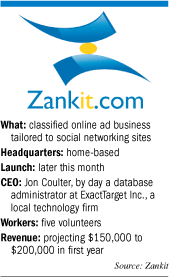 The commission could be, say, $50. If the item doesn't sell, the seller gets
the money back.
If it does sell, Zankit keeps a portion of the commission—probably at least 10 percent. That's its prime revenue
stream.
An expert in social media, Lorraine Ball, principal of Indianapolis marketing firm Roundpeg, said the Zankit idea seeks to
tap into natural interactions among friends. If you knew your friend was in the market for a classic Volkswagen Beetle, and
you saw such a car for sale, you'd likely call your friend about it.
"That's what Zankit's trying to capture," she said.
Ball said friends interacting on social media sites "have this 'street cred,' for a lack of a better word."
But where the concept might sour is if someone becomes too keen on making a buck and frequently makes pitches to friends
about items listed on Zankit. That could hurt his or her credibility in the social media community, Ball said.
A secondary source of income for Zankit could be general ads placed on the site—if it can attract enough eyeballs.
Marketing is probably the group's biggest financial challenge at this point.
So is handling the commission fees paid on items for sale. The principals plan to put the money into escrow—an account
that will probably be managed initially by an escrow firm that has the necessary certification.
There's no need at the moment for any significant investment, however, as the firm works on getting a toehold into
the Indianapolis market before expanding elsewhere. Zankit's creators already struck up conversations with real estate
agents, with real estate ads probably the first big focus.
Coulter has experience in that area, having co-founded the firm Doorfly.com. The site helps people wanting to sell a home
to find an agent who will give them the best deal. Sellers enter their home information and real estate agents compete to
land the listing, such as by offering home sellers rebates at closing.
Coulter relishes the fast pace of a tech startup, having once worked for Indianapolis-based ChaCha Search. He admits he hasn't
always been successful. In fact, Coulter said some of his previous ideas probably died on the vine from being too well massaged,
too studied and overwrought to get out of the gate in time.
"I don't have an MBA, but I've burned enough money of my own" to learn, he said.
Zankit's creators are not ready to quit their day jobs anytime soon. In fact, revenue expectations for the first year
are a modest $100,000 to $150,000.
Indianapolis Startup Weekend hatched two other upstarts. One, Ninja Button, is a tool to allow web developers to compare
the effectiveness of buttons used on their clients' web sites.
The other, GoBizSpeak, is focused on developing a product that allows a budding entrepreneur to better record and organize
thoughts for a business plan.•
Please enable JavaScript to view this content.