Call me lazy, but most of the restaurants on my regular lunch rotation are within walking distance of IBJ's downtown offices. If I drive anywhere, it's usually to meet a friend somewhere with ample, free parking. But when Chancellor's Restaurant (850 W. Michigan St., 231-5257) came up during a recent conversation about good local eateries, I decided to break with tradition and give it a go.

Located inside the University Place conference center on the IUPUI campus, Chancellor's has high aspirations, with a seasonal, locally sourced menu clearly designed to appeal more to diners on an expense account than college students on a budget. Its $12 burger features Kobe beef, for example, and is topped with caramelized onions and mushrooms and a blue cheese aioli. The entrees are even more inventive.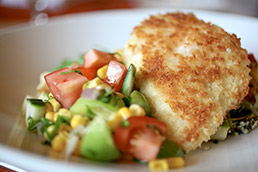 Chancellor's Great Lake Walleye Pike shows a commitment to regional ingredients. (IBJ Photo/ Perry Reichanadter)
We showed up for lunch to find the dining room about three-quarters full, which we took as a good sign. Turns out Chancellor's may be a victim of its own success. The staff was overwhelmed. Tables sat covered with dirty dishes. The manager started serving customers. We never got the basket of flatbread we saw on every other table. Our glasses sat empty for most of the meal. In fact, after ordering our drinks, we didn't see our server again until he delivered the bill—which eventually was discounted 20 percent to acknowledge the slow service.

But there was a bright side: the food. Well, most of it, anyway.

We started with the Chicken Tostados ($7.50), billed as blackened chicken, onion, jalapenos and a tomato corn black bean relish on top of crispy tortilla chips. It took longer to describe it than to eat the measly five chips (yeah, that comes out to $1.50 per chip) and fairly bland topping.

Our entrees were more successful. My companion ordered off the special eat-local menu, which included four dishes and information about where the key ingredients originated. He chose the Great Lakes Walleye Pike ($11) from Chicago, which we decided was about as local as walleye gets. The fish was pan-fried and served atop a mound of black and white quinoa (keen-wah), a protein-rich grain with a slight nutty flavor that's gaining popularity. Grilled summer squash and a green tomato and sweet corn salsa provided a nice contrast in taste and texture.

Fresh from the pork-o-rama at the Indiana State Fair, I opted for the Cuban Sandwich ($11). It was a standard Cuban: thin-sliced ham, roasted pork loin, Swiss cheese, mustard and pickle served on a pressed roll. But the pork was juicy enough—and the mustard ample enough—to avoid the dryness that can kill an otherwise tasty sandwich. The side of uber-thick fries was just OK.

Before we ordered, I was leaning toward finishing up with the Indiana Peach and Blackberry Crisp ($6) from the eat-local menu—it features Traders Point ice cream, so how could it go wrong? But by the time we finished eating, we'd waited so long for refills and some ketchup (which never arrived) that we just wanted to escape.

Although the manager apologized and gave us the discount—and validated our $9 parking garage ticket—we couldn't help thinking what a shame it was for solid kitchen work to be tainted by front-of-the-house issues. Fact is, it doesn't matter how good the food is if customers leave with a bad taste in their mouths.•

__________

Fourth in a month-long series of reviews of possessive restaurants.