Tech entrepreneur Scott Jones has danced circles around skeptics of his ChaCha Search for almost five years now.
Jones
The "world's leading answers service" allows wireless phone users to call in or text their questions to ChaCha's ranks of human guides at no charge. Ask, for example, "How do you say 'porch' in Spanish? ChaCha soon replies: portico."

While ChaCha's dance floor has gotten crowded with competitors in recent years, the Carmel-based company might soon need to avoid being trampled—by a troupe of 500 million.

Last month, the popular social media site Facebook launched a question-and-answer service that threatens to cut in on ChaCha's revenue rhythm.

Facebook Questions won't incur the cost of paying 30,000-plus independent contract employees as does ChaCha. Cha-Cha's human guides earn 2 cents to 20 cents per task, depending on whether they're merely screening queries or conducting heavy research.

Instead of paying guides, Facebook Questions will allow its 500 million users to ask their friends—or the entire Facebook population worldwide—for answers to questions.

Heading to New Zealand and wondering whether the outlet voltage is 110 volts or 220 volts? Who better to answer than a Facebook member who happens to be an electrician in Auckland?

"If Facebook can get the user experience right—not a foregone conclusion—it poses a major competitive threat to Q&A services such as ChaCha or Kgb.com, among others," said Greg Sterling, senior analyst at Internet2Go, a unit of San Francisco-based Opus Research.

A former investor in another new ChaCha rival—Aardvark, which has since been acquired by Google—is more certain about the new generation of questions services.

"I think that the ChaCha model is tough to sustain no matter what. [Human guides] are expensive and lack the wisdom of the crowds," said David Hornik, a partner at Menlo Park, Calif.-based August Capital.

"By using your relationships and wisdom of the crowds, the new questions services will get you better, more targeted, more appropriate answers to questions at a fraction of the [internal] cost of ChaCha," Hornik added.

Discounting the giants

Jones isn't buying it. He's never been quick to let giants spook him, having two decades ago beaten AT&T to the punch by inventing the underlying technology still used in contemporary voice mail systems.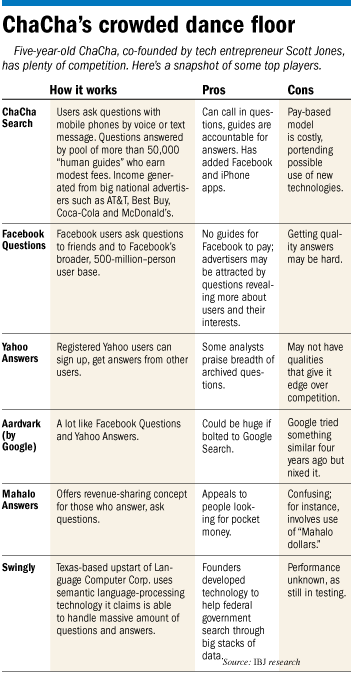 For one thing, he says, people might be reluctant to ask questions of a personal nature on a giant social media site that friends and family are monitoring.

He contends Facebook Questions will also have too many inherent distractions.

"By definition, 'questions and answers' cannot possibly be front-and-center given the focus of the social platform on a user's news feed, wall, games, status bar, etc.," Jones said.

The large scale means there's "too much noise," Jones said, reckoning that amid the sheer volume of potential answers from such sites comes "lots of silly, funny or wrong" answers.

Jones contends that experience and research have demonstrated that users are not sustainably interested in "answers" from a service less than 85- to 90-percent accurate and relevant, and unable to deliver results in under a minute. The competition's accuracy and relevancy is closer to 10 percent to 50 percent, he said.

At the least, ChaCha guides have some modicum of accountability. Deliver a lot of inaccurate answers and they risk being booted.

For speed and accuracy, ChaCha guides have at their disposal a giant database of question-and-answer pairs. The company has one of the largest editorially built Q&A indexes in the world, said Matthew Booth, a senior vice president of interactive local media at Chantilly, Va.-based BIA/Kelsey.

In all, Jones still contends that ChaCha is more dependable, reliable, relevant and faster. "That's what matters to users who need an answer in real time, especially while they are on the go."

Trends favor social sites?

Such on-the-fly information needs are perhaps a bit confusing to most adults, who are more accustomed to Googling-up a Web link to find an answer to a question.

ChaCha is more a sensation among the younger generation. Most of its 15-million plus unique visitors each month are teens and young adults. Often, they're hungry for pop culture trivia such as, "What is Lady Gaga's real name?" ChaCha's answer: "Stephani Joanne Angelina Germanotta."

The "question market" is roughly 5 percent of the total Internet search volume, or about 13 billion questions, estimates analyst Booth.

Some see question-type services growing as the percentage of Web-enabled cell phones grows. Less than one-third of handsets have Web-browsing capabilities. But by 2015, that number could grow to 60 percent, according to ABI Research.

That could be bad for ChaCha to the extent the user of such a phone can now get aboard a site such as Facebook Questions to find an answer.

"Still," said Booth, "getting quality answers to all those questions will be hard and will take a lot of time. Have a look at Wiki Answers or Yahoo Answers and see how much quality you get—some great answers but these sites have a lot of terrible answers" as well.

If Facebook really wants to turn Questions into a killer app, "it can," Sterling said. "It's not clear to me exactly how motivated it is to do that."

Giant demand

Not even the 500-million users of Facebook can provide answers to the 13 billion questions that Booth pointed out are likely to be posed industry-wide this year.

He said the only way to come close to meeting demand is for firms to approach the market with robots—data extraction and machine learning technology. Think Google.

"Frankly, it's the only way to scale the market," said Booth, pointing to new players such as Dallas-based Swingly.com.

Swingly claims to have used Web crawlers to get a few hundred billion question/answer pairs. Swingly is the brainchild of Language Computer Corp., which developed semantic language processing software to allow government agencies to sort through huge piles of data for particular bits of information.

Booth doesn't think ChaCha is in peril from the rising competitive threat.

"It just means that they are not going to be able to scale up without some technology solution like a Swingly," he said. "My assessment is that they'll have to acquire or build technology … or focus on a smaller market segment."

Jones said ChaCha has already automated about 80 percent of its queries, meaning they come from a database of previously answered questions. Or, answers are generated automatically by plucking information in real time from news, sports or other reports. He said ChaCha has filed 62 patents on its process.

Jones learned about the value of a database with one of his previous companies, Gracenote. It's touted as the world's largest database of music information. He said ChaCha's database is more than 10 times larger than "the gorilla" in the online answers realm, Answers.com.

But Jones dismisses the idea that answers must be turned over completely to machines.

"ChaCha, he said, "injects just a little bit of human intelligence at just the right moment, when algorithms, technology and crowd-sourcing run out of steam" to deliver "more accurate and relevant" answers.

Turning profitable

One of the big raps on ChaCha has been whether it can turn a profit. For most of its existence, it hasn't. Apparently, that changed in December, when ChaCha became "gross profit positive," meaning the company is making more per query than it is spending on its tens of thousands of guides to inject that bit of human intelligence.

ChaCha has been making its money by embedding advertisements in the answers. Advertisers, including giants such as McDonalds and P&G, pay only when users respond by clicking through to the text ad ChaCha users receive with their answers. The company claims its click-through rates are 10 percent to 20 percent, significantly higher than other forms of advertising.

Initially, ChaCha delivered answers via the Web. It changed its focus to mobile phone delivery in 2008 as advertisers warmed to mobile ads as a way to reach potential customers at the moment they're thinking about a topic.

For example, a teen texting ChaCha a question about the new iPod model could receive his answer embedded with an ad from Best Buy, down the street. Marketers crave the ability to target such instant-gratification moments, whereas had the teen waited until later to saddle up to a computer to ask the iPod question, his iPod lust may have dissipated.

Jones calls the gross profit "an inflection point for ChaCha" because "we can now grow as quickly as we fill our inventory with advertising, which is now happening on a fast ramp with some of the biggest brands in the world."

ChaCha has closely guarded its financials. At last glance, it had about 60 employees.

Jones has pulled down more than $50 million in funding toward growing ChaCha, including $7 million earlier this year from a venture capital fund.

Big individual investors include Amazon.com founder Jeff Bezos and Compaq Computer founder Ron Canion.

Canion is on ChaCha's board, as are recognizable names such as Morton Meyerson, former chairman and CEO of Perot Systems, and former president of successor EDS.

As for any notion that Facebook Questions could someday become the star of the questions dance, it might be interesting to note that Jones is trying to beat the social media site using a page out of its own book.

Last February, ChaCha launched a Facebook application. It gives Facebook users open access to answers from both ChaCha and all one's friends. When someone poses a question to any friends within his social network, that question is automatically submitted to ChaCha as well.•