A state lawmaker is pushing for a law that would allow Indianapolis' financially struggling public library system to get a share of local income taxes.

But some elected officials and city financial leaders already are balking at the concept, which they say would divert money from other agencies that need it.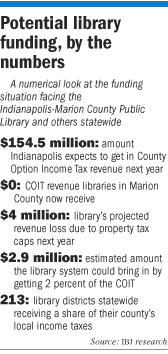 The funding change is contained in one of two bills that Rep. John Day, D-Indianapolis, intends to put forth next year to give the Indianapolis-Marion County Public Library, which has been hard hit by declining property tax revenue, more financial flexibility.

Channeling a portion of Indianapolis' County Option Income Tax to the county's libraries could generate as much as $3 million for the system, which has proposed a $37.9 million budget next year. The $3 million is based on next year's COIT projections and Day's initial plan to give the libraries 2 percent of that revenue.

Day's other measure would give libraries across the state the power to hold a referendum to raise property tax money for library operating expenses, as school districts can do. That measure, at least initially, appears less controversial.

The COIT change has raised concerns, in part because the lion's share of Indianapolis' COIT revenue—projected to be $154.5 million next year—goes toward the city's public safety agencies. Some say cutting into that money could hurt police and fire budgets, which already are facing cuts next year in light of declining income-tax revenue.
Vaughn
"You're basically making a priority decision to fund libraries with public-safety dollars," said Ryan Vaughn, a Republican who serves as City-County Council president. "We're asking public safety to do more with less, and with the transfer of the COIT dollars to the library, we'd be asking them to do more with even less."

Day, however, said he thinks it's an issue of fairness.

"The bigger question is, why should a key community service be totally out of the picture with a tax paid by all wage earners in Marion County?" Day said. "In a family with five children, if four eat and one starves, I don't think that's fair."

Tough times

The county's library system has been particularly pummeled by property tax caps that limited homeowners' bills to 1 percent of a home's assessed value starting this year. The libraries typically rely on property tax revenue for more than 80 percent of their funding.

Based on the caps, the system will face a $2.5 million shortfall this year and could see a drop of $3.7 million to $4 million next year, according to library estimates.

On top of that, property tax collections, which typically hover around 97 percent of all property tax money owed to the system, dropped last year to 92 percent, stripping another $3 million from the library's funding. The collection-rate decline is a reflection of a tough economy with more home foreclosures and more taxpayers who are unable to pay their bills.

Library officials do not know what this year's collection rate will be, but they aren't predicting much change.

To make up its tax-funding gap, the library has made some significant cutbacks, including closing the Central Library on Thursdays as part of a move to reduce hours at that location and the 22 branches by 26 percent. Library officials also have cut back purchases of certain materials and hiked penalty fees.

And the library is in the process of getting clearance from local and state officials to approve a one-time shortfall appeal that would bring in about $1.5 million in additional property tax revenue from taxpayers who did not meet the cap in 2009.

Even with those efforts, Rebecca Dixon, the library's chief financial officer, anticipates dipping into the system's reserves. The library aims to keep $3.6 million to $4 million in reserves—about 10 percent of next year's operating budget.

Dixon and others have warned that, without another funding source or drastic cuts, the library risks depleting its reserves in the next few years.

Getting the COIT may be one of the few solutions.
Bramble
"There aren't many other options right now," said Laura Bramble, the library's CEO. "I think it would be better for our overall stability if we had more diverse sources of revenue."

City officials, though, face a budget crunch of their own. Indianapolis' take of COIT revenue is projected to drop 16 percent next year as collections reflect the hard-hit economy. The decline has led the city to eliminate one of two police recruit classes, reduce training, and not provide a union-pay increase for police officers and firefighters next year.

Indianapolis will use the first $21.7 million of its COIT revenue to pay for its emergency dispatchers and a local homestead tax credit next year. The rest is divided among the city, which gets 88 percent of the money (most going to public safety); townships, which get 8 percent; and excluded cities such as Beech Grove and Speedway, which get 3 percent.

Based on how Day's law is written, the library's share could cut into any of those sources or a combination.

City Controller David Reynolds said that, because of the tight city budget, state lawmakers should give local policymakers room to decide how local money is spent.

While he's not in favor of the kind of directive Day plans to propose, he would support the Legislature's giving the council the option of providing the libraries with COIT. Under current law, Reynolds said, the council could set aside a grant to give the libraries more local money but can't directly channel the city's COIT share toward libraries.

"I don't think it's the General Assembly's decision to determine how we spend our money," Reynolds said. "Mandating that dollars have to go to the libraries isn't giving the flexibility that I think locals need."

Some state lawmakers have similar reservations. Phil Hinkle, R-Indianapolis, worries it could set a precedent.

"The minute we take some of that local control," Hinkle said, "we have to look at whether other entities that are not getting their fair share also want their fair share."

Building a case

Library advocates, however, point out that Marion County libraries' lack of COIT funding is unique.

Statewide, all library districts in counties that have a COIT or a similar County Adjusted Gross Income Tax receive a portion of that tax, except for Marion County's districts. That amounts to 213 of the state's 238 library districts, said Jim Corridan, deputy director of the Indiana State Library.

Day hopes that statistic will strengthen the argument for his bill next year, but he knows that—in addition to the early opposition—there will be hurdles to getting it passed.

He faces re-election this fall, but as a Democrat is expected to fare well in his district representing part of downtown and the city's east side.

A more likely risk is that his party would lose control of the Indiana House of Representatives, which would make it tougher for his bill to get a hearing.

But Day remains undeterred. He already has started searching for a Republican to co-sponsor his legislation.

And even if he can't get it passed, he said he hopes the effort will draw attention to the debate and possibly spur more action at a local level.

"I think this is very serious," Day said. "The life and well-being of libraries are at stake."•