Whenever I see a Gilbert & Sullivan show, I find myself at a loss to explain their enduring appeal.

But appealing these operettas are, especially when their playful spirit is captured as well as it was in Indianapolis Opera's bumped-from-last-season production of "The Mikado" (Oct. 15-17).

Consider a few facts:

• G&S wrote their 14 shows between 1871 and 1896. Just about every musical stage production before "Showboat" in 1927—except those written by G&S—might as well be mothballed for the rarity of their revival. The shows simply aren't staged anymore.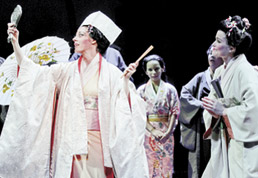 Yum-Yum, center, portrayed by Laura Portune, prepares for her wedding in Indianapolis Opera's production of "The Mikado." She is assisted by Peep-Bo, played by Jacqueline Brecheen.(Photo Courtesy Denis Ryan Kelly Jr.)
(Once in a while, something like "Oh, Kay!," or "No, No, Nanette" gets a viewing, but those are usually in heavily rewritten form.)

• While some other operettas still get an airing (I'm partial to "The Student Prince" in this category), none have the box-office power of Gilbert & Sullivan.

• While there are Gilbert & Sullivan Societies dotting the landscape across continents, you don't find the same level of passion for such other popular musical theater teams as Lerner & Lowe, Andrew Lloyd-Webber & Tim

Rice, or even Rodgers & Hammerstein.

But what is it that makes them work? Is it the combination of smarts and silliness in W.S. Gilbert's librettos? The lyrics that can be jam-packed with puns one second and "How-de-do" nonsense the next? Is it the catchiness of Arthur Sullivan's music that makes even my 8-year old remember that "Three Little Maids from School" was used in an episode of Disney Channel's "The Suite Life of Zach & Cody" and why I still recall a tune from "H.M.S. Pinafore" even though I haven't seen or heard it since it aired as a TV special in 1972?

It certainly can't be an inherent interest in the show's tension-free plots, which are heavy with coincidence and one-dimensional characters (when a character is named Yum-Yum, you'd be a fool to expect multi-facets) and resolve without much emphasis on a dramatic arc.

Stranger still is that "The Mikado" and company have fostered such loyalty in an opera crowd. It seems to me that Gilbert & Sullivan are closer in sensibility to the giddiness of "Anything Goes" and "Girl Crazy" then "Tosca" and "Aida." But I'm guessing that, in these times, comedy is welcome—even on the opera stage. And the laughs in this "Mikado" largely came courtesy of Robert Orth, who played Ko-Ko, the Lord High Executioner in the mythical Japanese town of Titpu, where flirting is a crime.

Orth brought an almost Groucho Marx-ish spirit to the proceedings, particularly when offering a smartly updated lyric for the list-reciting "As some day it may happen," in which he outlines those who should suffer the executioner's blade (including texters). While the Indianapolis Chamber Orchestra was well up to the task, few of the singers left lasting impressions for pure vocals, except for Kristin Susan Nicely as Katisha. But we don't go to G&S to hear arias. We go because, well, maybe we just want to be shown a good time.

On that note, the Indianapolis Opera succeeded in fine fashion.

Side note: While professionally produced operetta is rare in these parts, those who fall for the form should consider a visit to the Phoenix Theatre around Race Month, when "The Zippers of Zoomerville," the G&S-influenced Jack O'Hara-Tim Brickley musical is being revived.

Next up from Indianapolis Opera: "La Tragedie de Carmen" in March.
____________

It may be a bit early to dream of a white Christmas, but scheduling issues at Beef & Boards are giving us a preview of the holiday season.

"A Beef & Boards Christmas" and "A Christmas Carol," both proven successes, have a vice grip on all of the December dates at our town's professional dinner theater. So when the rights became available for the recent Broadway version of "White Christmas" (adapted and expanded from the classic film), there was no room in December to stage it. Rather then ditch it from the lineup, the folks at the Beef opted to do what department stores do—just expand the season.

And so we have "White Christmas" on stage now in October, which isn't such a bad thing, considering that Santa and company aren't plot drivers in this one. Instead, it concerns a pair of army vets trying to put on a show to help their former General's Vermont inn.

The strengths here (besides the great Irving Berlin songs, of course) are in the tap dancing, led by Erin West, and the vocals, featuring Christine Mild with lovely takes on "Love, You Didn't Do Right By Me" and "How Deep is the Ocean." Douglas E. Stark has some terrific understated moments as the General, and John Vessels is a riot in a pair of smaller parts.

Taking over the film roles made famous by Bing Crosby and Danny Kaye are Curt Dale Clark and Timothy Ford. Both are more than competent, but neither has a personality that pops either on the charm side or the comedic side. While some of the would-be laugh lines fall flat—and the swoon factor is nil—"White Christmas" still offers a merry and bright evening of theater—and a chance to hear "I Love a Piano," "Let Me Sing and I'm Happy" and "Count Your Blessings Instead of Sheep."

"White Christmas" runs through Nov. 21.•

__________

This column appears weekly. Send information on upcoming arts and entertainment events to lharry@ibj.com. Twitter: IBJArts and follow Lou Harry's A&E blog at www.ibj.com/arts.