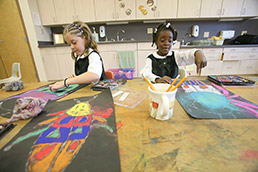 Oaks Academy students Erika Week, left, and Kayla Jackson work on chalk drawings of bugs. School leaders want to raise money to start a second school on the near-east side. (IBJ Photo/ Perry Reichanadter)
In 12 years of existence, The Oaks Academy has amassed a rare set of accomplishments: It's an urban school with a substantial percentage of kids in poverty that still churns out student test scores far above the state average.

The private Christian primary school has been rewarded with growing enrollment—a 25-percent surge in the past two years alone—and now has 338 kids in pre-kindergarten through eighth grade.

Local leaders are encouraging The Oaks to start a second school as part of the massive investment in near-east-side redevelopment spurred on by Indianapolis' successful bid for the 2012 Super Bowl. They like the part The Oaks has played in the revitalization of the Fall Creek Place neighborhood just north of downtown.

But a second school is far easier dreamed of than done. The Oaks gets nearly half its $2.6 million annual revenue through massive fundraising from a swath of prominent local donors, including Gov. Mitch Daniels and his wife, Cheri, as well as numerous current and former employees of Eli Lilly and Co.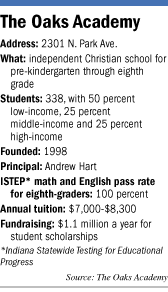 Andrew Hart, a former Lilly manager who is The Oaks' principal, worries that trying to start a second school would take a substantial bite out of the funding that supports the existing school at 2301 N. Park Ave.

But even after a year of mulling, neither he nor The Oaks' board is giving up on the idea. Being able to replicate The Oaks would be, to them, the ultimate validation of their efforts.

"It sort of proves that it works," Hart said of the prospect of starting a second school. "It's not just lightning in a bottle. We can take this elsewhere and it works there, too."

However, The Oaks' task has been complicated by the prevailing headwind of education philanthropy. Giving to education across the country has fallen a combined 8.8 percent in the past two years, according to the Indiana University Center on Philanthropy.

Fundraising challenges

That decline exacerbated existing financial problems at the most storied examples of successful urban schools in Indianapolis: those run by the Archdiocese of Indianapolis.

The archdiocese converted two of its six urban primary schools into public charter schools this year because of long-running financial difficulties that became unsustainable with the drop-off in giving.

Enrollment at the six schools had eroded since the late 1990s. And with the residents of their surrounding parishes becoming gradually poorer, the schools were losing money every year. Then the recession hit.

"With this economy, the benefactors that we have had in the past have had to limit contribution or pull back from contribution," said Connie Zittnan, who oversees the urban Catholic schools in Indianapolis. But, she added, "We have been in these neighborhoods for decades; we did not want to walk away from the families."

So the archdiocese turned two schools—St. Anthony Catholic School as well as St. Andrew & St. Rita Catholic Academy—into public charter schools. They now receive $7,500 per student in state funds. They can no longer teach Catholic doctrine or values during school hours, but they do offer such programs as an after-school option.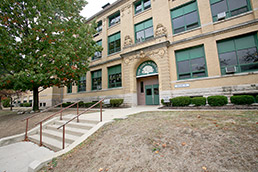 The Oaks Academy, located at 2301 N. Park Ave. in the Fall Creek Place neighborhood, opened in 1998 and has grown to 338 students. (IBJ Photo/ Perry Reichanadter)
It's been a trend nationally. From 1990 to 2007, 1,300 Catholic schools across the country closed their doors—most of them in urban neighborhoods, according to a 2008 report from the Thomas B. Fordham Institute. Others in Washington, D.C., and San Diego have also converted to publicly funded charter schools.

"The Catholics have such an incredible legacy in virtually every city of the country. It really grieves us to see that legacy definitely being challenged," Hart said, adding, "We are losing part of civic life if we just give up the faith-based school in favor of the charter school or the magnet school."

Christian and classical

The Oaks is not your typical school—something made clear before you even walk in the door on a school day morning.

Instead of school buses lining up to drop off kids, a line of sedans and minivans shows up. The Oaks requires each student to have at least one adult—a parent, grandparent or other caretaker—to agree to bring the child to school each day and be involved in his or her education.

Involvement is defined by an adult showing up for at least three events per year and attending parent-teacher conferences.

School officially begins not with announcements or Channel One news, but with the students gathering in the hallways—clad in green and white uniforms—to sing a hymn and listen as Hart says a prayer.

Christian faith is not a requirement to be a student at The Oaks. However, teachers must sign a statement of faith, which follows the outline of the Apostles' Creed. The faculty includes a mix of Protestants, Catholics, Greek Orthodox and other strands of Christianity.

The Oaks calls its curriculum "classical," which refers to the ancient and medieval methods of education that approached any subject first by its grammar—memorizing its constituent parts, then by its logic—how to ask questions and define terms in that subject, then by rhetoric—how to express oneself in that subject.

The Oaks has adapted those elements by emphasizing memorization and recitation, as well as imitation of great works of literature and art. Its teachers also try to have its students discuss a subject using the Socratic method of question and answer.

The Oaks is a racially mixed school, with 47 percent of its students white, 41 percent black, and the rest either Hispanic, Asian or of mixed race.

The school also has quotas based on income levels of the students' families: 50 percent are classified as low-income, 25 percent as middle-income, and 25 percent as high-income.

About 43 percent of Oaks' students qualify for free or reduced-price lunches—the measure of poverty in the realm of education.

That still leaves The Oaks with a much larger base of paying families than the archdiocese's inner-city schools have, where 74 percent to 96 percent of its students qualify for free or reduced-price lunches.

"These schools, because of who we serve, we understand will never be able to be self-sustaining," said Zittnan, director of the urban Catholic schools. "The mission of the church as a whole is outreach to others. The Catholic Church has always had a mission to serve all God's children. This fits right in with the mission of the church."

Redeveloping the community

The Oaks claims a similar mission. But it is the school's academic success and corresponding ability to lure students from middle- and upper-income families that makes it so attractive to neighborhood community developers.

"There's a recognition that housing revitalization is partly dependent on educational choice," said James Taylor, CEO of the John H. Boner Community Center, which is spearheading redevelopment in the near-east area. "The Oaks Academy has such an incredible reputation that it would be a huge win for the neighborhood if we could find a way for them to have a second site here."

The near-east side has three parochial schools and one charter school, as well as traditional public schools. But none match the academic performance of The Oaks, where all eighth-graders passed both the math and English portions of the Indiana Statewide Testing for Educational Progress last year.

The near-east-side plan got a big boost when Mark Miles, chairman of the 2012 Super Bowl host committee, decided to add it to Indianapolis' bid. Improving the neighborhood helped convince the National Football League to host its championship game in Indianapolis, and that, in turn, has helped local leaders amass $100 million for revitalization.

But to make that redevelopment work stick, Miles is talking to Hart about starting a second Oaks Academy in the vicinity. For Hart and The Oaks' board, it's a natural fit. A major part of The Oaks' mission is racial reconciliation and neighborhood renewal.

The Oaks' name comes from the biblical prophet Isaiah, who wrote, "They will be called oaks of righteousness, a planting of the Lord, for the display of his splendor. They will rebuild the ancient ruins and restore the places long devastated; they will renew the ruined cities that have been devastated for generations."

The Oaks sees that it can help do that by getting people of different races and classes to interact—even though they may not live in the same neighborhoods. It also hopes to entice people who could live in the suburbs to instead put down roots in old neighborhoods hollowed out by the white flight of the 1960s and 1970s.

Seeing a quality school with children playing outside can help suburbanites decide it's OK to live in the city, Hart said.

"If I'm a potential homeowner, driving in from Carmel, thinking of moving back in to the city, and I drive by a playground and I hear children laughing, I think that sends a signal to me that I otherwise might not get, that this is safe," Hart said.

Seeking new donors

Hart and his director of advancement, Dana Cooper, have enjoyed lots of success taking The Oaks' story and mission around town, raising $1.1 million a year to offset tuition for its low- and middle-income students.

Eighty-five percent of that money comes from individuals—rather than corporations or foundations—and includes such local business leaders as venture capitalist John Ackerman, Ice Miller attorney Lacy Johnson, OneAmerica CEO Dayton Molendorp, entrepreneur P.E. McAllister and, in previous years, embattled financier Tim Durham.

But now Hart hopes he can find a big philanthropist or large suburban churches to step forward with the money needed to fund the majority of a second school's first three years of operation. If he could get that kind of gift, Hart said, he's confident the rest of the funds would come through.

"What I'm hoping for is that someone of means catches the vision for another Oaks Academy and says, 'I want to fund it. I see the catalytic effect that The Oaks can have in a neighborhood,'" Hart said, adding, "At this point, it's just seeding the idea. I think this is an idea that will take several conversations and require many alliances in order to come to pass."•