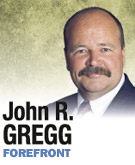 As Gov. Mitch Daniels gears up for his last two years in office, the Republican successors are more numerous than you can count. While they may not be of the same caliber as Mitch, they all have a following, and as a Democrat I can only hope for a full, bloody primary among the "pubs."

The 800-pound elephant is Mike Pence, but the question is whether he runs for president or governor. Now that Lt. Gov. Becky Skillman has bowed out, I predict he will clear the field if he runs.

How well he'd run in Indiana depends in part on how the Republicans govern, now that they control D.C. But the well-groomed, well-spoken Orator of the White River definitely outdistances the others due to his national fundraising potential. If Mike decides he prefers Burlington over Bloomington, the field becomes very, very wide. Not necessarily deep, some would say, but definitely wide.

Others may include:

My law-school mate, House Speaker Brian Bosma, led his party to absolute control in the House by running effective campaigns, defining a well-honed message, and doing an excellent job of recruiting candidates. He has to be considering a run.

Senate President Pro Tem David Long has statewide name recognition and brings a non-Indianapolis base to the table from northeastern Indiana. He would be on anybody's watch list.

State Sen. Luke Kenley says he's not interested, but tough financial times may thrust him into the center of attention, causing him to pause and reconsider his decision to become a Texas Rancher.

Congressman Todd Rokita is always running for Secretary General or Ambassador of Elks Exalted Ruler and he may well find his new congressional seat so drastically changed that he has to look at this race. And, his ability to buck the party is second only to congressman Burton's, so don't laugh at this one.

Retiring State Republican Chairman Murray Clark is likable and talented, and has a statewide network that would serve him well, plus he may have the inside track with the governor.

State Treasurer Richard Mourdock may have a distinct advantage in a crowded primary because of his Tea Party strength. With this base, he may be the wild card.

One of my non-Statehouse favorites is Marion Mayor Wayne Seybold. This guy is a one-man economic development juggernaut. I don't know if he's interested, but he's young, bright and well-respected.

And, if Daniels decides to "visit" Iowa, what impact will this have on the process? Will he take away needed funds from the field? Will the better campaign organizers go with him on the next step or will they stay in Indiana to help with the next gubernatorial campaign? Will he decide he must hand-pick a successor? Or will he choose to stay out of the process and let the party faithful select? Will the candidates try to distance themselves from Mitch? Or will they clamor to be his clone? Or will the new Republican state chairman carry the governor's water and make the choice?

By now, my Democratic friends are saying, why is Gregg writing this? Well, isn't it time we focus on issues and quit the business of personal destruction?

I'm not endorsing any of these folks; in fact, I want all of them to run in the primary. Each and every one of them.

I encourage them to spend millions in the primary. But if the governor doesn't give a wink and a nod to one of them, I can already hear the band playing, "Happy Days are Here Again." And, besides, as I review the list of potential Democratic nominees, none of the Republican hopefuls can keep the Statehouse in Republican hands.•

____________
Gregg is a partner in Indianapolis law firm Bingham McHale and a former Democratic speaker of the Indiana House of Representatives. Send comments on this column to ibjedit@ibj.com.