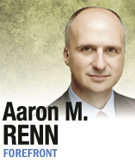 Indianapolis has often been referred to as the "Diamond of the Rust Belt," but its performance goes far beyond just being the best house on a bad block. Yet despite outperforming not just the Midwest, but America as a whole, long-term challenges facing Marion County put the region at risk.
Few seem truly aware of how impressive metro Indy's performance has been. Compared with other large metros in the greater Midwest, Indy was No. 1 for population growth from 2000-2009, growing almost 14 percent, or close to 60 percent faster than the United States as a whole.
It also had positive net domestic migration—people moving in minus people moving out—of over 70,000 people while virtually every other Midwestern metro was bleeding people. That's like the entire population of Fishers packing it up from wherever they lived and moving to Indianapolis. People are voting with their feet in favor of Indianapolis.
Indy was also No. 1 in job growth, adding 19,000 jobs in that same period while the United States lost them. It is No. 2 in gross domestic product per capita, the basic measure of economic output per person, trailing only the Twin Cities. It even outranked Chicago, showing that far from the stereotypes of a low-end economy, metro Indianapolis is in fact a high-value economy.
But despite this great regional story, all is not rosy. In particular, Marion County as a whole is now starting to show signs of the urban struggles we typically associate with the inner city.
For example, while its population has continued to grow, it has slowed to a crawl. It lost more than 50,000 people to migration in the last nine years. And it lost almost 60,000 jobs—a huge number. A report commissioned by Mayor Ballard early in his administration noted that three of the four largest townships in Marion County have declining assessed valuation. And the township school districts now largely trail those in the collar counties for graduation rates.
In 1970, Unigov united the old city with what were then its suburbs. But this proved to be less a solution to a problem than a stay of execution. Marion County as a whole now finds itself in the same situation the old city did back then. It is struggling with legacy issues while surrounded by fast-growing, brand-new suburbs. And this time there is no Unigov in the wings to fix things.
In effect, Unigov bought Indianapolis 40 years to create an urban core environment that would prove demographically, economically and fiscally sustainable over the long term. Unfortunately, that time is running out and the solution hasn't been found. Indianapolis did completely transform its downtown, an accomplishment worthy of every bit of praise that has been given it, but that is not sufficient to animate an entire county.
The big problem is not with the old city. Center Township, despite its challenges, has seen an uptick in population after decades of decline and neighborhoods over a wide expanse have seen improvement. The real issues are in the old suburban townships. Their problem is that they are selling an older version of the same basic suburban product as the collar counties, only with higher taxes, more crime and worse schools.
When you are selling an inferior version of a commodity product at a high price point, it should come as no surprise that there aren't a lot of buyers. Hence the exodus from Marion County we have witnessed. People can get a shiny new product with no legacy problems just by crossing a border, so that's what they are doing.
To avoid Marion County's failing and taking the region—and possibly even the state—down with it, the county must change course to redevelop itself around a different type of product, a more urban one that isn't available in the collar counties. This will take courage, since it won't be popular in some quarters, but continuing to fight the collar counties in a commodity suburb game is a game Marion County can't win.•
____________
Renn is a former Indianapolis resident now living in Chicago who writes the Urbanophile blog, one of the nation's leading urban policy websites. Send comments on this column to ibjedit@ibj.com.
Please enable JavaScript to view this content.