A plan to make the city's curbside-recycling program available to all residents likely won't come without some costs being passed on to taxpayers.
And that could play a role this year as Mayor Greg Ballard, a Republican up for re-election, decides whether to pursue an ambitious restructuring of the program or take a less dramatic route of promoting the existing subscription-based service.
Restructuring residential recycling has been one of Ballard's big goals. The idea is to make the curbside pick-up program, which residents now can participate in with a $6 monthly subscription on top of regular trash-collection fees, available to all residents without the subscription.
For the last year, he and other city leaders have pursued a way to do that at no additional cost to taxpayers.
 
Ballard
But finding a way to cover the cost of expanding the program with revenue from sales of recycled goods such as aluminum, plastic and glass has proved tough, even as commodities prices rise with the improving economy.
In an interview, Ballard said he thinks there's ample demand among residents for a more comprehensive program but expressed uncertainty about whether the city would complete it this year.
"I thought we'd have it done by now," Ballard said. "It may be too hard [this] year to get a plan out there and get it through the hurdles."
For now, the city is pushing to make residents more aware of the existing program so they will subscribe.
Starting Jan. 18, current recycling contractor Republic Services of Indiana will allow about 10,000 residents on the city's northeast-side to test curbside recycling for free for three months.
Meanwhile, city leaders remain in discussions with local Republic representatives about a way to expand the program. John Drier, general manager of Republic, wouldn't comment on the status of the talks, nor would city leaders.
But at this point at least one thing is clear: More city revenue would be required to fund an expanded service. And absent a grant or a private entity bearing the cost, it most likely would be passed to residents through additional fees.
The cost of collecting and disposing of trash last year was about $34 million. To cover that, the city uses property-tax revenue, plus a $32 solid waste fee that property owners pay annually.
Increased participation in recycling helps offset the trash-collection and disposal costs and also helps bring in additional revenue through the sale of commodities. But in virtually every community that makes curbside recycling accessible to all residents, that's not enough to offset the cost of running curbside recycling.
Republic, a unit of Phoenix-based Republic Services Inc., estimated that to expand curbside recycling, the initial equipment costs alone would be between $15 million and $20 million.
"There are costs associated with processing and transport of [recycled] material," said Carey Hamilton, executive director of the Indiana Recycling Coalition. "Those costs are certainly offset, but not completely offset in most cases."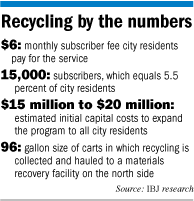 City leaders won't discuss how much would be needed per resident to fill the gap. But last spring, in a response to city leaders' request for ideas about how to expand recycling, Kalamazoo, Mich.-based Best Way Disposal suggested the program would cost $2 to $3 per resident per month.
Even if additional fees are minuscule, pushing them through in an election year could be difficult, said Brian Vargus, an IUPUI political science professor who focuses on campaigns and elections.
"In a community with the history that Indianapolis has had—really railing about property taxes—they're going to be terribly sensitive," Vargus said.
Other cities have found ways to structure their programs without raising fees. In Mahoning County, Ohio, for example, a company that owns one of the town's landfills covered the cost to compensate residents for the landfill's presence in the community. The county also has secured state grants to build new facilities to process the materials.
"I don't know of any system where it actually pays for itself," said Jim Petuch, the county's solid waste director. "Either you get it donated or you've got to charge your people."
One factor that could help close the gap on that charge: Over the last year, commodities prices have been sharply rising amid higher demand. Aluminum consumption, for example, grew 13 percent last year and is expected to grow another 12 percent this year, according to New York-based aluminum producer ALCOA.
Joe Pickard, director of commodities for the Washington, D.C.-based Institute of Scrap Recycling Industries, said that could could provide an incentive for municipalities to pursue recycling programs.•
Please enable JavaScript to view this content.