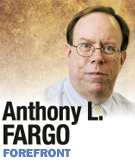 Two stories in the news of late—the future of township government and the performance of the Indiana Economic Development Corp.—share a common theme about accountability. Less obviously, they are about transparency.

One can debate whether township governments have outlived their usefulness and should be disbanded. There are compelling arguments on each side. We are told that disbanding them would save millions of tax dollars and improve efficiency. But can strapped local governments and private charities pick up the slack on services such as poor relief? If we do away with taxpayer-funded poor relief, do we tell those who can't afford boots to pick themselves up by their bootstraps?

But if townships survive, some things must change. News stories have painted a discouraging picture of rampant nepotism, tax money hoarded in reserves, unfiled state accounting forms and trustees who were hard to find.

The Legislature could fix many of those problems without disbanding townships by requiring greater accountability and putting some teeth into existing laws.

But the press and public have a role to play as well. News organizations should pay attention to townships more often than every few years as part of their watchdog function. The press can't do it alone, especially with the tight budgets many news organizations have now. Taxpayers should try to attend a township board meeting occasionally. Knowing that taxpayers are watching might be enough to keep most townships in line.

Much of what township governments do is subject to the Access to Public Records Act and the Open Door Law, even if no one takes advantage of those laws.

A different problem arises with the Indiana Economic Development Corp. Much of what IEDC does is exempt from the public records and open meeting laws. That may be part of IEDC's public relations problem.

For those of you who missed WTHR-TV Channel 13's award-winning reports and haven't caught up on the station's website, the controversy involves a difference between the number of jobs IEDC claims it has lured to Indiana and the number of jobs that have materialized. WTHR, using an audit report done for the agency and additional reporting, found that IEDC and Gov. Daniels were using inflated numbers when they boasted about job growth.

Commerce Secretary Mitch Roob has accused the station of misleading the public, but he also has refused to let the station interview the auditors, which is his legal right. He did this while bragging that Indiana scored high on an independent group's evaluation of state openness about economic development. But WTHR found that claim was also inflated; Indiana just failed less severely than other states.

This is not to say Indiana should be ashamed of its job-creation record. Nor should the state be ashamed that some promised jobs didn't materialize; it happens, particularly during a recession.

Economic development agencies nationwide often claim they need to work mostly in secret because if their negotiations with potential employers were public knowledge, it would scare away business prospects. There may be some logic to this argument, but the flip side is that negotiations between businesses and agencies like IEDC often involve tax breaks or promises of publicly funded infrastructure improvements. Perhaps the Legislature could find a way to better balance the competing interests.

It also should be noted that exemptions from disclosure under the public records and open meetings laws do not require secrecy; they only allow it. Agencies can choose to be more forthcoming than the law requires.

Whether the issue is township government's future or the state economic development agency's job-creation record, accountability is necessary to assure that tax dollars are being spent wisely. Transparency walks hand in hand with accountability. It is hard to trust what you cannot see. The press, the public and the government all have their parts to play in assuring that transparency is the rule, not the exception.•

__________

Fargo is an Indiana University journalism professor and member of the Indiana Coalition for Open Government. Send comments on this column to ibjedit@ibj.com.