You can't argue with success. But I wasn't sure what to do when my plan to try the latest restaurant from the Scotty's Brewhouse folks, Thr3e Wise Men Brewing Co. (1021 Broad Ripple Ave., 255-5151), was met with word of an hour-and-a-half wait.

I went with the next best thing to being there: takeout.

Now, granted, takeout offers a different experience than dining in, but a pizza joint should be able to handle both. And this one proved itself. The only part of our pizza feast that needed apologies were the anemic Breadstix (six for $3.50), which were hard and crunchy in a way that can't be blamed on the commute to our dining room.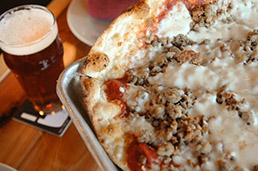 Sausage crumbles from Lone Pine Farms add flavor to a Thr3e Wise Men pie. (IBJ Photo/ Perry Reichanadter)
The pies themselves are big—although not nearly as big as the absurdly large takeout boxes. The cardboard containers—with inches to spare on all four sides and another inch of headroom—seemed, from the outside, big enough to house a feast suitable for the entire Italian U.N. delegation.

Unlike many upscale pizza joints that offer chef's combinations of toppings in addition to the standard u-calls, Thr3e Wise Men keeps it simple. Before you start building, a small pizza will set you back $7, a medium $11 and a large $13. Veggies added tack on $1.50 each. I'm not sure if it's a good thing or not that Fresh Basil is one of the options—but maybe I'm just used to the dry version coming complimentary from a shaker. Then again, it did add a nice accent to a basic cheese pie.

Meats costs $2.50 each, with applewood smoked bacon from Lone Pine Farms a nice addition. We divided a pie with Lone Pine's Sweet Italian Sausage on one side and its Spicy Italian Sausage on the other. So good. Tough call which side was better, but I was pleased to see that the spicy gave a kick without smothering the taste of the sausage itself. You might find yourself picking off and devouring the crumbles from other

slices when your guests aren't looking.

We also tried the Hummus Pizza ($7), which appears on the appetizer menu along with such Scotty's favorites as Dill Chips ($7.75) and Buffalo Wings (six for $7.25). The Thr3e Wise Men version gives the Greek staple an Italian accent with a spread of blended cucumber relish, goat cheese and roasted red pepper.

I rarely feel the desire for dessert after partaking in pizza, but the Brew-Homemade Carrot Cake is worth resisting that last slice of pizza for. The recipe, according to the menu, comes from Scotty's mother-in-law—a woman who, based on this creamy concoction, deserves to have her name in the title of the treat.

Speaking of naming, there's that pesky 3 in this welcome newcomer's name. Didn't someone tell Scotty how awkward it looks and how annoying it is to type?•

–Lou Harry

__________

First in a month-long series of reviews of restaurants with numeric names.