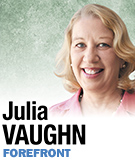 So much for the big concern in state government about ethics, conflict of interest and other good government issues that were all the rage last legislative session. It appears the hoopla over the need to protect the public trust was short-lived, since modest proposals to limit conflicts of interest at the local level have been seriously weakened and might not make it through the process.
Several bills were filed in the House and Senate this year to finally deal with conflict of interest in local government. One particular conflict that has come under the radar screen is Indiana's horrible statute that allows police officers and firefighters to serve in public office in the same jurisdiction where they are employed. This practice causes a multitude of problems including runaway tax bills, government decision-making difficulties and erosion of the public trust.
A perfect example of the harm to citizens and taxpayers is Madison Township in Morgan County. In 2002, a firefighter was elected township trustee and in 2006 three firefighters were elected to the township advisory board.
The result of having the fire department essentially running township government? Madison Township, with 7,384 residents, has a fire department with nine full-time employees and is spending more than 13 times per capita ($825.99 to $61.65) what the average township spends.
Higher taxes and public spending aren't the only problems. In communities across Indiana, the leadership chain of command is upended when a public employee holds office and is allowed to make the policies their supervisor will have to enforce, as well as determine their own salary. Who is really in charge if the police or fire chief can be undermined or manipulated by an employee holding public office?
This practice also erodes public trust, giving citizens good reason to think decisions are being made for personal gain and giving them yet another reason to believe elected officials are not to be trusted.
Believe it or not, conflict of interest has its supporters at the Statehouse. Opponents to strengthening the law to prevent these situations have two major arguments: They claim public employees have a right to run for public office and that, since conflicts of interest exist at all levels of Indiana government, singling out local government for reform is unfair.
While all citizens do have the right to vote and participate in the political process, we do not all have a right to run for office. Indiana law rightly prohibits public schoolteachers from serving on school boards in clear recognition that allowing such would create a damaging conflict of interest. Further, the legislation being debated at the General Assembly allows public employees to run for office, just not in the same jurisdiction where they work.
And since this situation affects so many local governments across the state, this debate needs to be about more than individual rights. Shouldn't the right of citizens to have government untainted by conflicts prevail over the perceived right of an individual to run for office and hold a public job at the same time?
The "everybody's doing it" excuse just doesn't wash with conflicts of interest, either. While it is true that more than a few examples of conflicts can be found in the Legislature, there is a key difference. The House and Senate are large bodies with a diverse group of individuals coming from a variety of backgrounds.
While there may be factions that arise naturally from shared backgrounds and interests, none of these factions is large enough to skew the decision-making process. Smaller boards and councils can be easily controlled by a handful of self-interested individuals.
It is clear we have a government that is overripe with rotten apples and their presence in elected office spoils the barrel of public trust. While sweeping reform to clean up all levels is warranted, experience shows that is not likely. The best course of action is to attack the problem at the local level first. You can help make this happen by contacting your legislators and asking them to support Senate Bill 166.•
__________
Vaughn is policy director for Common Cause/Indiana, a nonpartisan citizens lobbying organization that works for open, honest and accountable government. Send comments on this column to ibjedit@ibj.com.
Please enable JavaScript to view this content.