Thousands of Indiana union members held signs, chanted slogans and cheered speakers outside the Statehouse on Thursday at a rally to protest Republican-backed bills they consider an attack on public education and labor unions.

Authorities said about 5,000 people were gathered by midday when the rally began with songs and prayers.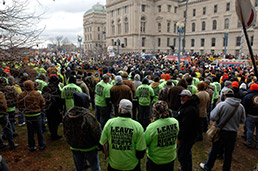 Union supporters rallied at the Indiana Statehouse on Thursday. (IBJ Photo/ Perry Reichanadter)
Nancy Guyott, president of the Indiana AFL-CIO, told the cheering crowd that craftsmen built the Statehouse, and were here again Thursday to reclaim it.
"The working men and women of Indiana have come back to take back the people's house for the people," she said.
Some union shops around the region are closing for the day and bringing busloads of protestors to Indianapolis. Protestors are expected from around the Midwest.
The goal was to create gridlock downtown during the Big Ten men's basketball tournament, according to a flyer promoting the rally obtained by WXIN-TV, Channel 59.

"This will help us jam things up downtown," the flyer says. "If we can take up as many parking spaces as possible, people will complain. This will impact businesses and the Chamber [of Commerce], causing them to tell their friends in the General Assembly to do whatever it takes to keep these people from tying up the town like this."
Indiana House Democrats are boycotting that chamber to derail several Republican proposals, but two joined Senate Democrats at the rally. Senate Minority Leader Vi Simpson, D-Bloomington, said Republicans have gone too far, and that Democrats are acting as the voice of the workers gathered in the cold, windy weather.

"They have called a war on the middle class," she said of Republicans. "This is a battle that we must win!"

A huge banner hung from the Statehouse's west steps read "Hoosiers standing up for the middle class." Some workers wore hard hats and fluorescent yellow work-vests. They held union banners, American flags and signs reading "Stop the war on workers" and "We want the American dream." A giant inflatable "fat cat" wearing a suit and a diamond ring boosted the crowd of protesters.

Retired postal worker Karen Luehrs of Fort Wayne came to the rally to protest several efforts by the Republicans — who control the General Assembly — including bills to restrict teacher collective bargaining and put into state law the current status that state employees cannot collectively bargain.

"It's important for everybody to speak up when things are wrong, and this is wrong," she said.

Republicans say their agenda this year isn't overreaching, and note that people supported them in the November elections when they took control of the Indiana House. Luehrs noted Republicans didn't campaign on proposals such as the so-called "right to work" bill that caused House Democrats to boycott — a proposal that is now off the table.

"There was an agenda that hasn't' been spoken aloud, and one of them is busting unions," she said. "I didn't hear that in the election. I hear that now loud and clear."

Organizers say Thursday's rally could be Indiana's largest in years.