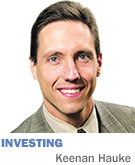 Between you and me, don't worry about that huge spike you just saw at the gas pump in the last few weeks. I know you are paying 25 percent more for gas than you were paying only a few weeks ago, but don't be such a baby about it. Suck it up, buttercup. This is 2011!
Federal Reserve Chairman Ben Bernanke didn't put it into these exact words, but I have a feeling this is what he thought. He released a statement March 1 claiming the recent rise in oil prices should be temporary and that it will not disrupt the improving economy.
Well, I guess the oil market didn't care because it just kept marching higher. A few days after, the White House released a statement telling us not to be concerned with higher fuel costs. It is a temporary anomaly that will not kill the party. Don't worry, be happy, right?
These guys issue public statements like this because they know perception is a fragile thing. I think Bernanke is foolish, but he got it right when he said that inflation is more about expectations than reality. But you and I, we are not the average Joe. We are smarter than both Bernanke and the White House give us credit for.
We know that, combined with all the other factors, a 25-percent jump in energy prices is something to be at least a little concerned about.
Every bull market has a main theme that keeps driving the market higher and higher, until that main theme destroys everything in its path. Technology stocks captured investors' attention in the 1990s and took the stock market to unprecedented heights. The mania got out of control and the tech sector eventually got smashed and took down most of the economy with it.
In 2006, housing stocks were all the rage and, by extension, any financial-related company went through the roof right along with them. The bank stocks ended up destroying the global economy.
Today, this bull market has been moving right along in large part because of all the money Bernanke printed in the basement. This cash has led to higher stock prices, but it has also helped drive the price of every basic commodity, like oil. The higher commodity prices are leading to inflation.
It is this inflation that has me a little concerned. Right now, most major companies are able to pass along their higher operating costs to their customers. They can do this because the employment picture is still weak and there isn't a lot of wage pressure today. That can change, though.
Inflation is the reason this bull market is alive, and the biggest beneficiaries are sectors that benefit from inflation. Basic material stocks, energy companies and industrial firms are doing well, and I expect these sectors to lead until the final day of this bull market. At some point, most likely within the next 18 months, the higher inflation will kill the goose. It might be wage pressure, difficult energy costs or an inability to pass rising costs along to customers, but one of these sticking points will derail this bull market and the next bear market will be on the way.
If you listen to Bernanke and you choose not to worry, at least choose to try to profit from the situation. Oil has gone up a lot recently and I wouldn't be surprised to see a little profit-taking as a result. The same holds true for gold and silver, which have gone up a lot as well. I don't think we are going to see a return to $75 a barrel on the next possible correction, though. Oil is in a confirmed uptrend, and I think it'll continue for some time.
You can also expect to see higher stock prices in sectors like industrials and basic materials. These will keep seeing benefits from the rising inflationary environment.•
__________
Hauke is the CEO of Samex Capital Advisors, a locally based money manager. His column appears every other week. Views expressed here are the writer's. Hauke can be reached at 203-3365 or at keenan@samexcapital.com.
Please enable JavaScript to view this content.