The city's $1 billion gateway to the world is racking up a less-than-flattering list of flaws.

Last month, ice and snow brought down a massive canopy above the parking garage atrium at the new Indianapolis International Airport terminal. The collapse crippled walkways and escalators in the 7,500-vehicle garage. Rental cars, below, were smashed as if a stunt-car-driver convention had come to town.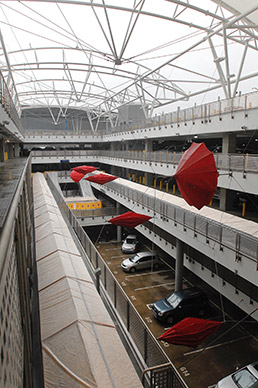 Above, the parking garage atrium needs extensive repairs after being damaged last month. The collapse also crippled walkways and escalators. (IBJ Photo/ Perry Reichanadter)
And a few weeks ago, a weld let go on the water main feeding the new terminal. Portable potties were wheeled in—for a few days creating a less-than-desirable welcome for visitors.

Records show the nearly 2-1/2-year-old Col. H. Weir Cook Terminal and related structures have had their share of teething pains requiring more than $2.5 million in fixes—not counting the most recent problems. They range from water leaking down elevator shafts to remedies for designs that arguably put architectural flourishes ahead of functionality.

It's difficult to discern exactly which of these problems amount to design or engineering defects, and which are merely tweaks dictated by real world operating experience since the terminal's November 2008 opening. The latter category is euphemistically dubbed by the Indianapolis Airport Authority as "betterment projects."

These include the need to spend an extra $61,000 to have a contractor install 120 roller shades in the ticketing hall. It turned out airline employees were blinded during certain times of the year when the sun sat just so on the horizon. It's good if you're a Mayan priest needing a reminder to make a sacrifice for the autumnal equinox—bad if you're trying to see the computer screen to check in a passenger.

Design firms were supposed to anticipate such things.

"You could potentially argue, well gee, your modeling should have gotten that right," said Greta Hawvermale, the authority's senior director of engineering.

The unanticipated

Her team has had bigger betterments on its plate.

Among them: $204,500 spent to add glass and metal enclosures to six stairwells in the garage to minimize damage from water and snow.

Another $263,000 was spent after the terminal opened to build weather enclosures at the curbside entrance. It turned out the terminal's fanciful, wing-like roof doesn't jut out far enough to prevent skycaps and passengers from being soaked on some rainy days.



And, don't look up, but designers appeared not to have fully appreciated the menace from birds and bats, overhead. An additional $92,400 was spent to add heavy-duty netting to the trusses that hang over the curb to prevent the critters from nesting and dropping presents on people standing below.

Other problems discovered after occupancy involve three guardhouses built to protect airfield entrances.

"During the first winter of operations, it became apparent that with the frequent opening of the guardhouse doors, that the buildings were not maintaining comfortable working conditions for the staff," said a management memo, requesting that the authority board approve $68,266 for new windows and HVAC systems and additional insulation and lighting.

A similar amount was spent to add "air curtains" at five entrances to the airport's ground transportation center. Some employees working at rental car counters complained of being cold during the winter.

A total of nearly 20 such projects have been undertaken since November 2008, with the money coming from $2.5 million left over after the terminal was completed, airport officials say.

Still on budget

Technically speaking, the midfield project came in on budget—at $1.065 billion, the authority says.

The authority is seeking reimbursements to resolve errors and omissions from engineers and designers—an amount originally estimated at $2.75 million.

The problems were resolved as they occurred using unexpended midfield project funds, and the costs came in at under $1 million, said airport spokeswoman Susan Sullivan.

Discussions are under way with six firms and the authority expects to be reimbursed for all its expenses to resolve errors, Hawvermale said.

One problem that appears to be design-related is water leaking into parking garage elevator shafts. One such incident caused $31,000 in damage to electrical systems. Installing a drainage system is projected to cost $50,000.

The garage was designed by various local firms under ARCHonsortium, now known as Architects Consortium LLC.

The consortium's spokesman, David R. Franklin, said he was unable to comment on the elevator shaft water issue as that part of the project was led by others on the team.

Local firm A2SO4 did the bulk of the design on the $100 million garage, though its principal could not be reached for comment.

"Based on what we know today, there are no additional engineering or design issues that we know about that are serious," Hawvermale said of the terminal project.

As for the parking garage atrium canopy, airport officials said they're still assessing the cause of last month's collapse. Franklin said the engineering of the canopy structures on the garage was conducted by canopy maker Birdair Inc., of Amherst, N.Y., which sent a team to town to investigate.

"We regard this as a product warranty and engineering issue, and not an architectural design issue," Franklin added.

Still ongoing are a number of updates to signage, inside and outside the terminal. However, it was anticipated before the terminal opened that signage changes would be made later, as it was necessary to see how passengers and visitors would respond to signs before making final changes, Hawvermale said. "The signage was probably the most challenging aspect of the midfield project to get right."

'Relighting' garage

And contractors may soon be ripping out all 1,900 lights inside the parking garage.

The authority this month has been in talks with lighting contractors about replacing the garage's lighting with more efficient fixtures.

Airport spokeswoman Sullivan stressed that this project is not the result of any problems associated with the original project.

"The capital project takes advantage of new lighting technology and energy efficiencies since the original parking garage [design] in 2005," she said in a statement.

Hawvermale declined to say how much the authority might spend on relighting, saying the authority wants to keep that number close to the vest amid talks with lighting contractors. The relighting project is expected to shave thousands of dollars a year from the airport's electricity costs.

Although taxpayer money is used for some airfield improvements, it was not used to build the new terminal. Airlines and other airport tenants pay rents and landing fees used for such capital projects.

The terminal isn't the only local mega project in recent years to have problems. Lucas Oil Stadium, home of the Indianapolis Colts, has suffered water leaks and plumbing and electrical issues since opening three years ago.•