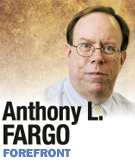 What if the public schools aren't really "failing?"
It's hard to imagine the words "public schools" without the modifier "failing," isn't it? The news media and many of our politicians can't seem to separate those three words. "Failing public schools" has become such an "everybody knows that" kind of phrase that many people don't question it anymore. Failing whom? Failing how?
One of the hardest skills to teach, but one of the most important, is the ability to think critically. Particularly in a system of government such as ours, where the important decisions about who will represent us rest with us, being willing and able to look beyond political rhetoric is essential.
Critical thinking is a particularly important skill for journalists. Readers and viewers often complain about the way journalists badger public officials and other newsmakers, but it's part of the job to question and probe.
It is no accident that two of the best-known axioms in journalism are tied to the need for critical thinking: "If your mother says she loves you, check it out," and, "When you assume, you make an ass out of u and me."
Unfortunately, journalists still sometimes fall into the trap of accepting what "everybody knows" without doing enough questioning. The media then often perpetuate those same truisms by repeating them so often that we find ourselves nodding in recognition every time we hear them.
Journalists and the rest of us need to occasionally re-examine those "everybody knows" statements and ask ourselves if they really are true, or why they are true, or whether they are only partly true.
So, getting back to the "failing public schools," here are some things to consider when we put the seemingly permanent joining of those three words to a critical thinking test:
• Two students leave the same high school and enroll in the same college. One has trouble writing a grammatically correct sentence, would rather eat glass than contribute to class discussion, and vows to do the least work possible to get the minimum grade needed. The other writes well, engages enthusiastically in class discussions, joins various groups, and goes above and beyond what is required to pass. Did their school fail?
• If the public schools are failing at least some students, is it all the fault of teachers (and their union)? If the same schools are producing students who achieve at high levels, others who are just getting by, and others who are struggling or failing, is it possible that the issues are more individualized and complicated than just the quality of teaching?
• What do those who blame teachers and their union for the problems in public schools have to gain?
• If the public schools are failing, how is it possible that advanced-placement-course students in Indiana just had the second-best one-year improvement in AP exam scores in the nation?
• Does the constant drumbeat of "failing public schools" become a self-fulfilling prophecy? Do we see failure because we expect it? Do our students lose respect for public education and give up partly because the rest of us tell them their efforts to learn are useless?
None of this is meant to suggest that all is rosy in public education, or that all of those who want to reform public education have a radical political agenda or evil ulterior motives. American students seem to be falling further behind those from other countries in some critical skills. Teachers are not perfect, and neither are unions.
Reform may indeed be necessary, especially in regard to how schools deal with students who carry so much baggage from home that it blocks their ability to learn. But teachers should be active participants in that reform instead of being labeled the problem.
It may be politically expedient to blame teachers and their union representatives for public education's ills, but making "failing public schools" a mantra obscures the issues more than it solves them.•
__________
Fargo is an Indiana University journalism professor and member of the Indiana Coalition for Open Government. Send comments on this column to ibjedit@ibj.com.
Please enable JavaScript to view this content.