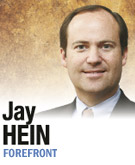 Have you ever wondered why we refer to not-for-profits by what they are not? Sure, they don't produce profit for shareholders, but they produce great profit for society. Plus, they contribute mightily to our nation's bottom line.
For starters, consider that 13 million Americans work in the sector. This translates into one in 10 jobs in the national economy, a larger share of employees than the financial industry including its insurance and real estate sectors.
Their employment numbers swell dramatically when you count volunteers who donate professional services. The Independent Sector, a coalition of not-for-profits, foundations and corporate giving programs, estimates that Americans donate over 8 billion hours to not-for-profits annually, which is the financial equivalent of an additional 6.8 million full-time employees.
These employees work at more than 1.5 million legally registered not-for-profits generating a whopping $1.1 trillion in annual revenue. The combined asset base of these charities is $3.4 trillion, which would make the sector one of the largest economies in the world if it were a separate nation.
The sector's big numbers are built in small increments. Seventy-five percent of not-for-profits operate with less than $500,000 in annual revenue and fewer than 5 percent have budgets over $10 million per year.
Not-for-profits earn half their revenue from fees for services and another quarter from government contracts. Speaking volumes about the size of the sector's treasury, Giving USA, a tracking group, reports that philanthropy exceeds $300 billion and yet charitable giving represents only 12 percent of not-for-profit revenue.
The giving itself is impressive. Seven in 10 American households give to charity and the $300 billion threshold was reached for the first time in our nation's history during the recent recession. The vast majority of philanthropy ($227 billion) comes from individuals, compared with $38 billion from foundations and $14 billion from corporations. Notably, $100 billion of this philanthropy was delivered to religious institutions and religion itself remains the leading predictor of giving.
While these numbers will come as a surprise to many readers, they were actually presaged by a French political philosopher who observed the unfolding American experiment in the early 19th century. Drawing contrast from the European reliance on the state, Alexis de Toqueville remarked that "the purse strings of 1,000 strangers would open up" to assist an American in need.
That same citizen-centered response to human need remains vigorous today as portrayed in the economic indicators presented above.
While Toqueville didn't make it to Indiana (he walked 22 miles between Cincinnati and Louisville when his steamboat got stuck in Ohio River ice), we have the next best thing.
The Indiana University Center on Philanthropy was established in 1987 with no less ambition than to invent a whole new academic discipline. IUPUI's community-serving mission made it a perfect candidate to pick up the torch.
Indiana's rich culture of civic participation nurtured its growth, along with the invaluable support provided by Lilly Endowment, which also seeded community foundations across the state.
The center's research is national and yet it trains its lens on Indiana interests, as well. Efroymson Chairwoman in Philanthropy Kirsten Grønbjerg has directed the Indiana Not-for-Profit Sector Project, which takes aim at such topics as employment data, not-for-profit capacity and community perspectives.
Grønbjerg's research corresponds with the national data. For example, Indiana not-for-profits employ one in 12 Hoosier workers and pay them more than $6 billion in wages. Her 2005 study revealed that the not-for-profit sector is outpacing government and for-profit job creation.
Calling not-for-profits by what they are not is one problem. Yet, another rhetorical problem remains.
When public service is mentioned, government is envisioned. Not-for-profit employees, and the volunteers who join their mission, are the tip of Indiana's public service arrow. It's time we recognize their irreplaceable role in our economy and community well-being.•
__________
Hein is president of Sagamore Institute, an Indianapolis-based think tank, and was an official in the administration of George W. Bush. Send comments on this column to ibjedit@ibj.com.
Please enable JavaScript to view this content.