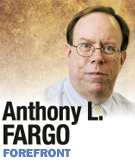 Most people probably have never heard of William Cronon. Such is the life of an academic, even a leading historian at the University of Wisconsin-Madison who is also the incoming president of the American Historical Association and a respected author.
But professor Cronon, like some other scholars (see, e.g., this column), was not content to confine his teaching and intellect to the classroom or academic journals. He began a blog called "Scholar as Citizen" and, in March, devoted considerable space to the ongoing debate over controversial legislation in the Wisconsin Legislature.
Cronon's March 15 blog post dealt with the question of how remarkably similar legislation on public employee collective bargaining rights, limits on environmental oversight, and illegal immigration popped up in several state legislatures this year, including Indiana's. He found ties to the legislation in the work of a little-known organization called the American Legislative Exchange Council.
His post was evenhanded, taking pains to point out that there was nothing wrong with what ALEC was doing and praising conservatives for their ability to reorganize after Barry Goldwater's defeat in 1964. He did opine near the end, however, that the legislation being debated so vehemently in Madison struck him as being at odds with Wisconsin's traditions and values.
Shortly after the post appeared, the university received a public records request from the Republican Party of Wisconsin seeking copies of Cronon's e-mails that contained mentions of Wisconsin Gov. Scott Walker, Republicans, collective bargaining, the names of various organizations and legislators, and words like "rally" and "union."
The reaction from Cronon and various pundits nationwide was immediate and critical. Writers at The Atlantic, The New Yorker and The New York Times accused the Republicans of "McCarthyism" or "intimidation" and cried "thought police." Cronon was quoted in Slate as saying the request was an attack on academic freedom and politically motivated.
The university counsel's office later released a copy of its letter to the requester, noting that it was complying with the request but holding back e-mails that named students; dealt with tenure, promotion or hiring decisions; were personal; or would have interfered with Cronon's participation in "intellectual communications among scholars." I'm not an expert on Wisconsin's public records law, but I believe the university is on safe ground on all those points except, perhaps, the last one.
The story might have quickly dissipated if not for a similar e-mail request in Michigan. Three Michigan universities, according to The Chronicle of Higher Education, got requests for e-mails of employees of labor studies departments and centers. The request from the Mackinac Center for Public Policy sought any e-mails that contained, among other things, the words "Scott Walker," "Wisconsin," "Madison" and "Maddow," apparently a reference to MSNBC commentator Rachel Maddow.
There is much that could be said about the e-mail requests. Are they politically motivated? Probably. Do they have the potential to intimidate professors and institutions? Yes. Are they illegal or unethical? No.
I'd like to focus on that last point. As Jack Shafer explained so well in a Slate column, a public records request is not, by itself, evil. Most state access laws say a requester does not have to give a reason for wanting a particular public record. That type of provision is designed to deal with just this type of situation. A public agency should not be in the business of deciding on the merits of a request for a document that the law makes subject to public scrutiny. There are too many opportunities for abuse of that kind of discretion.
The University of Wisconsin has vigorously defended Cronon's right to academic freedom and unfettered inquiry, as it should. For some scholars, that inquiry often includes perusal of public records.
Demonizing public records requests, even those that are blatantly political, is not constructive. It risks tempting legislators to create more exemptions. That would not serve any citizen, whether he is a scholar or not.•
__________
Fargo is an Indiana University journalism professor and member of the Indiana Coalition for Open Government. Send comments on this column to ibjedit@ibj.com.
Please enable JavaScript to view this content.