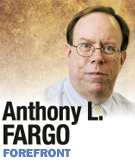 I was sitting in a cavernous meeting room in Santiago, Chile, in April when my own words came back to haunt me.
In this column a couple of months ago, I argued that we needed more critical thinking about things "everybody knew," such as the idea that public schools were failing. Then I found myself realizing that I had not been thinking critically enough about access to information.
Well, no one's perfect.
I was attending a conference sponsored by the Council for Transparency, the agency responsible for educating public officials about Chile's 2-year-old transparency law and fielding complaints about compliance. The transparency law is that country's version of the Freedom of Information Act.
The U.S. Supreme Court has said the "central purpose" of FOIA is to allow people to determine what government is doing. While that view is too narrow for my taste, it does capture at least one major rationale for access laws. It also ties access laws to a fundamental belief that we are a self-governing people.
The relationship between self-government and free speech that scholar Alexander Meiklejohn described in the 1940s also applies to access. Meiklejohn wrote that voters must be "made wise" before they choose their representatives, and so they must be able to hear all viewpoints on issues of the day, even unpopular ones.
I had not thought much about the benefits of access beyond facilitating self-government. In Chile, however, at the conference's opening session, I realized that my thinking was too narrow, at least from a global perspective. Transparency was also a tool for fighting corruption and for economic development.
The idea that access to information helps prevent or uncover corruption is not foreign to U.S. experience. I had not thought or talked much about the anti-corruption aspect of FOIA and state public-record and open-meeting laws. I prefer to accentuate the positive.
But the relationship is obvious when you think about it. The temptation to do something illegal or unethical with public money or the public trust is easier to resist if one knows that his or her actions will be recorded for public consumption or viewed by the press and public in an open forum.
In Chile and the 10 other Latin American countries that have adopted transparency laws since 2000, the need to demonstrate active attempts to fight corruption is critical. It is difficult to sell the benefits of democracy to your citizens or the stability of your government to foreign investors if too much information is kept hidden. In the latter regard, then, transparency laws also serve to encourage economic development.
I was initially a bit puzzled by the name of the conference in Chile: "Transparency as Modernization of the State: Experiences, Key Actors and Challenges." Modernization? In an older democracy like ours, openness, even without access laws, seems like an old idea. But in emerging democracies, such laws are a key to showing that the country in question has embraced one of the components of a modern democratic state.
I also was surprised to see that speakers for the first panel discussion included officials from the World Bank and the Organisation for Economic Development and Cooperation, as well as the president of Transparency International. Now I get it—all the speakers focused on how transparency was necessary for greater and more stable economic development in Latin America and the rest of the developing world. The World Bank itself is now developing its own transparency policy.
I'm not sure the economic development argument for transparency would play well in the United States, where many agency officials complain, with some justice, that access laws amount to unfunded mandates. They are expected to make documents available for inspection and copying but get no budget increases to help them meet the demands.
A Chilean might respond with a shrug, "That's the price of democracy."•
__________
Fargo is an Indiana University journalism professor and member of the Indiana Coalition for Open Government. Send comments on this column to ibjedit@ibj.com.

Please enable JavaScript to view this content.