In 2003, a then-Carmel Middle School student named Daniel Kent helped teach senior citizens computer skills at his public library. Unlike the senior citizens he taught, Kent had used computers for most of his life, and he enjoyed being able to help others do the same.
Then came a story from an older man he'd helped teach.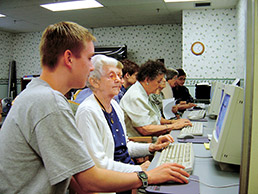 Net Literacy student volunteer Jon Gurecki teaches a senior citizen to use the Internet. In addition to helping older people learn technical skills, the organization repurposes computers and teaches finances and Internet safety to students. (Photo courtesy Net Literacy)
"He said it was really a shame because he had a friend back at his retirement home who was confined to a wheelchair and lacked adequate, reliable transportation to our public library," Kent recalled. "He couldn't really attend computer classes there."
Kent said he thought it was wrong that anyone be denied the opportunity to learn. The Internet, he explained, "can serve as a whole new medium for them to experience the world."
So Kent took action. He rallied a few classmates and made calls across the state. At first, they were looking to volunteer, but found a gaping hole in computer education services for senior citizens.
That's when Kent, along with several other middle school friends, formed Senior Connects—a program to teach seniors about computer and Internet use. Eight years later, Kent's brainchild is an internationally recognized not-for-profit that promotes computer literacy and safety, including programs for financial literacy and computer repurposing for donation to Indianapolis areas in need of the technology.
Now known as Net Literacy, the multipurpose, student-run organization continues its mission of promoting access to and understanding of the Internet.
'Form of disability'
Don Kent, Daniel's father, said the group's mission expanded past its Senior Connects program once the students realized that lack of computer skills, "almost a form of disability," spread far beyond senior citizens.
"They began to see that this was an important piece, but only a piece of a larger, more systemic problem that needed addressing, especially as the pace of technology was continuing to progress," Don Kent said.
Daniel Kent, currently majoring in city growth and structure at Haverford College in Pennsylvania, and his fellow founders turned Senior Connects into a not-for-profit and gave it its current moniker, Net Literacy.
Net Literacy is an umbrella for Senior Connects and four other initiatives:
• Community Connects, which provides computers and computer labs to areas lacking such public resources;
• Safe Connects, a program teaching Internet safety to elementary, middle and high school students;
• Financial Connects, a similar program providing financial information for young people;
• Computer Connects, a donation service providing repurposed computers to those who can't afford them.
Net Literacy is still run by a majority of high school students—60 percent of its board of directors—and adults within the organization serve mostly as advisers. Grants earned by Net Literacy and all of its programs are organized entirely by its high school student leadership, Don Kent said.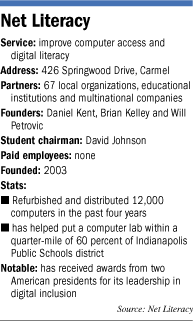 Daniel Kent still serves as a vice president. The continued growth of the organization, he said, coincides with advancement of technology and the ever-growing importance of the Internet.
"As more and more resources migrate onto the Net, a lot of individuals … are going to be left in the dark," he explained.
Will Petrovic, an Indiana University student and a Net Literacy vice president, said the organization aims to "open up that gateway to the world."
"Computers are so pervasive in everyday life," Petrovic said. "It is a problem that people like myself and most other students in a school like Indiana University don't realize. There are a lot of people that don't have easy access to computers or don't have the ability to use computers."
Underprivileged students in particular have become a focus of the organization's work. In the past three years, about 8,000 computers refurbished by student volunteers went directly to Indianapolis Public Schools, Don Kent said.
"The majority of the computers were loaned like library books to students that did not have computers at home," he said.
Daniel Kent said these students, along with others who don't understand the technology, could be excluded from many opportunities. Computer illiteracy has become synonymous with normal illiteracy, he said, creating a barrier between "those who can surf and those who can't."
"Those individuals who don't have Internet access or don't know how to use computers are definitely looked down on in society," he said. "I feel very strongly that if digital literacy programs are not ramped up, it will create this divide that's almost analogous to the divides of just plain literacy."
Broad kudos
The efforts of Daniel Kent and those who followed him in student leadership have brought Net Literacy accolades not only within Indianapolis but also nationally and internationally.
The organization was named by the European Union Study on Digital Inclusion as one of the "91 most promising good practice initiatives," and the U.S. Internet Industry Association named the Net Literacy model as the "preferred approach" for increasing understanding of digital technology.
Net Literacy also provides its content online for free as a resource for other digital inclusion organizations. This segment of the not-for-profit, known as the Net Literacy Alliance, conglomerates best-practice models from around the world to help create better programs and navigate issues surrounding the digital divide.
"Information dissemination has just skyrocketed," Daniel Kent said. "This allows for anyone to better themselves, to learn new hobbies, to learn new careers and job skills."
Petrovic said he, like many students, joined in Daniel Kent's work because he could see the impact his volunteering created. He said young people are in a position to help with computer literacy because, for many, it is natural. He, for example, got his first computer at four years old, and most children have had computers for "their entire lives."
"Computers are an area where young people can really be experts," Petrovic explained. "A 20-year-old could have almost 20 years of experience using a computer."
Daniel Kent stressed that there should be no age or socioeconomic barrier to the Web. The information available on the Internet "can include everyone." That is why the programs initiated by Net Literacy cover the gamut of ages and provide for those in need without charge.
His father said the work of Daniel Kent and other students has proved that understanding technology can be empowering, regardless of age.
"One of the things Dan says is, 'Students are not tomorrow's leaders, they are today's leaders,'" Don Kent recalled. "This is all about getting the word out about the importance of digital inclusion and digital literacy.
"Students can make a difference, and students can use technology to be the instruments of social change."•
Please enable JavaScript to view this content.