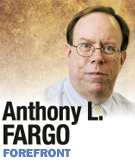 What if government transparency involved more than just making records available for inspection? What if government agencies had an obligation to make information public through their websites or other means?

In other words, what if transparency was active as well as passive?

Last month, I wrote about my April trip to Chile to participate in a conference sponsored by the Council for Transparency, which educates the public and public agencies about the 2-year-old transparency law in that country and monitors compliance. The conference inspired me to think in different ways about access to government information.

In the United States, federal and state transparency laws, such as the Freedom of Information Act and the Indiana Access to Public Records Act, generally require agencies to make certain kinds of records available for public inspection and copying. But the laws usually don't require the agencies to actively make the records public through websites or other forms of public dissemination.

The move toward greater transparency in Chile and other Latin American countries is part of those nations' efforts to demonstrate that they have modernized and stabilized their governments. As Raul Urrutia, president of the Council for Transparency, put it in the opening session, greater transparency was necessary to reassure foreign investors as well as Chile's own citizens that the country was dedicated to responsible government.

Chile's transparency law clearly was inspired in part by the Freedom of Information Act in the United States, but Chile's law goes further in several ways.

Chile requires national, regional and local government agencies to develop and maintain websites and to update the sites at least monthly. The agencies are required to post information about their structures, their full- and part-time staffs and their salaries, detailed budget and expenditure information, how citizens can participate in the work of the agencies, and audit reports.

The leader of an agency that has failed to comply with either the active or passive provisions of the law can be fined 20 percent to 50 percent of his or her salary.

It is debatable whether U.S. law should go as far as the law in Chile and other relatively new constitutional democracies. As Huguette Labelle, the president of the organization Transparency International, pointed out, corruption was the leading cause of uprisings taking place in the Middle East. Transparency, she said, was necessary to fight corruption.

In the United States, we have a long history of relatively stable government, a free press, and enough active citizenry to keep public officials relatively honest. Perhaps passive transparency—requiring agency records to be open and letting the press and public go after them when they need them—is enough.

I'm less sure of that than I used to be, for several reasons.

For one, people seem more cynical than ever about whether government exists to serve them or special interests with deep pockets. Financial exigencies have hampered the press's ability to do the kind of accountability journalism that keeps government honest. Simply put, there are fewer reporters on the beat.

And the Internet has changed our expectations about the availability of information. We now expect information to be at our fingertips when we want it.

Whether legislation is necessary to force agencies to be more actively transparent is unclear in part because some transparency is already required. The U.S. Constitution requires Congress to keep journals of its activities, and federal and state laws require many agencies to report on their activities.

Also, many agencies are voluntarily making use of the Internet to provide accountability information about government work. Here, we have the Indiana Transparency Portal (www.in.gov/itp), which allows citizens to examine information on state revenue projections, agency budgets and expenditures, and agency performance as measured by various metrics.

The Indiana Transparency Portal is still being developed, but it is already a good start toward helping citizens keep an eye on state government. It is an example of active transparency for the less passive among us.•

__________

Fargo is an Indiana University journalism professor and member of the Indiana Coalition for Open Government. Send comments on this column to ibjedit@ibj.com.