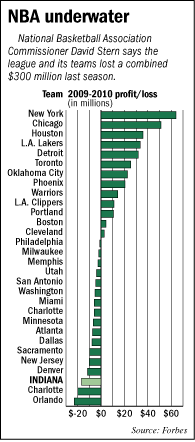 The labor battle between the National Basketball Association players and owners will go a long way toward determining the long-term financial viability of the Indiana Pacers and other small-market teams.
Along with players' salaries and contract terms, revenue sharing among the league's 30 team owners is becoming the wild-card issue that could blow the lid off negotiations.
Almost everyone who follows or is involved in the NBA expects a long lockout after the league's collective bargaining agreement expired June 30.
"There are just too many big issues that the sides are too far apart on to think there could be a speedy conclusion to this," said Mark Montieth, who formerly covered the Pacers and NBA for the Indianapolis Star, and now hosts a local sports talk show on WFNI-AM 1070. "This has all the makings of a long fight."
Oddly, this fight not only pits players against owners, but owners against one another. Small-market teams want more shared revenue, but owners of teams in larger markets aren't eager to spread the wealth.
"It's the first time in my memory that revenue sharing has ever been part of the [collective bargaining agreement] discussion," Montieth said. "This is going to be a hot issue for sure."
Pacers owner Herb Simon, who, along with seven other small-market owners, petitioned the league for more revenue sharing in 2007, figures to be at the center of the fight.
NBA Players Association leaders want revenue sharing to be part of the collective bargaining agreement. NBAPA officials think cuts to player payrolls won't be as deep if revenue is more evenly distributed among all the teams.
Even the negotiating protocol is in dispute. The players want transparency from owners in negotiating a new CBA, which they say should include a revenue-sharing plan. NBA Commissioner David Stern said a revenue-sharing plan will be done parallel to—but separate from—a new CBA. And his lieutenants have made clear that the revenue-sharing deal would be handled privately among owners, and that the details of any such agreement would not be divulged to players or the public.
This much is certain: The NBA must drastically change its business model. Stern claims the league and its teams lost a cumulative $370 million during the 2009-2010 season and another $300 million during the 2010-2011 season. He said 22 of the league's 30 teams lost money last season.
The most recent financials calculated by Forbes magazine concluded that 17 NBA teams lost money in the 2009-2010 season. When the majority of a league's teams are losing money, said noted Massachusetts-based sports economist Andrew Zimbalist, "a change is mandated."
The situation is so bad, some money-losing owners might be willing to scuttle the entire season.
"If you're an NBA owner losing money, what's your incentive to have a season at anywhere near the current deal?" said Milt Thompson, president of local sports marketing firm Grand Slam Cos. "I think these owners might be willing to go to the wall."
While some team owners may not have incentive to have an NBA season next year, the cities where teams are located certainly do. A study conducted by Chicago-based Hunden Strategic Partners last year concluded that the economic impact of a single Pacers and Indiana Fever season for Indianapolis is $55 million. The Pacers make up the vast majority of that economic impact.
Small-market extinction?
"The NBA lockout has the potential to be much more protracted than even the NFL lockout, because the two sides are so far apart," said Richard Sheehan, a University of Notre Dame sports economist and author of "Keeping Score: The Economics of Big-Time Sports."
Player compensation is among the hot-button issues, as usual. Stern is calling for $700 million to $800 million in annual rollbacks to NBA player payrolls. Owners also are lobbying for a hard salary cap and non-guaranteed contracts. Naturally, the NBAPA is staunchly against those initiatives.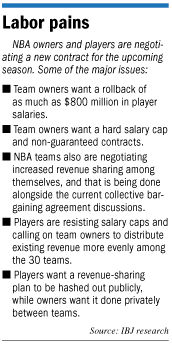 Currently, NBA players get 57 percent of all basketball-related income. League sources said Stern is looking to lower the players' take to below 50 percent.
But bridging the differences among owners might be the biggest challenge—and could have the most severe repercussions if the effort fails.
Sports business experts said if a deal can't be crafted in which rich markets such as New York and Chicago share revenue with teams such as the Pacers and Charlotte Bobcats, the small-market teams would face the prospect of being sold, moved or disbanded.
"I think [contraction] is a subject that will be on the table with the players as we look to see what's the optimum way to present our game, and are there cities and teams that cannot make it in the current economic environment?" Stern told ESPN earlier this season.
Though NBA teams still have considerable value, owners like the Pacers' Simon, might be reaching their tipping points.
Pacers President Jim Morris said Simon lost $30 million in each of the 2008-2009 and 2009-2010 seasons and, despite $10 million from the city's Capital Improvement Board to help operate Conseco Fieldhouse, accumulated another "substantial" loss this past season. Only two of the NBA's 30 teams lost more than the Pacers did during the 2009-2010 season, according to Forbes.
CIB agreed last year to commit $33.5 million over three years to offset Fieldhouse operational expenses and upgrades, but several CIB members said the subsidy couldn't continue indefinitely and that they expected the NBA—and the Pacers—to fix its own problems with a new collective bargaining agreement with players.
According to Morris, the Pacers have lost money every year but one since they moved into the much-ballyhooed fieldhouse in 1999, and the team has lost more than $200 million since Herb and Mel Simon bought it for $11 million in 1983. Those total losses are approaching the $269 million figure the franchise was valued at most recently by Forbes.
The franchise did better financially during the most recent season than it did in 2009-2010, Morris said, and Herb Simon currently has no interest in selling the Pacers. But he acknowledged that, with the passing of Herb's brother and Pacers co-owner, Mel, in 2009, Herb has more financial burden to bear with each losing season.
Coveting the NFL model
Many small-market NBA teams are fighting for a system more like the National Football League's, where about 70 percent of each team's revenue is shared equally among all teams. This includes revenue from television deals, sponsorships, ticket and merchandise sales. There's also a hard salary cap to keep teams from accumulating too many top players and non-guaranteed contracts to allow teams to jettison underperforming players.
While there is some revenue sharing in the NBA, it isn't nearly as extensive. Unlike the NFL, NBA teams are allowed to craft local and regional TV and other media deals and keep all the money. Teams in big media markets like New York and Los Angeles earn eight-figure paydays that simply aren't available in markets such as Indianapolis and Milwaukee.
While the NBA does have a salary cap—$58 million last season—there are a handful of exemptions that allow wealthy teams to exceed it by tens of millions of dollars.
The L.A. Lakers, for instance, paid $91.6 million in player salaries last season. Teams that exceed the salary cap pay a "luxury tax" to the league. Some of that money is distributed to poorer teams. But small-market teams complain it's not nearly enough. In fact, some have argued that the payroll tax makes the playing field even more uneven.
"Simply put, the large-market teams can and are willing to afford to pay the top players and cover the luxury tax," Sheehan said. "Small-market teams, even if they could muster up the money to pay the players, couldn't afford the tax."
Pacers plead case
Morris declined to discuss revenue-sharing negotiations, but it's clear where the Pacers' president comes down on the issue.
"The fact of the matter is, the Pacers have the same payroll parameters as any other team in the NBA … the same as New York, Miami and Chicago," Morris said. "And we're the 25th [largest] market in the NBA, and that's a challenge for us.
"If you have a population of 15 [million] to 20 million to draw from and you're in an area that's a major tourist destination, that's a big advantage. It's a lot tougher in a small town."
Montieth thinks the concentration of the league's best players in select markets, such as LeBron James, Dwyane Wade and Chris Bosh in Miami and Carmelo Anthony and Amare Stoudemire in New York could push the owners toward more revenue sharing.
"I don't think that type of competitive imbalance is at all good for the league. That issue has a lot of people's attention and could really affect the debate on revenue sharing," Montieth said.
The Pacers this off-season will be more than $20 million under the salary cap, and the team's player personnel boss, Larry Bird, is expected to hunt key free agents to add to the roster. But with the trend of stars wanting to play together—and with only large-market teams able to afford more than one major star, it's unclear what level of player Indiana will be able to attract.•
Please enable JavaScript to view this content.