In 2006, the Archdiocese of Indianapolis was racking up $12 million a year in medical claims and faced a 17-percent increase in its health insurance premiums.
With its major source of revenue—collections from parishioners—growing at just 2 percent every year, something had to change.
So in 2007, the archdiocese replaced its HMO insurance plan with a high-deductible plan coupled with health savings accounts. It also reinvigorated its wellness program and searched for tools to help its 1,600 workers shop for health care.
Ed Isakson is director of human resources at the Archdiocese of Indianapolis.
The results have been dramatic. The archdiocese claims costs have fallen by a third and even with contributions to its workers' health savings accounts, it spends 7 percent less per worker than it did five years ago. That's even after having occasional premium holidays of a month or two and making bonus contributions to workers' accounts.
"What we're essentially doing is shifting from a sickness payment system to a true health plan," said Archdiocese Human Resources Director Ed Isakson.With testimonies like that trickling in, a small but gradually growing number of large employers is getting the same religion.
Sizable Indianapolis companies like consumer-ratings service Angie's List and Wilhelm Construction have also switched entirely to high-deductible health plans coupled with a worker spending account. Such plans are called consumer-directed health plans. Angie's List switched all its employees to such a plan in 2008. And Wilhem did it for its non-unionized employees as of June 1.
Another large employer that pioneered this trend locally was Marsh Supermarkets Inc., which in 2007 switched all its employees to a high-deductible plan coupled with a health reimbursement arrangement.
There's some evidence nationally that the trend is set to accelerate. Only 8 percent of employers with fewer than 500 workers offer consumer-directed health plans as their only option to employees, according to a 2010 survey by Mercer. Another 8 percent of smaller employers offer it as an option.
Among companies with more than 500 workers, only 2 percent offer consumer-directed health plans as their only options, according to Mercer.
But nearly one in 10 employers say they expect to offer a consumer-directed health plan exclusively within the next five years. And among employers with more than 20,000 workers, 20 percent expect to switch exclusively to high-deducible plans in the next half decade.
That's key, said Mercer's Indianapolis office leader, Peggy Marks, because those giant employers often set the trend that other companies follow.
"You can definitely see from the statistics that the trend is there," Marks said. "We really are expecting to see stronger growth in the CDHPs [consumer-directed health plans] over the next few years."
After some of the early adopters, such as the archdiocese and Marsh, many large companies avoided making big changes to their health benefits as Congress debated an overhaul to the nation's health insurance system. At times during the debate, critics of the law claimed it would destroy health savings accounts.
But that didn't happen. And in the meantime, health insurance premiums have continued to rise at a clip of 5 percent per year. So employers are looking for relief.
"People have kind of figured out that health care reform is not going to be the save all, end all," said John Gause, president of Apex Benefits Group. His company helped the archdiocese, Angie's List and Wilhelm make the switch to health savings accounts.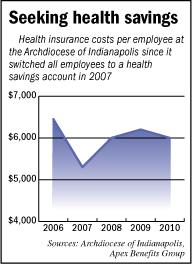 "You're going to see more of it now," he predicted. "Because at the end of the day, you've got to control costs."
Neither Marks nor Gause expects there to be a rush toward offering consumer-directed health plans exclusively. In spite of the cost savings achieved by groups like the archdiocese, there are still major barriers to adopting the plans.
Many employers are simply nervous that health savings accounts are perceived by their employees and future recruits as inferior coverage. Or employees won't respond kindly to having their choices limited.
The workers at the archdiocese certainly didn't. Even though the archdiocese's human resources staff held 70 face-to-face meetings at the 150 parishes and 70 schools—which are spread over 39 counties—complaints about the change were common.
"We were very concerned," said Joan Hurley, president of the archdiocese's Our Lady of Providence school in New Albany. She said she gave Isakson "a lot of grief" about the change. "At the time, it was so radically different than what we'd had in the past. The big worry was the expensive upfront costs."
Indeed, brokers like Marks and Gause both said employers who make consumer-directed health plans their only options always face a huge job of educating their workers on how the plans work. It's a big change to switch from paying $20 co-pays at the doctor to paying the entire $120 bill.
That education continues years into the plan, said Cheryl Reed, spokeswoman at Angie's List, which employs 650, mostly at its headquarters east of downtown Indianapolis.
"We spend a lot of time helping them understand and make the most of their insurance benefits, including offering ways to find good pharmacy prices, what their HSA will cover, what they need to do to maximize their benefits and their health," Reed wrote in an e-mail. "In addition to offering the fitness programs, Angie's List subsidizes the majority [80 percent to 90 percent] of the health care costs. We want to make the best spending decisions for the company in every aspect of the business, including health benefits. That requires a partnership with the folks who use the benefit."
At the archdiocese, workers have warmed up to the HSA health plans. There have been some dramatic stories, such as Hurley, who, after battling breast cancer the past two years, now greatly appreciates the plan's 100 percent coverage after a $4,800 out-of-pocket maximum.
And there have been some dramatic savings. Not only have premiums come down, but the archdiocese workers have collectively built up $4 million in their health savings accounts.
With that money belonging to the employees—they can take it with them if they leave—it has allowed for major changes in how the workers approach health and health care. In 2009, the archdiocese started incentives for participating in its wellness program, such as offering workers $50 for taking advantage of health screenings.
That same year, it offered them access to the Best Doctors service, which asks physicians at Harvard Medical School and the Mayo Clinic to do a second opinion on major diagnoses, such as cancer.
This year, the archdiocese rolled out a customized website with price information from the Healthcare Bluebook. Archdiocese workers get a $25 incentive each time they pick one of the low- or medium-cost providers, instead of one of the highest-cost ones.
And next year, Isakson said, the archdiocese will create another customized website with information from HealthGrades on the quality of local health care providers, so its workers can weigh trade-offs between cost and quality.
Isakson acknowledged that other employers fear turning off their workers by making a similar change, but the archdiocese has, after a bumpy start, experienced just the opposite.
"It's actually costing us less," he said of the archdiocese's health plan, "but the perceived value is higher because they see it."•
Please enable JavaScript to view this content.